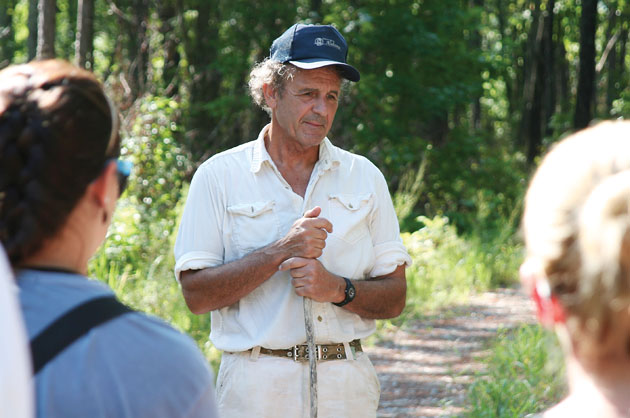 ---
Flip on Alabama Public Television, and you're likely to come across "Discovering Alabama," an Emmy-winning series that showcases the beauty, history and natural diversity of the state.
Dramatic forests and waterfalls come to life in high-definition video and surround sound, but there's more to the story. From its Appalachian foothills to the white sands of its beaches, Alabama has the greatest geological diversity and among the highest numbers of plant and animal species of any state. It's also a trailblazer in wildlife conservation and space exploration.
Alabama, it turns out, is a state of superlatives. More people know that today because of the show's creator, executive producer and host, Dr. Doug Phillips.
In Front of the Camera
For almost 30 years, Phillips has invited viewers to join him as he explores Alabama's wonders. The series draws on his extensive knowledge of the land, but behind his down-to-earth demeanor is a man equally able to talk about the science of nature and the philosophy of how we see our place in it. His bond with the outdoors began in Blount County, where he grew up whitewater canoeing, tracking game for days at a time and working on the family farm.
"I was raised in the backwoods of Alabama," he says from his office in the Alabama Museum of Natural History, on the University of Alabama (UA) campus in Tuscaloosa. "It was nothing but farms and wild country in every direction."
Fascinated with his state's natural diversity, he later initiated a vast scientific database, now the Alabama Natural Heritage Program, and advocated conservation. But he noticed that not everyone felt the same connection with the natural realm.
So Phillips, who has a doctoral degree in educational research, pioneered teacher training and UA courses in environmental education, which uses the outdoors to enhance students' understanding of their world and their academic subjects.
From Teacher to TV Host
Wanting to inspire more teachers led him to the airwaves in the 1980s. Now one of Alabama Public Television's highest rated shows, "Discovering Alabama" is used in every school system in the state.
Phillips also developed a K-12 curriculum called Discovering Our Heritage for the Alabama Wildlife Federation, of which he is a board member, and a Discovering Alabama Model School program. At the pilot model school in Tuscaloosa, elementary students round out their state-required studies with the help of a science lab, outdoor classrooms and local natural resources experts.
"We engage youngsters in the critical thinking process," he says. "Making interdisciplinary, real-world connections — that's the way to teach."
Coordinating the model school program is Pam Sloan, an award-winning former teacher and administrator who met Phillips when she took one of his first classes at UA in the 1970s.
"Doug is a real visionary," she says. "If you can trust the process, it's a magical result."
A Teachable Moment
Now an author and a leading voice for education and long-range planning, Phillips still does some teaching. Last July, a weekend science class drew educators and college students from around the state to the museum, where they were greeted by a charismatic, quick-witted Dr. Doug.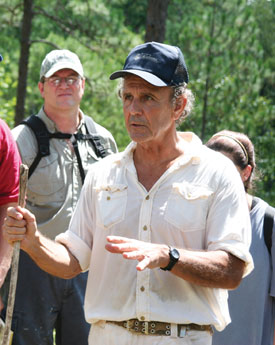 A frequent facilitator, he has a knack for helping students, teachers and policymakers jump-start their thought process and explore an issue from all sides. He does something similar with "Discovering Alabama" and the accompanying teachers' guides he writes, which outline discussions and activities that prime students for learning. Show topics have included wildlife, rivers, forests, geology, space and more, including the 2010 Gulf oil spill and the 2011 tornado outbreak. The latest episode is about the 20th anniversary of Forever Wild, a state land conservation program Phillips helped establish.
"We've got almost 100 movies now," he told the class. "I don't call them videos, because they show the grandeur of Alabama."
A Walk in the Woods
The classroom discussion was a prelude to some hands-on learning the next day, starting at Moundville Archaeological Park, an ancient Native American site south of Tuscaloosa.
From the top of the highest mound, Phillips looked into the morning sun and talked about how nature was central to life for the people who built the settlement. He then led the class to a nearby forest to rediscover that connection by studying the interplay between soils, plants, animals and people.
Several times, he paused for the kinds of activities he trains teachers to use.
Mary-Katherine O'Connor, a high school science teacher who is working on her master's degree, said that's why she came. She has her students record the species they find in a stream by their Montgomery school, and Phillips left her with more ideas for teaching about wildlife, watersheds and forest ecosystems.
"Kids are so distracted," O'Connor said. "They don't know what's outside. They're inside playing video games."
There's still a need to raise awareness about what's around us, Phillips said. Overlooking an expanse of forest, he ended the hike talking about how land's value goes beyond dollars.
"What makes Alabama so special is the countryside," he said. "That means rural people, land stewards. We still have a strong work ethic and a sense of caring about people because of our rural character.
"It's really about the future that I'm thinking now. The South is the fastest growing region in the nation. We're paving over productive soils and natural habitats at an unprecedented rate. We live life unaware of that trend. This is a teachable moment."
Behind the Scenes
Alabama's countryside is the focus of Phillips' next book, and it's where he still feels most at home. He and his wife, Louellyn, a second-grade teacher, live outside Tuscaloosa, where their twins, Sara and Forrest, are pursuing advanced degrees.
He was a graduate student at UA himself when he started buying land, and he now owns property around the state. That's how he met the lenders at Alabama Farm Credit and Alabama Ag Credit, where he found financing and an appreciation for the values of farm life, he says.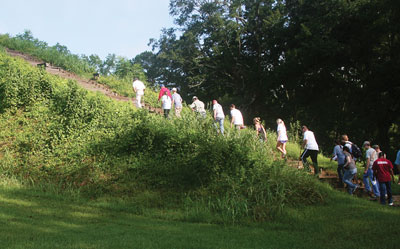 Phillips was leading teacher camps in the William B. Bankhead National Forest when he came across his first property.
"Wow, it's stunning," he says. "It's a piece of native America like you don't find anymore, with giant hardwoods, a loblolly that would take six people to reach around it, and a 60-foot waterfall that drops into a crystalline pool. Am I painting it idyllic enough? That's why I bought it!"
If his first property is the most beautiful, one of the latest has the most sentimental value. It reminds him of the family land he left behind as a teen.
"I mourned. I grieved after we sold that and moved to the city," he says. "It took a long time to find something to replace it."
What he found in the Oakmulgee District of the Talladega National Forest is a mix of fields and woods, with a wetland where, on the right evening, a chorus of frogs will shake your eardrums, he says. He manages for timber, wildlife and aesthetics through the state Treasure Forest stewardship program, and keeps a corridor along a creek completely natural.
Finding Solace in Solitude
Phillips laments that he's now so busy promoting the outdoors that he seldom gets to enjoy its solitude anymore.
"In front of the camera, it's almost like being alone," he says. "Thank goodness. I had no idea I'd be a TV host. It works because I'm really comfortable outdoors, and I can say what's in my heart."
He's quick to acknowledge the contributions of writer/director Roger Reid and their team, the University of Alabama and the show's sponsors, the Alabama Department of Conservation and Natural Resources, the Alabama Wildlife Federation, and the Solon and Martha Dixon Foundation. He just wishes he could make more than a few episodes a year.
"We're so proud to have wide popularity and be used as an educational resource," he says. "The down side is it would take much more support to serve the needs to our potential. We receive requests almost daily from teachers who would like shows on certain topics."
So what's next for "Discovering Alabama" and one of the state's biggest advocates? To find out, you'll just have to stay tuned.
- Staff
Update: In 1992, Phillips helped establish Forever Wild, a state program that uses oil and gas royalties to purchase land for outdoor recreation and the conservation of natural resources and wildlife habitat. On Nov. 6, 2012, Alabama voters extended the program for another 20 years.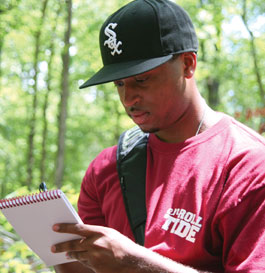 Educational Activities
"Discovering Alabama" host Doug Phillips trains teachers to use these kinds of activities to help students understand the natural world. In our busy lifestyles, we're at risk of losing the art of awareness, he says, but it can be revived with practice.
Sight Unseen
Students take turns blindfolding and leading a partner to a tree to investigate by touch, sound and smell.
"Many have never explored something without seeing it," says Phillips, who lets students try to find their trees when the blindfolds are off. "Kids do it well. Adults have a hard time."
A Watershed Moment
Small groups sort through the top 6 inches of soil in 1-square-yard areas, recording every living thing they find.
"A kid once looked up and told me, 'Gosh, dirt ain't dirt!'" Phillips says. "Soil is a living system. A healthy watershed catches, cleanses and replenishes the water.
"Land provides a free ecological service. We forget that, then spend millions on water treatment plants."
Where Are We Going?
Partway through a guided walk, groups make a three-dimensional map of their route on the ground, orienting to the cardinal directions and showing natural features.
"When I taught a map and compass course, students hardly needed a map and compass because they learned to read the land," he says. "Think about where you are now, where you're headed, and how you're going to get there. It applies to society, too."
– Staff
Experience "Discovering Alabama"
Donations
Tax-deductible contributions to "Discovering Alabama" support new episodes and educational resources for teachers and schools. Learn more at discoveringalabama.org/contribute.
See more photos of Dr. Doug Phillips' weekend science course at findfarmcredit.com/seemore.
---