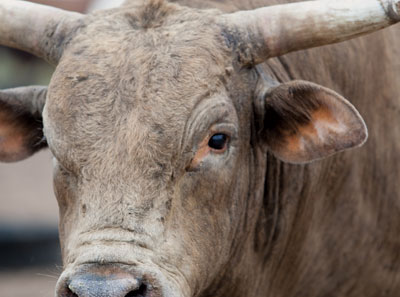 "We're blessed to be able to do something we absolutely love," Sammy Andrews says, with a big dose of country modesty.
It is misty and gray outside, but Andrews and his wife Rena's enthusiasm for what they do brightens an otherwise dreary day.
"We get to be around good people and good livestock, and as far as making a living, you can't beat it," he says.
Located in Red River County, Texas, near the tiny community of Addielou, Sammy and Rena's ranch looks like a typical cattle operation. This ranch, however, is far from typical. Whereas most modern livestock operations select animals that are docile in their disposition, Andrews likes his stock a bit ornery. But that's what you would expect from one of the best-known rodeo stock contractors in the country.
A Long Rodeo Legacy
"Dad was a stock contractor for 40 years, so I grew up in the business," says Andrews, speaking of his father B.D. Andrews, who was well known in rodeo circles in the 1940s and '50s. "I've been at this for the past 30 years and have been blessed with some good animals."
Andrews' modesty belies the fact that the Andrews Rodeo Company owned one of the most famous bulls in the history of rodeo — Bodacious, who was often referred to as the world's most dangerous bull.
Home to Bodacious
Throughout the couple's spacious ranch home, trophies featuring muscular bulls adorn the mantle, complementing the home's Western-inspired decor. In one room is a memorial to the Andrews' legendary animal athlete, Bodacious.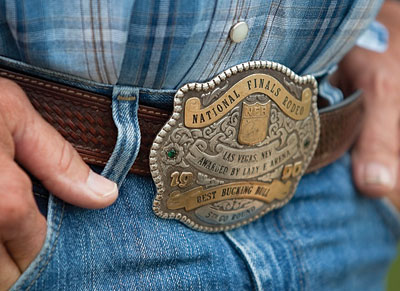 A cutout of this bull forms the centerpiece of a barn-board wall. Appropriately, the photo captures him in full buck, with head low and rear legs stretched out in a power pose. Surrounding the cutout are photographs from various rodeos and awards that recognize the fact that in 135 attempts, Bodacious was ridden only eight times.
"Bo wasn't born on this ranch, but we got him as a two-year-old," Sammy explains. "The first place we bucked him was the Houston Livestock Show and Rodeo, and he bucked off Cody Lambert."
Lambert, a champion bull rider, who developed the protective vest that most bull riders wear today, wasn't alone in his failure to ride Bodacious for a full eight seconds. Amazingly, only six cowboys ever finished their rides on him in the five years, 1991 through 1995, that the bull was active, with two cowboys riding him twice.
Bull for the Record Books
Because of his voraciousness as a bucking bull, Bodacious was named Bull of the Year by the Professional Bull Riders (PBR) organization in 1995, and he was a National Finals Rodeo bucking bull in 1992, 1994 and 1995. Bodacious also was selected as Bull of the Year in 1994 and 1995 by the Professional Rodeo Cowboys Association (PRCA), and in 1999 he was inducted into the Pro Rodeo Hall of Fame.
Respected for his power and aggressiveness, the 1,800-pound bull was retired in December 1995 by Andrews, who decided to end the possibility of a rider losing his life in the ring with Bodacious. Still, the bull continued his celebrity status for a few more years as he toured rodeos, fairs and even Las Vegas casinos, and was featured in magazine articles and profiled on television. In 2000, Bodacious succumbed to illness and died on the Andrews Ranch, and was buried near Sammy and Rena's home.
The Science of the "Buck"
Although Bodacious is gone, through science, part of him lives on.
According to Andrews, artificial insemination is an important tool in the rodeo stock business, just as it is in any purebred cattle business. Aggressive bucking bulls are still valuable long after their days under the arena lights have passed. Bodacious has continued to sire calves because of his semen that was collected and frozen prior to his passing. While selective breeding is an inexact science, predictable traits like color, temperament and the presence of horns can be propagated if matched with recipient cows that have similar traits. In fact, semen from successful bucking bulls is a lucrative industry, with a quarter cc (cubic centimeter) of semen bringing as much as $5,000.
Once born, the calves are raised like any other traditional livestock. At two years of age, however, bulls are bucked using weighted, electronic dummies to test their athletic ability, before being sold to stock contractors or entering the arena.
The Business of a Stock Contractor
As interesting a job as it may sound, being a stock contractor requires a significant investment and a supportive lender who understands the business.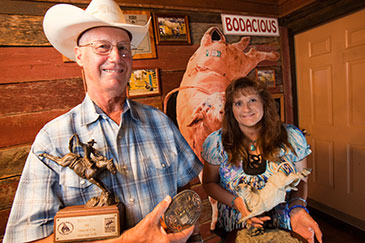 "The Andrews family knows livestock and knows the rodeo business, and they work hard to be successful," says Scotty Coleman, assistant vice president with Lone Star Ag Credit in Paris, Texas. "The public sees Sammy as some famous person or star, but I get to see him as an everyday person who's a good businessman that Lone Star Ag Credit is privileged to help."
With Lone Star Ag Credit behind them, the Andrews Rodeo Company continues building upon their legacy — a legacy that started with Andrews' grandfather, Sam, who produced rodeos in the 1940s, and now extends to his son, James, who manages the breeding side of the operation.
All for the Rodeo
This year, the family had 78 bulls on the rodeo circuit. But besides bulls, they also provide roping stock and award-winning bucking horses for approximately 40 rodeos annually, including 14 PRCA rodeos and a number of smaller rodeos that they produce themselves.
Being the stock contractor for some of the most prominent rodeos in the sport (the Fort Worth, San Antonio and Houston rodeos, for example) doesn't go to Sammy and Rena's heads, though. In fact, it's just the opposite.
In his graceful cowboy way, surrounded by awards, Sammy simply says, "Rodeo's been good to us."
–Russell Graves
---