When Mississippi hunter Rob Taylor entered the gumbo category of a county annual wild game cooking contest in January, he wasn't exactly prepared, having never cooked a gumbo before.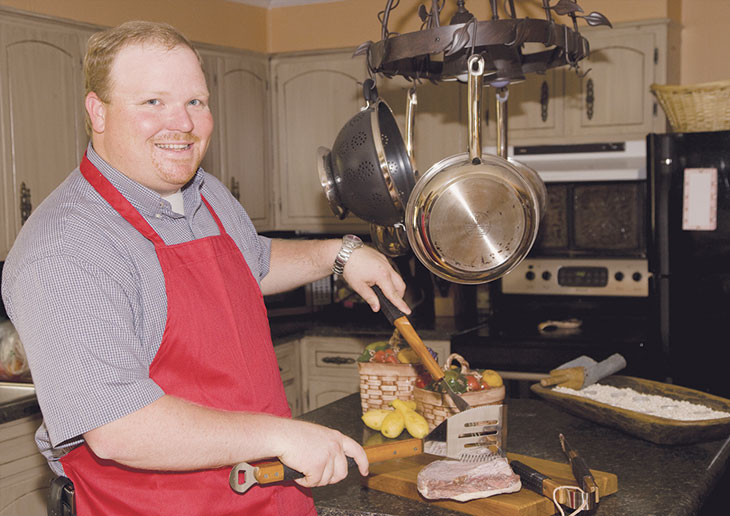 But, as the longtime "camp cook" on hunting trips with his buddies, he was up for the challenge: "Most of the meals I cook at camp are considered 'what ya' got' food," he says. "Whatever needs cooking goes in the pot — and some of my stuff actually tastes okay."
So it was that without trepidation, Taylor whipped up a mean gumbo, adding a little of this and a little of that, until it tasted right — and much to his surprise and elation, won first prize.
Not only that, but Taylor beat out a local cook who already had one major contest win under his belt and had been rewarded with an appearance on the Emeril Live cooking show.
"When I told that guy I was trying out my first gumbo," laughs Taylor, "he said that if I beat him with my first try, he would throw away all his cooking equipment. I'm not sure if he's still cooking or not."
Interestingly, Taylor — loan officer in the Cleveland branch of the Land Bank of North Mississippi — also won first prize at last year's Bolivar County Wildlife Jamboree, with a created-on-the-spot venison stew.
One of the biggest fans of his freewheeling cuisine is his wife, Shanna, a county 4-H agent and an avid hunter herself.
"Shanna has been hunting with me since I introduced her to the sport, and she has taken some nice deer as well," says the proud husband. "I guess you could say that it really is a family tradition, not only to hunt together but to cook and eat what we harvest."
Hunting has been a family tradition for Taylor since he was four years old. "My dad bought me a youth-model shotgun and had to cut the stock off just so I could reach the trigger. Then he took me squirrel hunting, and," he says drily," "I'm proud to say that I missed 17 squirrels that day."
Taylor, who harvested his first buck at age 7, now bow-hunts and hunts duck, too. "My dad taught me about the outdoors, hunting and fishing, and how to respect the animals that we pursue," he says.
Sharing that tradition with their community is also important to the Taylors: They work with local children on firearm and archery safety, while they cultivate the kids' passion for the outdoors.
Already blessed to have the Taylors as mentors, it will be the icing on the cake if these youngsters also learn to cook like Rob — using available ingredients creatively.
Wild Duck and Sausage Gumbo
(by Rob Taylor, prize-winning recipe, 2008)
7 wild duck breast halves
1 tablespoon crab boil mix
1 smoked sausage, chunked
2 cans of diced tomatoes (do not drain)
1 can of tomatoes and chili peppers (Rotel)
1 can of tomatoes and okra (do not drain)
½ large bell pepper, chunked
½ medium onion, chopped
1 tablespoon minced garlic
½ cup olive oil
¾ cup flour
3 tablespoons Worcestershire sauce
Jalapeno slices to taste (10 to 15 slices will give it a kick; an extra 15 to 20 slices will make this a guaranteed cure for congestion!)
Cajun seasoning and black pepper to taste, and a couple sprigs of thyme
Place duck breasts in large pot (5 quart) and cover in water. Add crab boil mix. Cook for about 1 hour. After boiling, cut duck into small chunks, and save the water. To make the roux, place olive oil in a small pan and heat until flour sizzles in the oil. Slowly add flour while stirring, and stir until all flour is dissolved in oil. Add bell pepper, onion and garlic, and stir while cooking for 3 to 4 minutes. Cook roux until dark brown. Do not burn the roux! Cook sausage chunks in separate pan. Add all ingredients to 5-quart pot, and cover with saved water. Lightly cover the surface with your seasonings, add the thyme, and simmer for about 1 hour. Cooked rice can be added or served separately.
Note: Remove thyme sprigs before serving! You do not want to bite into one of those things!
Venison Stew
(by Rob Taylor, prize-winning recipe, 2007)
1 pound venison, cut into small chunks
2 cans of green beans (do not drain)
2 cans of mixed vegetables (do not drain)
1 can of corn (do not drain)
2 cans of diced tomatoes
1 can of tomatoes and chili peppers (Rotel)
1 large can of tomato paste (add for thickness to your liking)
½ medium onion, chopped
Cajun seasoning and black pepper
Jalapeno slices (see duck gumbo; depends on how hot you like it!)
Worcestershire sauce
Place Worcestershire sauce in a small pan until bottom of pan is covered. Cook venison chunks in the sauce until well done but not blackened. Once cooked, pour venison and remaining sauce into a 5-quart pot. Add all ingredients to the pot and lightly cover the top of the mixture with Cajun seasoning and black pepper. Cook on medium heat for about 1 hour or until all ingredients have properly "melted" together.
-Tina Jackson
---