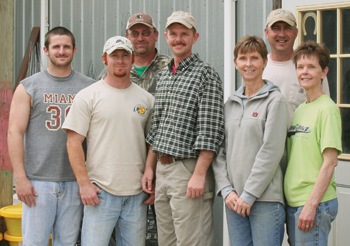 No one has to tell Sammy Jackson about the increased popularity of recreational hunting.
As the co-owner of the family-run Daniel-Jackson Feedmill near Ranburne, Ala., the FLBA of North Alabama borrower has seen it with his own eyes.
"Products for recreational activities like hunting make up about 30 percent of our business, and it would hurt us if it was taken out," Jackson admits.
The feedmill has been in Jackson's family since 1973, and he has been a half-owner since 1993. Over the years, Jackson, who grew up hunting, has developed a vast knowledge of the industry. By educating and advising customers about food plots and wildlife nutrition and management, he has vastly grown the recreational part of the business.
How to Grow Good Wildlife
"Fifteen to 20 years ago, hunting was just putting someone on a tree stand, and there was no promotion of wildlife," Jackson says. "Today, that's all changed."
Good wildlife managers today use a year-round agricultural-based program involving food plots. By planting a combination of warm- and cold-season annuals that wildlife will graze, landowners can significantly impact population size and quality.
"You want to do something that is a natural farming practice to attract wildlife," Jackson says. "Food plots are a way to give back naturally, which is what we should be doing. And, you'll have better-quality wildlife."
Expert Advice
Here are some of Jackson's tips for good nutritional management:
• Warm-season forages can have a direct impact on antler growth and fawn production. Soybeans, millets and sunflowers are all good sources of protein. Sunflowers are especially popular when trying to attract multiple species, such as deer, turkey and quail.
• Cool season annuals have high forage quality and will help a deer maintain good body condition. Rye grains and clovers are good choices.
• From early March through summer, feed a mineral lick that contains a 1:1 ratio of trace minerals to dicalcium phosphate as a supplement.
• While corn is the most popular food option, it cannot be fed alone and produce favorable results. "Corn will not grow horns," Jackson declares. However, corn provides deer with the increased energy they need in winter to help battle cold weather. "You also want your bucks to have good body condition when they start to put on horns," Jackson says, which is typically in March or April. He advises his customers to feed a 50:50 ratio of corn and soybeans, and gradually increase the soybean percentage until it is two-thirds of the ration. His feedmill sometimes adds phosphorous to the mix.
Restocking the Quail Population
In addition to selling quality wildlife feed and supplements, Jackson raises bobwhite quail. With business partner David Loveless, who also works at the feed mill, Jackson raises the birds from day-old chicks until they are flight conditioned at 16 weeks of age. The birds are then sold to private landowners or preserves for restocking their property. In 2008, the two men raised 100,000 bobwhite chicks. They also grow pheasant and chukar.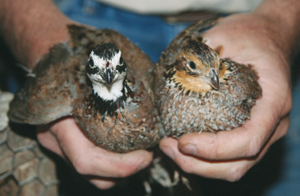 "People who buy a covey of approximately 20 quail at eight to 12 weeks of age will really start to see results in their quail populations," Jackson says.
To be flight conditioned, the birds must either be raised in an open-air flight pen or in a modified chicken house — which Jackson prefers, to avoid predators. The structure must have a high ceiling — similar to that of a hay barn — to allow the quail adequate room to fly.
Jackson has roots in traditional agriculture, and continues to produce chickens, cattle and hay. While he is a customer of the FLBA of North Alabama, his loan officer, Jim Tollison, is also a customer of Jackson's. Tollison lives approximately 60 miles from the feed mill, but routinely makes the trip to the mill because he relies on Jackson's quality advice and products.
"Sammy didn't just decide to get into the recreational part of the business; he grew up in it," Tollison says. "I come to see Sammy because, with him, I know what I'm getting."
– Sarah Harris
---