Unaware of any nearby danger, a red-bearded tom turkey, barely visible through the thick stand of trees, swivels around, just as Jeff Ensor raises his shotgun. Ensor pulls off one shot, followed by another, then watches as the bird flaps away and vanishes. "Oh, man," Ensor whispers, obviously disappointed at his miss. "Darrell's gonna love this."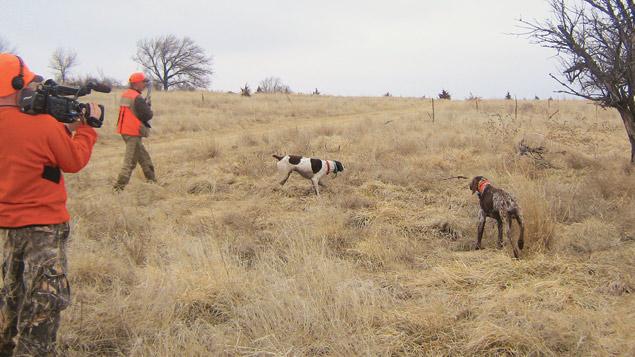 ---
He's right. Waiting in a nearby field, hunting buddy Darrell Wright shakes his head and grins. "We just heard two gunshots," he says, looking into the camera. "That's not good." Wright shakes his head again and holds up two fingers for emphasis. "Oh, Jeff," he deadpans with mock dismay.
Welcome to another action-packed, typically humorous episode of NonStop Hunting, a half-hour television show that airs on The Sportsman Channel.
From backwoods turkey hunts to big game safaris, Ensor, 34, and Wright, 39, travel across the country, and occasionally the world, in their ongoing quest to hunt in front of a camera — hence, the show's catchy title.
"Before we ever got the show going, we had that name in mind," Ensor says. "That's us. That's what we do — nonstop hunting!"
Well, not quite. For one thing, they each have full-time jobs: Wright works in Angola, Africa, as an offshore driller, and Ensor, who's married and has two children, owns Davidson-Craig Real Estate. Both men were reared and still live in Hamilton, Texas, a rural community of 3,000 or so residents. They're also customers with the Texas Land Bank in Lampasas, Texas.
Friendship Through Hunting
Ever since the two can remember, they've always hunted, although not necessarily together. It wasn't until after high school that their casual acquaintance tightened into a strong friendship, thanks to communal hunting trips.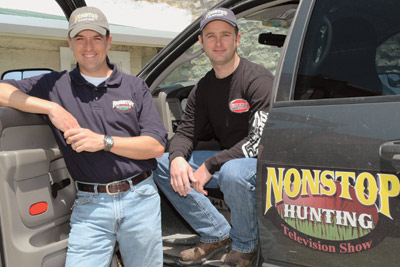 "In a small town like Hamilton, if you don't like to hunt or fish, there's nothing else to do," Wright says, seated in Ensor's downtown office. "Hunting became a passion that Jeff and I shared. For me, I respect the animals, and I love being around them. Every time you're in the woods, you learn something new. That's what makes it so exciting."
"It's not just about hunting," says Ensor, from behind his desk. "We give back to wildlife, too. We both manage and conserve our properties responsibly."
"We're very ethical hunters, and we practice a ton," adds Wright, who, like Ensor, prefers to hunt with a bow. "We take only high-percentage shots."
So how did two hunting buddies from a little town in Texas land their own television program? It took an enormous amount of work, they explain.
Learning the Video Business
Their venture began in January 2006 when Ensor, still single at the time, first toyed with the idea. "Darrell and I were always big fans of hunting shows. I remember telling him, 'We could do that. What do you think?' And Darrell said yes. But neither of us had a clue about how to broadcast, and we'd never laid eyes on a video camera. Through a series of phone calls, I got in touch with a TV host, and he told me about a videography school that was geared toward the outdoor industry."
The next month, Ensor studied a week at Brock Ray's Outdoor Videography School in Alabama and returned home determined to move forward. Wright agreed. In March, they flew to St. Louis, Mo., where they visited a video production company.
"We told them what we wanted to do, but we were still taking baby steps on how to do it," Ensor recalls. "They introduced us to Stephen Boulware, a freelance videographer. We met with him and set up an April turkey hunt, so we could produce a pilot show. You have to have that to send out to networks and recruit commercial sponsors."
"We're not just die-hard hunters. The show's about two good friends who hunt together. We're competitive, but we're also happy for one another, and we laugh at each other if one misses a shot. That's the way we really are." - Jeff Ensor
Meanwhile, Ensor set up a three-day hunt with Jim Call, an outfitter they knew in Kansas, where they especially love to hunt. "We did the turkey hunt; then Stephen took the tapes back to the video company," Ensor says. "We paid them to do a half-hour show. They edited five hours of video down to 22 minutes. We communicated the storyline and then did the narration and voice-overs. We decided to send the pilot to several networks in hopes of getting an approval and negotiating air times. I spent a lot of time on the phone."
Meanwhile, the men also juggled full-time jobs and hunting trips. "We kept putting together more shows," Ensor says. "Looking back now, even if we had it to do over again, I guess we'd still do it. But we just didn't know it'd be so hard."
Their First Break
It wasn't long until they had their first big break — or at least the start of one.
"Stephen, our videographer, had a good relationship with Scott Shultz, president of ScentBlocker," Ensor says. "In fall of 2006, he and Stephen were videoing a hunt for another show. Scott tagged out early. Stephen happened to have some of our shows with him, so he played them for Scott. He either liked what he saw, or he saw some potential." Ensor laughs. "They were terrible shows, but we did the best we could!"
Either way, Scott was intrigued. That December, he accompanied Ensor on a white-tailed deer hunt in Uvalde, Texas, while Wright was offshore, working. "It was a good hunt, and we got another show out of it," Ensor says. "But the main thing was that it gave me time with Scott." What's more, the personal connection gave Ensor access to trade shows, where he promoted NonStop Hunting to sponsors.
Meanwhile, Ensor had negotiated the show's first airing in July 2007 on the Men's Channel. "It wasn't cheap," he says, "especially for two guys without sponsors. We paid $3,000 a show. By August, the channel went bankrupt. Fortunately, we hadn't paid for too many shows in advance. Yeah, we lost some money, but we couldn't do anything about it."
Courting Sponsors
Disappointed but still determined, the pair bought airtime on Fox Sports Southwest. "We wanted to keep our exposure out there one way or another," Ensor says. "We also kept hunting and building up content for our shows. I was still trying to sell sponsorships, too."
In January 2008, Ensor set up an archery trip in Mexico with Shultz. This time, Wright joined them. "It was a good hunt, and Scott saw how Darrell and I interacted," Ensor says. "On the way to the airport, Scott said, 'I will commit to you right now for a full sponsorship.' But he wanted us on a bigger network and with a different production company. We said yes!"
Back home again, Ensor jumped on the phone and set to work. His tenacity paid off: NonStop Hunting would air on the Versus Channel in July 2008. With their television schedule nailed down, commercial sponsorships followed. "Then the economy started to sink, and companies had to cut back," Ensor says. "But it was still amazing to see how far we'd come by the end of '08 compared to the year before. We'd made a lot of progress."
Taking Aim at the Future
Now, another season into airing, NonStop Hunting continues to gain momentum. Starting in July, the show was slotted for Sundays at 5:30 p.m. (CST), Wednesdays at noon and Fridays at 2:30 a.m. on The Sportsman Channel.
"We're excited about this year," Ensor says. "I think The Sportsman Channel will really help us grow our audience. When people see what we have to offer, they'll keep coming back. I mean, we're not just die-hard hunters. The show's about two good friends who hunt together. We're competitive, but we're also happy for one another, and we laugh at each other if one misses a shot. That's the way we really are.
"Hosting a TV show is a difficult business," he adds. "It's not all fun and games. The hunting part is fun. But even then, doing the show has made hunting tougher, because we have a videographer along."
Still, they are not complaining. Their show has taken them on all kinds of hunts in all kinds of locales — for bear in Washington, elk in Montana, blue wildebeest in Africa and white-tailed deer from Wisconsin to Mexico, for example.
Where is their favorite place to hunt? It's a 240-acre property in Kansas, which Ensor and Wright financed through the Texas Land Bank in 2005. "I had closed deals with the Land Bank through my real estate business," Jeff explains. "When we were ready to make our purchase, I knew who to call."
Looking ahead, the "two guys from Hamilton, Texas," as they jokingly call themselves, plan to keep making shows and maybe even turn a profit. This year, they finally broke even.
"There are people who make a living at what we're doing with NonStop Hunting," Ensor reflects. "Someday we hope we can, too."
For more information, visit www.nonstophunting.net.
– Sheryl Smith-Rodgers
---