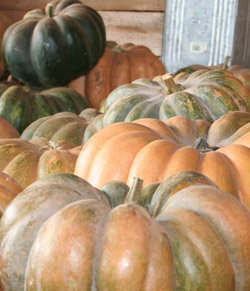 When you grow 5,500 acres of cotton, planting an additional 60 acres of pumpkins might seem trivial. But for Tate Farms in Madison County, Ala., those pumpkins are the central feature that attracts more than 45,000 people who visit the farm every fall.
The farm, located north of Huntsville, Ala., is one of the largest farms in north Alabama. Now, it's also one of the region's top seasonal tourist destinations. Open to the public for six weeks each fall, Tate Farms Cotton Pickin' Pumpkins sells 35 to 40 different varieties of pumpkins and offers numerous family attractions ranging from a sunflower trail to a country store.
Everyday Farm Activities Inspire Entertainment Ideas
"You'll never see neon lights or an inflatable ball-pit bouncer when you come here, because all of our activities are ag-related," says Steve Tate, a partner in the farming operation, along with his father, Homer, two brothers, Mike and Jeff, and cousin Pat Brown.
"Our goal is to recreate the experiences we all had growing up on a farm that we take for granted, like playing in the corncrib. It's amazing how a kid can spend an hour in the corncrib, essentially playing in a box," Steve says.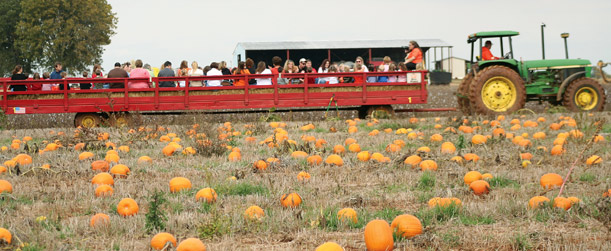 ---
Steve's wife, Jackie, who manages the seasonal employees, remembers the childhood thrill of jumping from her great uncle's hayloft into piles of hay below. The experience is one of many simple joys she hopes to recreate for visitors.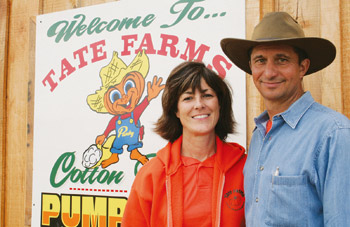 "We'll hear grandparents telling their grandchildren, 'See that? When I was little, this is how grandpa or grandma used to do it,'" Jackie says. "We enjoy hearing stories of how it used to be. That keeps our agricultural heritage alive," she says.
Growing Into Agritainment
The Tate family started the agritainment business 12 years ago, after Steve and Jackie saw a similar business on a farm tour in 1994.
"A friend of mine in Clarksville, Tenn., showed me their operation, which was a pick-your-own strawberry place," Steve recalls. "When he realized how close we live to the city, he said we really need to try something similar."
The couple approached the rest of the family about starting a fall agritainment venture, and they agreed. The business was a way to diversify the large-scale farming operation and to help clear up some of the public's misperceptions about agriculture. The name Cotton Pickin' Pumpkins was chosen carefully to represent the family's heritage as cotton farmers.
"Our farm is on the outskirts of Huntsville city limits, and doing this provides us with an opportunity to teach people about agriculture," Jackie says. "There are so many misconceptions out there, and it was getting particularly bad around the time we started in 1996. We really saw a need for people to understand farming and see for themselves that farmers care about the land and their neighbors," she says.
They welcomed about 7,000 guests the first year, and the operation was run by seven family members. This year, they expect more than 45,000 visitors and employ up to 125 seasonal employees, from teenagers to retirees.
Field Trips Bring Almost 25,000 Students
The majority of the visitors are schoolchildren in preschool through second grade who come to the farm on field trips. School tours are offered every weekday, and the slots always fill up in advance. Nearly 25,000 students toured the farm last year.
School tours include a hayride to the pumpkin field, a visit to the animals and stops at the hay bale maze, the barnyard playground and the corncrib. In addition, each student does a fun hands-on activity designed to teach something about agriculture. This year, the activity is picking and ginning cotton.
"A few years ago, we bought a miniature cotton gin that weighs about 250 pounds," Jackie says. The machine separates the lint from the seed, although it doesn't really clean the lint. Every class will get to pick cotton and watch it being ginned. "Plus, they'll each get a little muslin sack with cotton in it to take home," Jackie says.
Six-Week Season Requires Extra Energy
During the six-week season, which stretches from late September to early November, the family works almost around the clock.
"It's an exciting time, because you get to see people you haven't seen in years and get to meet new people from all over the place," Steve says. "But it will wear us out, too. Farmers are not accustomed to catering to the public, and pleasing them takes a different energy level. During the season, we know we have to be our No. 1 best every day."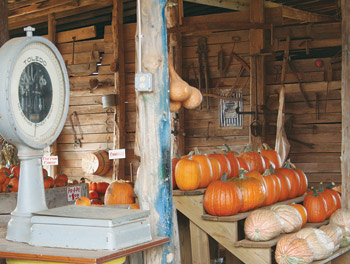 This year's season brought additional challenges. For the first time, a combination of drought, extreme heat and a plant virus nearly destroyed the pumpkin crop. The Tates had to purchase pumpkins from farms as far away as Indiana and Pennsylvania. "We couldn't take a chance on running out," Steve says. "You've got to have a product when people get here."
A True Family Farming Operation
All aspects of Tate Farms are managed by family members, and while they work together well, each person brings a specific skill to the mix. Although he is 79 years old, Homer is still very involved in the day-to-day operation and prefers to fill the role of overseer. Steve grows the pumpkin crop and handles financial issues, such as budgeting, taxes, payroll and insurance. Mike is involved in the management of the farm's No. 1 crop, cotton, along with handling conservation and FSA-related issues. Jeff is responsible for equipment maintenance, irrigation and personnel management. Pat's primary crop responsibility is the management of the corn and cotton crops, along with crop input procurement and the recording of field operations. The wives of the younger partners, Jackie, Sherri, Michele and Cristall, do the booking and event planning for the agritainment business.
The women have branched into more event planning and catering in the off-season. With an onsite commercial kitchen and menus ranging from simple to elegant, they are able to cater to corporate meetings, weddings and other events.
"We just built a pavilion that seats 325," Jackie says. "We have a big investment out here, and we need to make the most of it."
They also spend time brainstorming about features to add the next season. Families will come back year after year to see what has been added. "They keep coming back, and that is the ultimate compliment," Steve says.
Farmers First
Despite their popularity as a tourist destination, Tate Farms is first and foremost an agricultural operation.
"The Tates have a huge farm that is mostly cotton but also has corn, wheat, soybeans and now, pumpkins," says Jason Thomas, Federal Land Bank of North Alabama vice president in Athens. "They have a long history in Madison County and a long relationship with the Land Bank. I'm proud to have them as customers, because they are nice people who really do a good job with their operation."
The family's roots in the area trace back to the mid-1800s, when the family relocated from Tennessee, and before that, from Virginia. Homer started farming in 1948, and the joint venture partnership, Tate Farms, was formed in 1987.
Sharing the Story
They are proud of their heritage and the opportunity they have to share it with others. "I like seeing people out here having a good time, and I like making that happen," Jackie says.
Steve agrees. "We'll have 4,000 people come through here on a Saturday, and it can get pretty busy. But you look around and see all the happy kids, and that just keeps you going," he says.
For more information, call (256) 828-8288 or visit http://tatefarmspumpkins.com.
– Staff
---