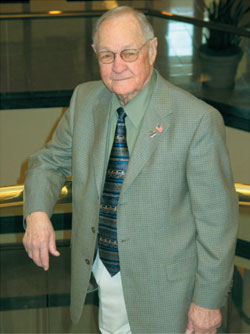 On a bulletin board above their computer, Dorothy Young pins up her husband Ray's many plane tickets. His leadership positions in several national organizations require frequent travel away from their Louisiana farm.
"I'm always double-checking to make sure he's getting where he needs to be, when he needs to be there," says Dorothy, who has served as the farm bookkeeper and office manager during the couple's 50 years of marriage. "He's taken 12 trips so far this year and has another trip to Washington in a few weeks."
Ray Young's impressive credentials include being the nation's longest-tenured crop consultant. He started scouting cotton for insects in 1946, years before insect thresholds were established. He has awards and honors too numerous to name that range from being selected by his peers for induction into the Louisiana Agricultural Hall of Fame to twice being named National Agricultural Consultant of the Year.
Quiet, humble and respected, Young is the current president of the National Alliance of Independent Crop Consultants and a board member of the national Farm Credit Council (FCC) and the Coalition of American Agricultural Producers (CAAP). His work with CAAP focuses on the proposed Cost of Production insurance program, a plan that would help producers survive natural disasters and economic crises by providing up to 85 percent of the input cost.
Young's first term as an FCC board member began last November, and in that role he represents Farm Credit to Congress and the Farm Credit Administration. Ken Auer, chief executive officer of the Farm Credit Council in Washington, D.C., says, "Ray Young's wealth of experience positions him as an expert with any audience. That credibility and Ray's engaging personality make him an effective spokesperson for the System and an asset to the Farm Credit Council board."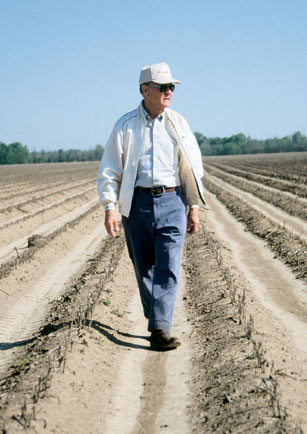 Young has been connected to Farm Credit since he obtained his first loan 40 years ago. He also is a longtime board member of Louisiana Land Bank, and was one of the few who traveled to Washington, D.C., to sign the association's charter in 1989.
"As a board member of Louisiana Land Bank, Ray is as passionate about serving stockholders as he is about everything else he does, which is plenty," says Darrel Jans, Louisiana Land Bank's chief executive officer. "Ray finds time in an extremely busy schedule to ponder, communicate and seek solutions to issues that confront our dynamic business."
That dedication comes from a passion for agriculture and a supportive family who keeps the farm and consulting firm running during his absence.
"Jesse, my son and partner, is willing to do what's necessary to keep the home fires burning while I'm away," Young says. "He realizes the importance of advocating for agriculture.
"Agriculture is vital to this nation. It's a matter of national security," Young continues. "Ag exports help the nation's balance of trade. It helps keep rural communities alive and thriving. Ag representation in our Congress is diminishing, making it necessary to keep ag issues before our lawmakers," he says.
Young graciously minimizes his role as an effective leader, explaining his contribution as "seeing a need and being willing to step up to the plate and do my little part, being willing to give back something to an institution that has been good to me and my family for many years."
-Staff
---