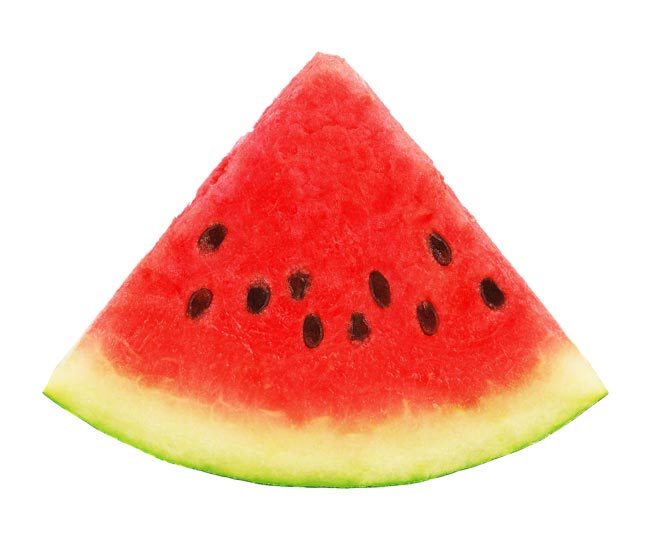 ---
You know it's summer when you take that first bite of sweet, crisp and refreshing watermelon.
It can be a messy business, but it tastes so good you don't mind the juice running down your chin. And if the taste of the watermelon isn't enough, there may be seeds to spit just for the sheer fun of it. Goodness knows, we just have to thank the farmers who work so hard to provide this summertime treat.
They Like It Dry
Some years, growing the masterful melon can be more difficult than others. Despite what its name implies, the watermelon doesn't like much water, but prefers dry, arid conditions with low humidity.
Texas, the No. 3 watermelon-growing state, experienced a wet spring this year, presenting a challenge for producers. Just ask Kinley Sorrells, a second-generation watermelon grower and AgTexas Farm Credit director from Comanche, Texas.
"I can't help but be glad for the rain," says Sorrells. "To see our local Proctor Lake fill up is a good thing. But our watermelons really do need a good dose of healthy sunshine. We're praying that they'll get what they need."
Fresh to the Market
Sorrells and his family grow about 85 acres of watermelons, which yield approximately 45,000 pounds per acre. Some are started in greenhouses 30 to 40 days before transplant to the field, so they're ready early in the season. Typically, Sorrells harvests by June 10, depending on the weather.
"People like to see the face of the farmer who grew the product," notes Sorrells. "It's amazing to have people who buy your product walk up and point to the poster, and then look at me and say, 'That's you!'"
It's Good For You
Originating in Africa, where a watermelon harvest was depicted in Egyptian hieroglyphics 5,000 years ago, watermelons were invaluable to desert dwellers as a portable source of water. Today, studies reveal that in addition to whetting our whistle with its more than 90 percent water content, watermelon is full of vitamins and minerals. Interestingly, the pinker varieties have high amounts of lycopene, which works as an antioxidant.
So, this summer, enjoy your fill of the mouth-watering treat, knowing that watermelon doesn't just taste good, but it is good for you, too.
- Staff
For more information, visit The National Watermelon Association at http://watermelon.ag
Nutrition
Serving size: 2 cups diced (10 oz.). One serving has 80 calories, 20 grams of sugar and 1 gram of protein.
Percent daily values based on a 2,000-calorie diet:
| | | | |
| --- | --- | --- | --- |
| Fat, cholesterol and sodium: | 0% | Vitamin C: | 25% |
| Carbohydrate: | 7% | Potassium: | 8% |
| Dietary fiber: | 4% | Iron: | 4% |
| Vitamin A: | 30% | Calcium: | 2% |
Health Benefits
Here's the lowdown on watermelon goodness. The melon contains:
High levels of lycopene, an anti-inflammatory that's also effective at protecting cells from damage, which may help lower the risk of heart disease
Citrulline and arginine, also good for your heart. Arginine can help improve blood flow and may help reduce the accumulation of excess fat.
Electrolytes, to help keep you hydrated
Vitamin A, which helps keep skin and hair moisturized and, along with a high concentration of Vitamin C, encourages healthy growth of new collagen and elastin cells
Fiber, which encourages a healthy digestive tract
All parts of the watermelon can be eaten, even the rind, which offers its own nutritional benefits.
Watermelon Smoothie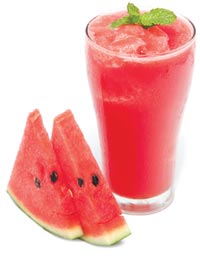 •  8-10 cups watermelon, seeds removed, cut into large pieces
•  ½ cup strawberries, cut in half
•  Juice of half a lime
•  Sugar to taste (about 1-2 Tbsp.)
•  Put all ingredients in a blender and blend well. Serve in chilled glasses.
---