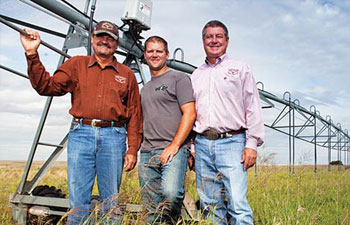 ---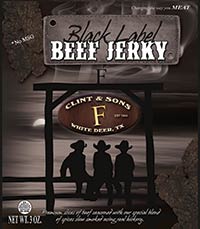 The distant din of packaging machinery can be heard in Joe Freeman's office at Clint & Sons Custom Processing in the tiny Texas Panhandle town of White Deer. It's the hum of a healthy, growing business.
But it wasn't always so for this family-owned custom meat-processing and jerky-making company.
"When we first started, the business was tough," says Joe. His brother Johnny, sitting next to him, nods in agreement.
"We might go for a month and not have any animals to process," Joe says.
"Then God would show up, and we'd be busy enough to keep the door open for a little while longer," Johnny recalls, laughing.
For more than 30 years, the Freeman brothers have guided their business through typical ups and downs, building upon a legacy of excellent products and keen customer service that started two generations before them. Now, business is much more predictable, thanks to their innovative approach to diversification and a lending partner who has shared their vision of growth.
Four Generations
"Clint is our dad's name," says Johnny, explaining how the company got its current name. "Dad bought the locker from his dad in 1957."
Back then, the custom-processing plant was called Clint's Zero Locker and, along with an accompanying grocery store, helped feed White Deer–area families. When the brothers bought a two-thirds interest in the business in 1981, they opted to keep their father's name on the operation.
"We chose the name Clint & Sons because people already knew my dad's name and the company's reputation," Joe says.
Today, Johnny and Joe continue to participate in the daily operations of the plant, while Johnny's son Justin keeps production on schedule.
The enterprise has grown steadily from a time when business was seasonal and custom-processing orders were in short supply. Now, they process as many as 20 head of beef cattle a week and numerous pigs during the winter stock show season.
Deer processing is also a big part of their business. Each year during deer season, Clint & Sons focuses about a month of their efforts solely on processing deer and shipping the products such as sausage and venison meat sticks nationwide.
"Most of our customers are from Texas, but we have people from as far away as Florida who hunt around here and bring their deer to us to process," Justin says.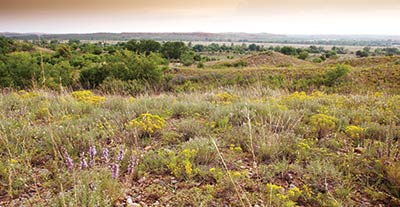 Back to the Land
In the late 1990s, the Freemans decided to expand and diversify into production agriculture. With the help of Panhandle-Plains Land Bank, they began growing their land holdings and agribusiness enterprise.
The Freemans have financed several real estate purchases with the Land Bank since 1999, acquiring property on which they raise Angus cattle and grow forage grasses under center-pivot irrigation.
"They are good customers," says Steve Donnell, Land Bank senior vice president. "They know where their money is, they know everything they need to know about their operations, and they have good records. Every part of their operation is profitable, and they are on top of things."
With Panhandle-Plains as their lender, the Freemans began a decade of growth. Justin says the family has always viewed land as an asset for growth, and recognized that having a lender who is flexible and understands their needs is critical to the execution of their business plan.
As their portfolio grew, they would devote more resources to finance the growth of the meat-processing plant — a move that has helped to solidify their brand reputation throughout their core trade region, which is concentrated within a 100-mile radius of White Deer.
"Everything they do is well thought out," says, Donnell. "They don't make a move without understanding where that trail will lead them."
A New Jerky Line
Around 2005, the Freeman family started looking for ways to diversify their products and capitalize on their growing reputation for quality and exceptional customer service. They wanted a product that would keep them busy year-round and expand the business even more.
Their answer: develop a line of jerky that mirrored the quality they provided with their custom-processing orders.
"The thought of producing jerky on a commercial scale was easy," says Justin. "The jerky we made in our plant has a following, so we figured we could sell the product."
While the notion seemed simple, the execution proved more challenging.
"When companies brag that they've had the same smokehouse for 100 years, it isn't that they can't afford a new one. It's because it's really hard to match the flavor from one batch to the next. Using a consistent source of smoke is key," Justin says.
By experimenting with various styles of smokehouses, the Freemans figured out how to mass-produce jerky with the same consistency and attention to detail that the brand demands.
Four years later, the first batches of their branded premium jerky hit local store shelves. However, placing the product in retail stores proved even more challenging than making it. Fortunately, a break came early on.
"When we do custom processing, we form personal relationships with many of our customers," says Justin. One of those relationships involved a family who owned numerous convenience stores in the Amarillo area. As luck would have it, one day a casual conversation between the Freemans and this particular family led to an invitation to put jerky in more than 50 stores.
"When companies brag that they've had the same smokehouse for 100 years, it isn't that they can't afford a new one. It's because it's really hard to match the flavor from one batch to the next. Using a consistent source of smoke is key." - Justin Freeman
In response, Clint & Sons began ramping up production, and built a new plant across the street from the existing locker — one that would accommodate an increased demand for products.
"The people in this area want to do business with other people from this area. As it turns out, a lot of store owners were willing to give us a shot," Justin says.
Today, Clint & Sons produces six styles of beef jerky and one chicken jerky, and sells the products in six states.
A Place to Relax and Hunt
With financial backing from Panhandle-Plains Land Bank, the Freemans began searching for an income-producing piece of property where they could hunt, raise cattle and relax.
In 2010, they closed on a property in nearby Donley County that fit their needs. The multi-use piece of land lies near the Salt Fork of the Red River in the rolling sandhill country. The sandhills are peppered with prairie grasses and forbs, while elm and hackberry trees grow in the draws between the hills. It is perfectly suited for both cattle and all types of wildlife, precisely what the Freemans wanted.
"We sought financing again with Steve Donnell and the Panhandle-Plains Land Bank," Joe says. "We've always liked working with him because he understands agriculture and understands the needs of our operation."
Understanding the Freemans' goals was crucial, as the family took the land from its raw state, began managing it primarily for wildlife production and constructed a nicely appointed lodge. To ensure that the ranch would pay for itself, they started offering commercial hunting and named the place the Stix Ranch.
"About the time we bought the ranch, we started making a snack stick meat product, and we joked that it was those meat sticks that would have to pay for the ranch," Justin says. "So it seemed pretty natural to call it Stix Ranch."
Even in their hunting operation, the family remains true to the tenets that have made Clint & Sons a successful brand for four generations. It's an ethic that revolves around keen hospitality, stalwart customer service and old-fashioned attention to detail.
"I think the key to our success has always been pretty simple," Joe muses. "It involves listening to our customers, admitting when we make mistakes, and doing all we can to make sure we get it right every time."

---
---