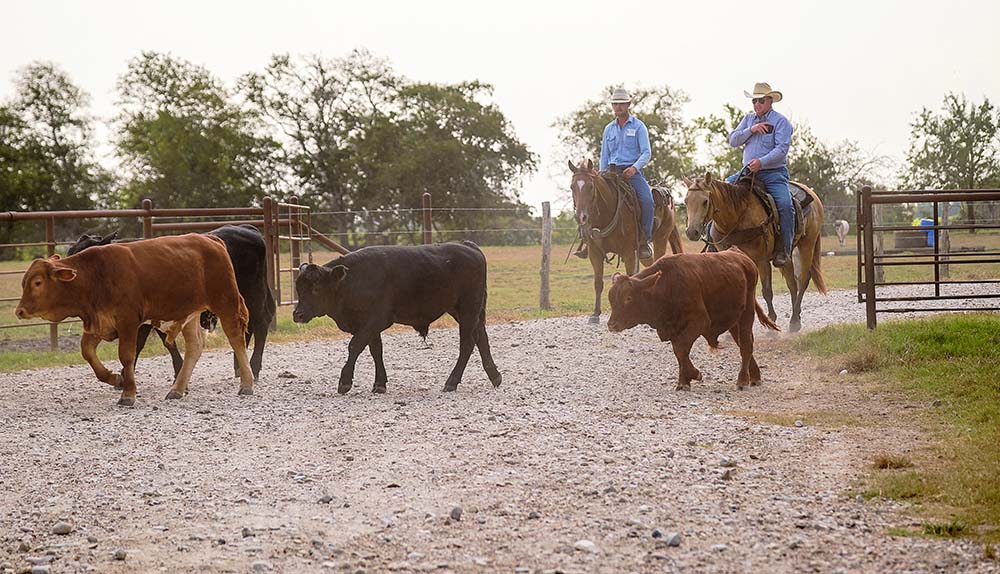 ---
Texas cattleman Gary Fritsch was just 16 when he learned a lesson that would shape his lifelong business philosophy.
"I went to the bank in Fayetteville and asked the banker for a loan to buy some cattle. He asked me if I had any cattle to offer as collateral," Gary says, recalling the mid-1960s experience. "I told him if I already owned some, I wouldn't need a loan."
The loan request was denied. But the enterprising teenager was not deterred. He borrowed funds from his aunt and resolved to build a cattle herd on his own.
"I'd buy one or two animals and sell them and pay my bills. Then I'd buy three or four," Gary says, explaining how he built a cattle business by reinvesting in his own operation.
Today he operates Fritsch Cattle Company, buying and selling several hundred head of cattle a day. Yet he still follows the same approach he adopted as a teenager.
"Every calf we buy, we buy one at a time," he says.
Up to 30 auctions a week
Fritsch Cattle Company is a preconditioned stocker operation and cattle order-buying business, supported by Texas Farm Credit. Headquartered near Fayetteville, the operation involves Gary and his wife, Betty, and their sons, Brad, Todd and Ryan, better known as Bubba.
Six days a week, Gary, "the boys" and two additional buyers attend 25 to 30 cattle auctions within 100 miles of home.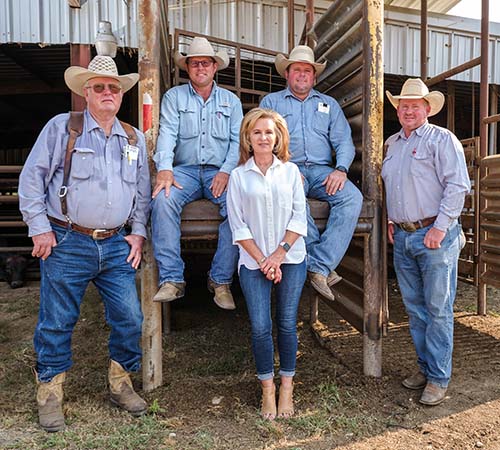 They sort their purchases by weight, quality and sex. Each animal is tagged, vaccinated, branded and treated for apparent health issues. Then they're put on owned or leased pastures in the area. It's all part of the post-weaning program to help them adjust to a new environment.
"What we do is buy young animals, try to get them strong and healthy, and feed them right," Gary says.
Located in cow-calf country
The formula works for the Fritsches, largely because of their location in Central Texas. The region is home to numerous small and part-time cow-calf operations that depend on local sale barns to market their animals.
"Most of the calves we buy are from herds of 30 cows or less," Gary says.
The Fritsches look for heifers and steers with strong gain potential. They retain about 70% of their purchases for their own operations. The remaining 30% are for other producers.
"It's kind of like the stock market. When the market's up, we don't buy as many cattle, and when it's down, we try to buy more," says Gary, a licensed livestock dealer. "But because we deal in a large volume, things can go well or go poorly."
Vulnerable to world events
For years, the Fritsches have used puts and calls and other price protections to reduce their risk in the cattle market. Still, they're vulnerable to external events.
"In the cattle business, you can think everything's good," Brad said. "And then overnight something happens in the world, and it all changes."
"Texas Farm Credit treats us well. What I like is the profit-sharing. And the interest rate is so good."
– Gary Fritsch
But whether the market is up or down, "pay day is always down the road," Gary says. "We don't get paid until the cattle are sold."
Water, feed and shade
The Fritches precondition their stockers on high-quality pasture, supplemented with a ration they mix themselves, plus hay in winter. The cattle are shipped to Texas Panhandle feedyards for finishing.
"We always want to have good water, good feed and plenty of shade — and people who know how to check the cattle," Gary says. "That's what keeps the place going."
The "place" includes the separate operations they each run. Brad and Bubba own land and cattle in a partnership known as B&B Cattle. Todd, a former country music recording artist, owns his own cattle and recently purchased the Giddings Livestock Commission. Although not a part of Fritsch Cattle Company, their sister, Rachel, and her husband, Daniel Schley, raise show pigs and feeder cattle nearby. Betty handles accounts payable, and Brad's wife, Amy, manages the office.
An early start
Buying, backgrounding and selling cattle — taking them from weaning to the feedlot stage — is a family tradition.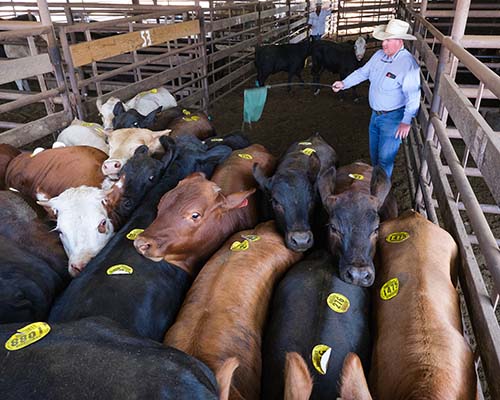 "I started with one calf, probably when I was 6 years old," Gary says. His children did the same.
"I instilled in all of them, if you want to get ahead, pay your bills first and set some money aside for your next purchase."
He also cosigned their first cattle loans when they were in high school or college. Today, they all have their own revolving lines of credit with Texas Farm Credit. So do two of Gary and Betty's grandchildren.
"Texas Farm Credit treats us well," Gary says. "What I like is the profit-sharing. And the interest rate is so good."
Farm Credit support
Kevin Hemann, relationship manager with Texas Farm Credit, says the entire family spends countless hours serving the community.
"It's a pleasure to work with the Fritsch family and see their passion for agriculture and young people firsthand," Hemann says.
With 10 children among them, the Fritsch siblings also appreciate Farm Credit's support for rural youth activities.
"Texas Farm Credit has been so good to support the kids in FFA and 4-H and to be at the school functions," says Brad, who along with Amy was a delegate to the 2015 Farm Credit Young Leaders Program. "They're out there helping to support agriculture."
— Staff
---