Ask five friends to describe their dream home in the country, and you'll probably get five different descriptions. Unlike city subdivisions with their cookie-cutter designs and building restrictions that encourage conformity, rural communities allow homeowners to define their property through their personal lenses.
The options are limited only by one's own vision — and a lender to finance them. Whereas conventional lenders may have acreage restrictions, limited rural knowledge and narrow loan options, Farm Credit cooperatives' loan portfolios reflect a smorgasbord of rural home types and sizes, financed with loans as diverse as the properties themselves. From construction loans for new barndominiums to improvement loans to remodel old farmhouses. Farm Credit has done it all.
Tour a few unique properties made possible with Farm Credit financing.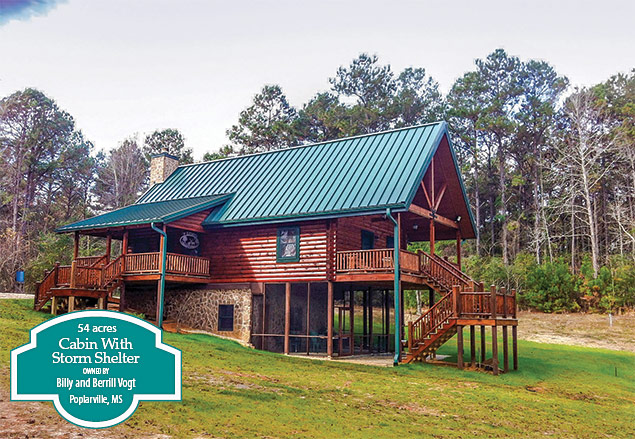 ---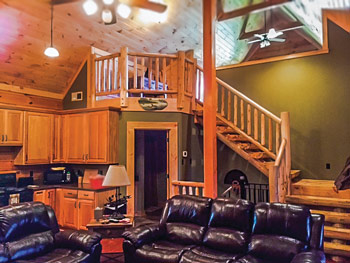 Billy and Berrill Vogt's 1,900-square-foot, four-bedroom log cabin is constructed of 8-inch logs that extend through the gables on each end. Designed to double as a refuge in the event of a hurricane evacuation, the weekend home sits atop a walk-out basement that is built three-quarters into the hillside for shelter. It includes a safe room that is entirely underground. A 20-kilowatt propane generator provides back-up power.
"We chose to finance with Southern Ag because they met all of our needs," says Billy, who was referred to the lender by a local insurance agent. "Normal conventional loans for fixed-rate, 20-year financing cannot be encumbered by more than 10 acres. Since we have 54 acres, the log cabin and a barn building, we needed all of that included in the value to get the loan amount that we wanted."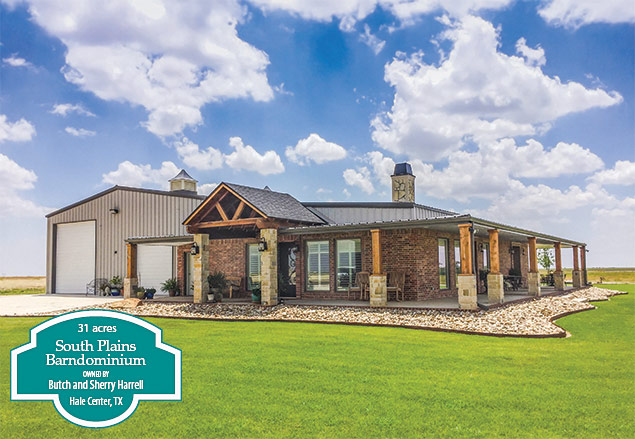 ---
Built in 2015 on a tract of improved pasture that Butch and Sherry Harrell had owned, this steel and brick barndo consists of 4,927 square feet of barn and living space under one roof.
The barn area was built with a steel frame and siding, and includes a shop area and second-floor storage. It also features oversize garage doors to accommodate an RV, and offers enough height for a basketball practice court. The residence portion has two brick exterior walls, steel back walls, and porches on three sides that allow for watching wildlife on a nearby playa lake. The fully finished interior includes a safe room for protection during tornadoes.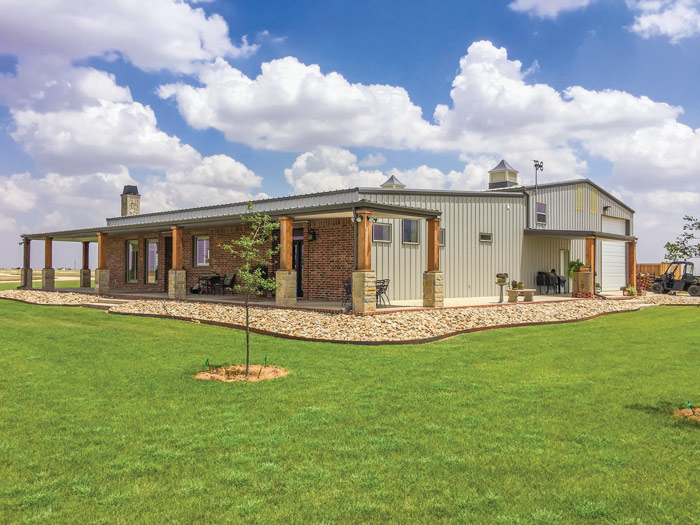 ---
Having financed several farms with Plains Land Bank over the years, the Harrells returned to the Land Bank for their long-term home mortgage.
"Knowing who we are dealing with today and tomorrow is a big plus," says Butch, "as well as a low fixed rate and really nice patronage."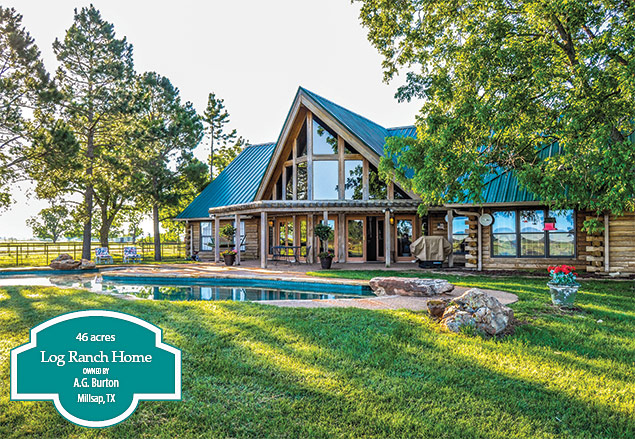 ---
This 3,668-square-foot log home features a guest house and in-ground pool, and is finished with a metal roof and both beadboard and log walls. The property includes a horse barn and related ranch buildings.
"When we decided to purchase our first ranch a few years ago, we researched and compared multiple finance companies in the area. Thankfully, we chose Lone Star," says A.G. Burton. "We were impressed with the professionalism of those staffing the Weatherford branch. Lindsey (Ellsworth) and Pam (Van Horn) went out of their way to ensure that the application process was simple and streamlined.
"Since that initial purchase, the Lone Star folks have become more like family. When the time came to purchase additional properties, we had no hesitation in partnering with Lone Star," says Burton. "With consideration to their annual member benefits and competitive rates, we highly recommend Lone Star's expertise and broad-based knowledge to anyone seeking hassle-free, rural-property financing."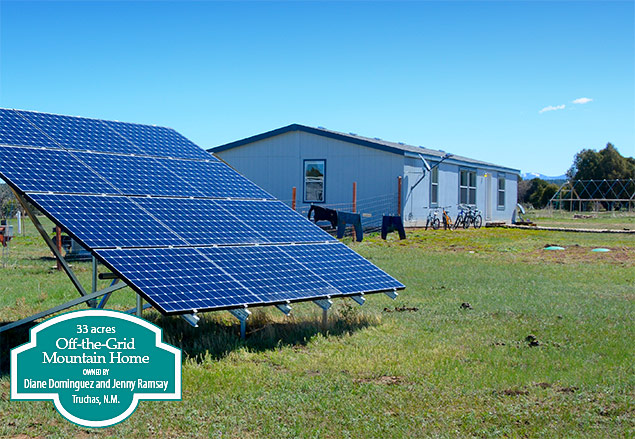 ---
At an elevation of 8,000 feet, Diane Dominguez and Jenny Ramsay's property has unlimited views of the surrounding mountains but no formal source of water or utilities. The 1,528-square-foot, three-bedroom, two-bath manufactured home is completely off the grid. Solar panels charge a bank of batteries that provides electricity to the home, and a generator offers back-up power. The owners depend on water hauled to a cistern. With plenty of land, they also have a barn and corrals and plan to add on to their starter home in a few years.
A friend referred the owners to a credit union for financing. The credit union was unable to help them due to lending restrictions, and recommended Ag New Mexico for the loan.
"Ag New Mexico was the only lender willing to give us a chance. They have been helpful, friendly and offered us assistance with insurance leads, etc. It has truly been a fabulous experience," says Ramsay.
---
This 600-square-foot, two-bedroom, one-bath modular home was factory-built and assembled on-site on a pier foundation. Owner Carrie Thomas incorporated green building techniques for energy savings.
An additional 600 square feet of covered and open decks and a screened porch provide views of Enchanted Rock State Natural Area and the Texas Hill Country.
"My real estate agent recommended Capital Farm Credit and, after discussing options, I was sold," says Thomas. "I live in Austin, but worked with the Mason office, and everything could be done through e-mail and phone calls. They made it very easy."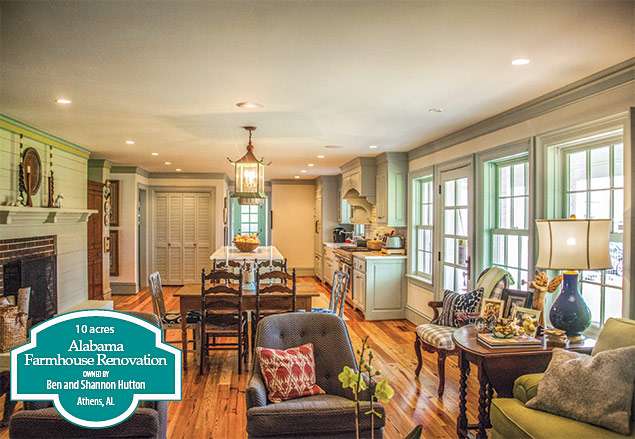 ---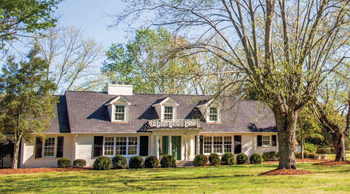 Built by Shannon Hutton's grandparents 50 years ago, this 4,315-square-foot house had structural problems that could only be corrected by tearing it down to the studs. It also required a redesign to comfortably accommodate the Huttons' family of six.
During the two-year reconstruction and renovation project, the Huttons opened up the floor plan, moved stairs and converted unused attic space into children's spaces, being careful to preserve many of the original doors and fixtures. They also added a climate-controlled crawl space for easier maintenance in the future.
"Doing the construction loan through Alabama Farm Credit was a great experience," says Ben. "Our loan officer, Jason Thomas, went out of his way to make the process easy. And he wore many hats besides banker, including quidance counselor."
– Sue Durio
---