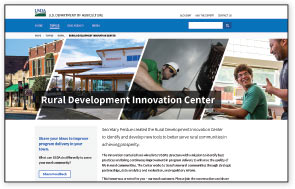 Organizations ranging from Farm Credit co-ops to government agencies are developing programs to support rural communities and help build — or rebuild — rural infrastructure.
One such program is a new interactive webpage designed to identify best practices for building rural prosperity.
Known as the Rural Development Innovation Center and developed by the USDA, the webpage highlights strategies that have been used to create jobs, build infrastructure, strengthen partnerships and promote economic development in rural America.
The webpage also highlights federal resources that can be used for investments in infrastructure and innovation. These include the Distance Learning & Telemedicine Grant Program, Community Connect Grants, and Community Facilities Loan and Grant Program.
The webpage is available at http://bit.ly/usda-rdic.
–Staff
---