As a young man working on his family's Athens, Ala., row-crop farm, Reece Langley could not have envisioned the path his life would take to become a voice for agriculture in the nation's capital.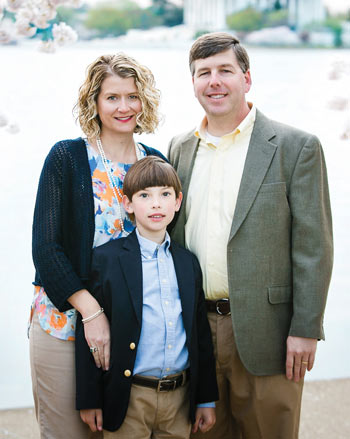 But an opportune college internship in Washington, D.C., changed the trajectory for this Auburn University agribusiness student's future career. That three-month stint with the U.S. House Agriculture Committee gave him a peek into the world of agricultural policy, whetting his appetite to learn more — and devote his career to representing farmers' interests on Capitol Hill.
From Farmer to Legislative Assistant
After college, Langley returned home to farm and got involved with local agricultural organizations. Through the Alabama Farmers Cooperative, he took a management training program that focused on professional development, industry leadership and organizational involvement. Eventually, as a result of contacts and relationships with the Alabama Farmers Federation, he was offered an opportunity to work for U.S. Rep. Terry Everett of Alabama, and in 2001, he joined Everett's Washington staff as an agriculture legislative assistant.
"Congress was starting work on the 2002 farm bill, and I had the opportunity to be there for three years, involved in its development, passage and implementation," Langley says.
Lobbying for Rice and Cotton Sectors
Langley didn't expect to stay in Washington long, but enjoying the work and the environment, he decided to shift his focus from policymaking to advocacy. In 2005, he joined the USA Rice Federation as vice president of government affairs, and during almost a decade there, he worked on both the 2008 and the 2014 farm bills.
Then last fall, Langley — an Alabama Farm Credit customer, who maintains farming interests in his home community — was named vice president of Washington operations for the National Cotton Council of America, becoming the lead lobbyist for the largest cotton trade organization in the country.
Having helped usher three farm bills through Congress, Langley has witnessed firsthand the challenges of advocating for agriculture.
Farm Bill Challenges Increase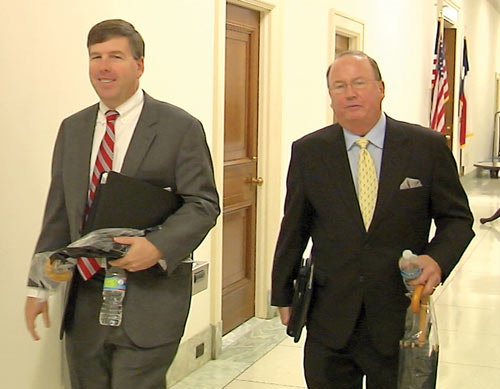 "With the 2002 bill, we had a budget surplus, so the debate was focused more on using the resources most effectively to create an adequate safety net for agriculture," Langley says. "In 2008, we felt more impact from the constant turnover in Congress, which required that we do a lot of educating. The budget picture also had changed, bringing more attention to how the farm bill would affect the federal budget.
"With the 2014 farm bill, there were fierce attacks on farm policy by groups that, though outside of agriculture, had the ear of Congress," he says. "That, coupled with budget pressure, helped contribute to the biggest policy change the farm bill has seen since the late 1990s."
Growing Need to Educate Congress
Over his 14 years in and around the Beltway, Langley has seen a definite shift in agricultural literacy among policymakers — one that cannot be ignored by the industry.
"Just look at the makeup of Congress," he says. "Turnover is more and more significant, with shorter tenure. With each election, we see more freshman members and new staff that we have the opportunity to help educate about agriculture, the need for agricultural policy, and its importance to the economy and consumers.
"In addition, just like we are seeing in the population at large, Congress and congressional staff are more generations removed from agriculture, so many just don't have the full understanding of what is involved in farming — the risks and the financial commitment."
From Langley's perspective, the No. 1 misconception among lawmakers is that U.S. agriculture is dominated by corporations focused solely on profits. And it's a notion that farmers must try to dispel.
- Sue Durio
Advice for Farmers and Farm Groups
Reece Langley sees several opportunities — and even obligations — for farmers and their agricultural organizations to be stronger voices for the industry.
Educate Congress
"First, we must step up education efforts on Capitol Hill, and be able to tell our story — why agriculture is important to our economy and why Congress should care about the policies that impact our industry," he says.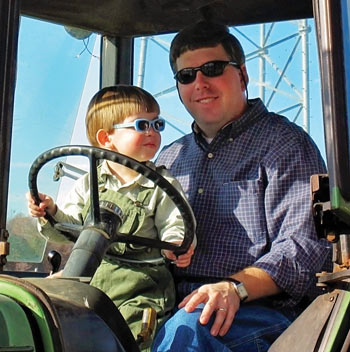 Photo by Erin J. Rexroth
Collaborate with Other Ag Groups
Agricultural groups must collaborate and find consensus.
"We need to work together on common goals and find agreement," Langley says, pointing to the national Farm Credit Council as a role model.
"The Farm Credit System is dealing with some of the same challenges as commodity groups," says the Alabama Farm Credit customer. "The Farm Credit Council is seen as a very unifying force, and has been able to have an impact in educating people on the industry's issues and value."
Develop Personal Relationships
Langley points to the undeniable impact that local farmers and ranchers can make at the local level.
"Get politically active," he advises. "Get to know your state legislators and your local elected officials."
But don't stop there. The personal relationships that individual producers build with their members of Congress are invaluable, Langley notes, and easier to establish than many people may realize. He recommends attending your congressmen's town hall meetings when they are home during congressional recess or requesting a meeting at their district or state offices.
"Introduce yourself, meet and get to know them and their local staff," he says. "Tell your personal story, and begin building a level of trust so that you can be a resource to them.
"When they are considering farm policy or other issues that come before Congress, they will value your perspective on the impact of proposed policies on your family's farm, your livelihood and your community."
- Sue Durio
---