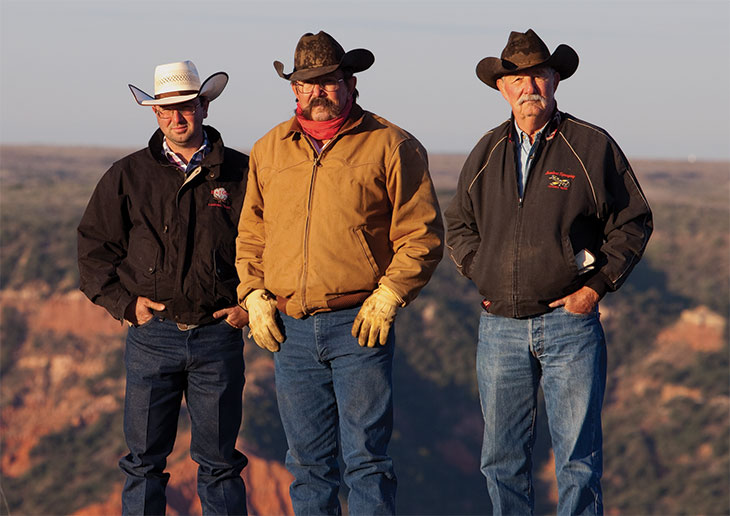 ---
The sun is barely over the horizon when Steve McPherson and his son, Matt, disappear on horseback into the brush that lines the rim of the immense Palo Duro Canyon in the Texas Panhandle.
It's like a scene right out of a movie — a scene that many people envision when they think of Texas — a vast landscape and a hardscrabble ranch, with rangy cattle sauntering through the cactus and brush, while a couple of rugged cowboys flank the herd.
But as idyllic as the image may be, ranching this country is a reality for the three generations of McPhersons who run McPherson Land and Cattle Company, located near the towns of Claude and Lockney.
"Hup! Hup!" Steve yells to the cattle, from deep in the mesquite flat. Soon, Corriente cattle of various colors spill from the brush. They slowly filter into a catch pen on the edge of the canyon and begin to feed on range cubes spilled in a line by Steve's dad, Gale. For the next half hour, Steve and Matt sort the cattle. The cows and calves are herded into a pen, while the un-bred cows are left on the upper pasture with the bulls.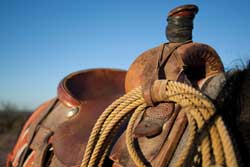 "It's their hard work and the generations working together that keep them strong."
– Harriett Burleson Assistant Vice President, Great Plains Ag Credit
Thriving in Rough Country
This is rough country for cattle, but the Corriente breed is ideally suited for sparse grazing conditions and the semi-arid climate of the canyon. That's why the McPhersons have built their cattle ranch on this niche breed, which they've been producing since 1990.
"We like Corrientes because they are well adapted to our grazing conditions," says Steve. "These animals are smart, they do well in this rough country — and they have a knack for doing well, even when the weather and the grazing quality is rough. We've had cows who've lived for 10 years or more and still have a calf every year. That's rare in most cow herds!"
Steve's knowledge of livestock runs deep; his family has worked in agriculture since he was born.
"My dad was primarily a farmer near Lockney for years," says Steve. "He raised cotton and corn and had a few cows." Those cows piqued Steve's interest in livestock. After earning a degree in agriculture education from West Texas A&M University and a teaching certificate from Texas Tech University, he taught vocational agriculture in Idalou and New Home and ran a cattle operation for a few years. Then, putting teaching behind him, he entered into a farming and ranching partnership with his dad, and in 1988 they leased the sprawling ranch, where they still raise cattle today.
"These cattle work easy," says the elder McPherson, watching his son and grandson expertly work cattle from horseback. "They act like they know what we want them to do." Retired since 2006, he still helps Steve and Matt regularly.
Popular Rodeo Stock
While some cattle breeds are easily excited when handled in such close quarters, these Corrientes cooperate with ease and soon go back to grazing. And that is one reason they are popular rodeo stock.
Steve says that many traditional beef cattle ranchers also like Corrientes. Due to their small size (most adults weigh less than 1,000 pounds), Corrientes make good bulls to breed to mainline, first-calf beef heifers. Their small size influences lighter birth weights — a trait prized by ranchers seeking to limit the number of complications their heifers encounter when giving birth to their first calves.
The McPhersons selectively breed for animals that are black or red in color, a practice intended to create characteristics that carry over when their bulls are bred to beef cattle. Currently the beef cattle market favors black or red animals, and Steve prefers to sell bulls that will produce a calf with a predictable color and quality.
Because of the unorthodox breed, the McPhersons market their cattle largely through private treaty sales and advertise in papers like Livestock Weekly. "We used to sell all of our calves to one guy who used them for team roping," Matt says. "However, the buyers now come from all over." As roping stock, Corrientes sell for higher prices than longhorns, his dad notes.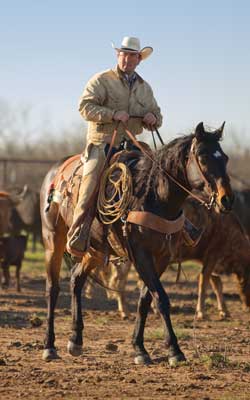 Farmers, Too
Steve and Matt may epitomize the cowboy image, but they spend as much time on tractors as on horses. The family farming operation is centered just outside of Lockney, about 60 miles south of the Claude-area ranch. A truly diversified agribusiness operation, McPherson Land and Cattle grows irrigated cotton, corn, wheat and milo. Whether farming or ranching, they have relied on Great Plains Ag Credit since 1956 for their operating funds.
"Their success is due to their diversification in the cattle and farming business," says the McPhersons' loan officer, Harriett Burleson, assistant vice president in the Great Plains Ag Credit branch office in Plainview, Texas. "It's their hard work and the generations working together that keep them strong."
For McPherson Land and Cattle Company, having a lender that understands farming, ranching and all of the things associated with agriculture is the key, according to Steve. "Great Plains Ag Credit has been good to us. Dad was a customer of PCA (Production Credit Association) for a long time. So doing business with ag people just made sense," he says. "They 'get' what we do."
It's not even mid-morning yet, and Matt and Steve have finished sorting the cows and calves. They open the south end of the catch pen and herd the Corrientes through the gate to a new pasture. Matt, who graduated from Texas Tech University in 2008 with a degree in animal science, follows the small herd down a steep hill and disappears into the canyon.
"Matt loves farming and ranching," says Steve. "He's got a young family, and he keeps them involved in what we do. This life is all we've ever known."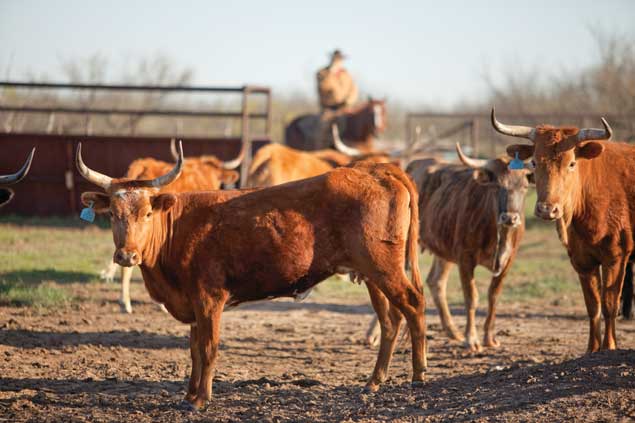 ---
CORRIENTES —
The Original Breed
Not to be mistaken for longhorn cattle, Corrientes are descended from the cattle brought to North America in 1493 by the Spanish — cattle that were hardy enough to withstand a trans-Atlantic crossing and adaptable to a new environment.
Transplanted from Europe to South Florida, the West Indies, and Central and South America, the Corrientes' ancestors were used for meat, milk and draft purposes.
In the early 1800s, the widespread American livestock industry began to develop, and by 1900, most ranches were using more modern breeds of cattle. The Corrientes' ancestors almost disappeared from this continent, save for some sporadic herds in the southwestern United States and Central America.
While the name Corriente is the adopted name for the type of cattle that share characteristics with those brought here centuries ago, the name is largely colloquial. The same type of cattle is also known as Criollo in parts of Central and South America, cracker cattle in Florida and swamp cattle in Louisiana. Generally, Corriente is the name given to cattle used in rodeos.
Today, interest in Corrientes has been revived, due to the breed's easy disposition, athletic ability and usefulness in rodeo-related events such as team roping, bull dogging, cutting and team penning.
---