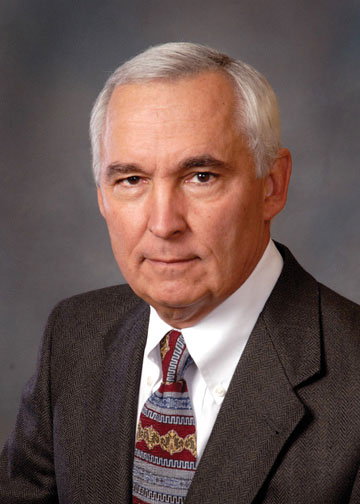 The purpose of life is to count, to matter, to make some difference and have it not be as if you've never lived at all. For decades, Dr. Danny Klinefelter has carried that saying in his wallet. They are words he lives by in his roles as a family man, economist and educator.
Recently Klinefelter was named by Top Producer magazine, Farm Journal Media's national business magazine, as one of the 25 people who will have the greatest influence on the future of American agriculture. The list included presidents, prime ministers and other notables.
Klinefelter, Texas A&M professor and economist with Texas AgriLife Extension, received the recognition as the founder and director of The Executive Program for Agricultural Producers (TEPAP) and the Association of Agricultural Production Executives (AAPEX), the TEPAP alumni organization.
TEPAP was started nearly 20 years ago, and more than 1,200 people have attended from 43 states and eight countries. The participating operations account for approximately 5 percent of total U.S. agricultural output. Only four farms or ranches have been publicly owned. Most have been large, family-run businesses.
A Worthwhile Investment
Believing that geographic- or commodity-based programs are too limiting, Klinefelter tried to fill a niche with TEPAP: providing a targeted learning opportunity for the top 10 percent of producers.
TEPAP is more expensive than traditional Extension programs, Klinefelter says. As a result, the people who come are serious about learning.
"Participants want to be there," says recent participant Andy Wendland from Autaugaville, Ala. "Classes ran all day, and evenings provided opportunity for dialogue. Every evening, about 85 percent of us came back to interact with the presenters."
Jeremy Jack from Belzoni, Miss., agrees that the investment is worthwhile. "It's a week away from the farm, and it costs more than other programs. But you'll recoup your costs in the first two weeks just from what you learned."
Farm Executives: Special Skills Required
The TEPAP curriculum covers topics ranging from personnel management to estate planning to strategic thinking.
"At other companies, there are separate people who handle things like marketing and human resources, but as a farm executive, you are likely in charge of all those things," says Jack.
As a goal-oriented 26-year-old with a master's degree in agricultural management, Jack was challenged with being respected in his own right working for his family's large-scale farming operation. For him, TEPAP training on working with people and presenting projects was particularly helpful.
"My father built an extremely successful business. Now, I feel like I can stand on his shoulders and build the business to the next level," says Jack.
Moving at the Speed of Business
The program provides the opportunity to network with other successful producers. "Every year, I have participants say, 'I've been thinking about doing something for years and people tell me why it won't work, but I've met people here who are already doing it successfully,'" Klinefelter says.
John Sawyer, a farmer from Hillsboro, Texas, and a director on the Texas Land Bank board, went through TEPAP several years ago. After attending, he created new business partnerships, including one with neighboring farmer Rodney Schronk, whose father serves on the AgTexas Farm Credit Services Board of Directors, as does Klinefelter.
"Rodney and I have partnered with other TEPAP participants in Illinois to share equipment. We've been doing that almost six years now," Sawyer explains. "You're exposed to that kind of thinking in the program, and you meet the kind of people who can help you make it happen. I continue to go to the AAPEX meetings for TEPAP alumni and find them very beneficial."
Leaving a Legacy
Klinefelter is proud of the active alumni group. "That gives me the most satisfaction, knowing that people built relationships and considered the program to be valuable.
"The TEPAP program celebrates its 20th anniversary in January 2010. Klinefelter hopes to see the program through 25 years.
"I love what I do, and the idea of wanting to retire doesn't appeal to me at all," he says.
– Staff
Facts about TEPAP
The full TEPAP program consists of one week each January for two years.
Tuition costs $7,500. The cost includes housing and food but not travel.
There are 18 faculty members from the private sector, business school faculty and ag economics/ag business faculty.
The program is sponsored by the Farm Credit System, DTN and John Deere.
TEPAP alumni formed AAPEX, which also holds a learning opportunity each year.
---