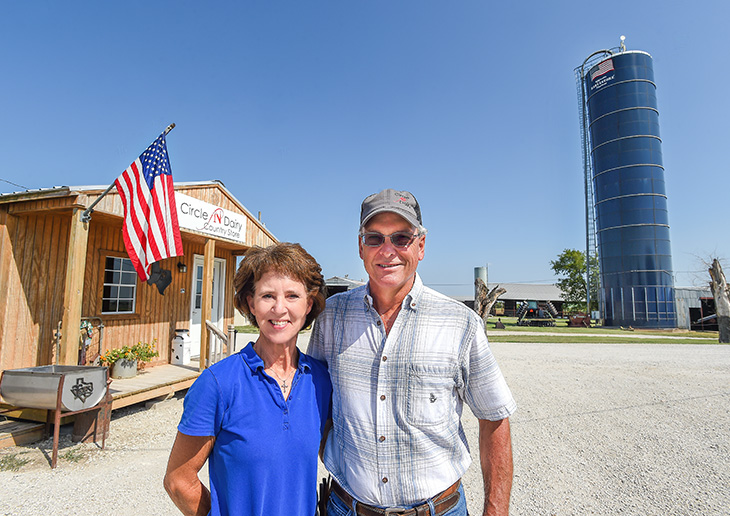 ---
For many people, few things soothe the soul like a bowl of homemade ice cream. But for Texas dairy farmers Tommy and Michelle Neu, it's what saved their family business.
In 2017, the Neus' longtime commercial co-op buyer stopped purchasing their milk, wanting them to sell the milk exclusively to the co-op — not directly to consumers. Instead of giving up, the couple chose to add a unique product to their farm store — ice cream made with milk from their own cows.
Today the Neus make, package and sell a dozen varieties of homemade ice cream straight from their Circle N Dairy in Gainesville.
Over the years, loans from Lone Star Ag Credit helped the couple expand their operation.
"As best we know, we are the only dairy in the state that produces their own milk, ice cream base and ice cream," says Michelle. "We are part of the process from cow to cup."
Ice Cream, Cheese and More
The Neus started their farm store nine years ago when a neighbor became interested in purchasing raw milk.
The store quickly grew, offering cream, Greek yogurt, and baked and canned goods from neighbors. Grass-fed beef raised by the couple's son Kevin and his wife, Amber, expanded their line of goods.
The Neus also began selling their own cheese — eight varieties of Circle N Dairy-branded cheese. Today, the farm store is open seven days a week year-round.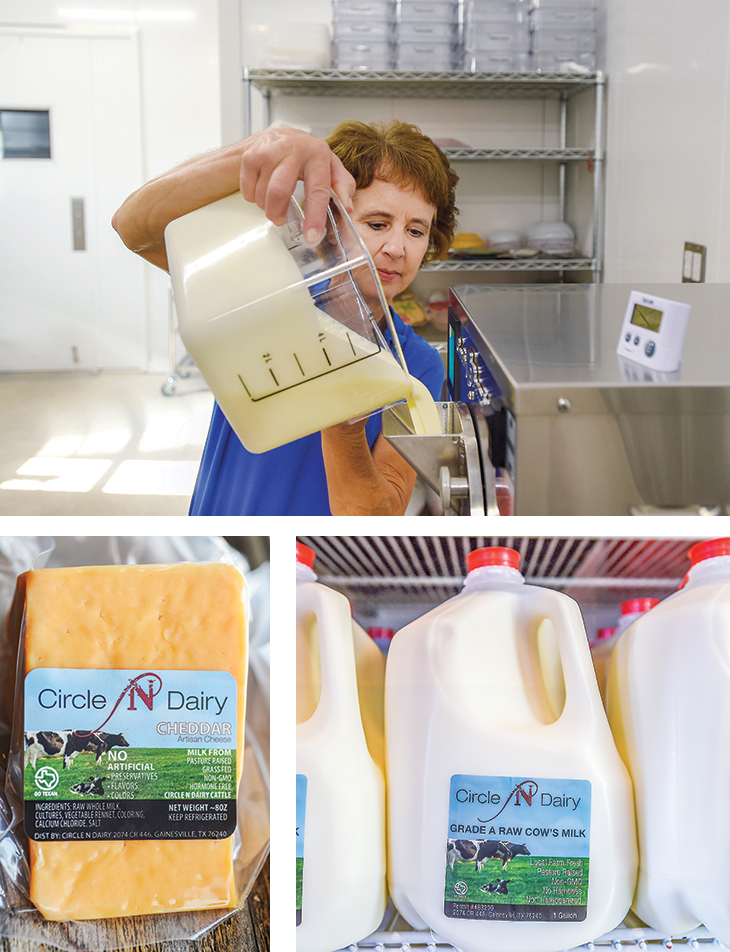 Where Milk Comes From
Even after making ice cream and cheese, the Neus have a milk surplus. That extra milk is left unpasteurized and sold on the farm as raw milk. Under Texas law, raw milk can only be sold on the farm where it is produced.
Tommy says raw milk products are popular with people who have certain health conditions, such as lactose intolerance.
The Neus believe in helping the public understand where their food comes from. Every week, they offer group tours at Circle N Dairy. Visitors learn about the milking process, bottle-feed baby calves and try their hand at "milking" a life-size simulated cow.
"We have to show them what we do and educate them," Tommy says. "This is a seven-day-a-week, 365-days-a-year job."
A Lender Through Tough Times
The Neus became Lone Star Ag Credit customers in 1998. Tommy says they appreciate having a lender who's been with them through some tough years.
"And that patronage check is nice," he says, referring to the lending co-op's dividend program.
Craig Hartman, Lone Star Ag Credit's credit office president in Sherman, frequently visits the store with his family.
"Adapting and diversifying the business was a big commitment for the Neus," Hartman says. "They did what they needed to do to keep their business sustainable."
For more information about Circle N Dairy and its products, visit www.circlendairy.com.
– Staff
---