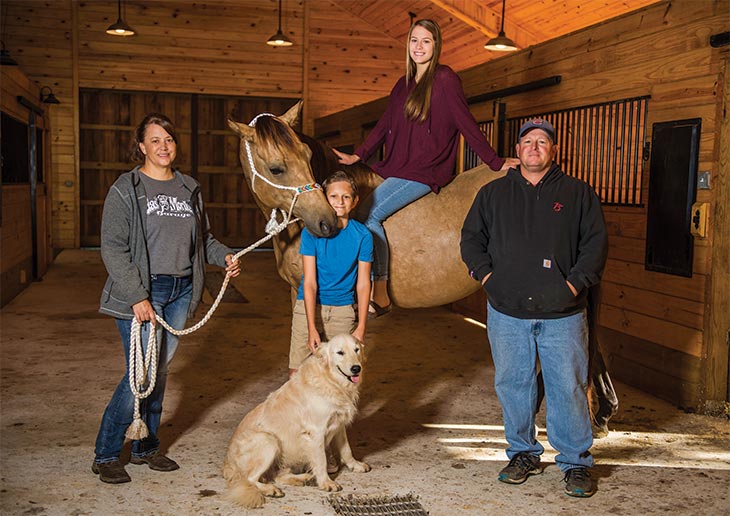 ---
From the time they were kids, Jeff and Lynda Kauzlarich of Carriere, Miss., both longed to farm. But they just didn't have the right land.
Not ones to give up, the couple made their dream happen, one step at a time.
"I remember when I saw the first 10 acres we bought in 1994 in Pearl River County," Jeff recalls. "It was part of a 300-acre farm being subdivided. From a high vantage point, I could see beautiful rolling hills and oak bottoms. I called Lynda and told her that I'd found our dream place and that someday we'd farm there."
Fast forward 24 years. The couple, now in their 40s, have three children and own a successful caulking and fireproofing company, J-Kaulk Firestopping Inc. They also own 30 acres of that original farm plus 548 surrounding acres where they produce bahiagrass to sell as cattle feed and Alicia bermudagrass for their quarter horses. Next spring, they plan to start a small cattle operation to produce organic beef.
"We just kept buying 10 adjoining acres here and 20 adjoining acres there," Jeff explains.
The couple purchased their first house in 1999. Eleven years later, they bought an adjoining farm with an existing home that they renovated, and then started producing hay. This past September Jeff cut and baled the hay himself for the first time.
"It was so cool to see the hay bales coming off the back of my baler. That's when I felt like our dream of farming had really come true," he says.
One Week to Close the Deal
The Kauzlarichs made their latest purchase — 400 acres next door — in early 2018, as soon as the property came up for sale. To finance the deal, they turned to Southern AgCredit in Gulfport.

"Alex Riser and his staff handled everything, including a boundary issue that came up," Jeff says. "Fifty years ago, surveyors used chains because GPS wasn't around yet. So some boundaries are off around here. But Southern AgCredit took care of that, too. We were ready to close in one week."
"It was so cool to see the hay bales coming off the back of my baler. That's when I felt like our dream of farming had really come true."
– Jeff Kauzlarich
Riser, Southern AgCredit assistant vice president and Gulfport branch manager, didn't mind the extra challenge because he admires the couple's business savvy and commitment to their goal of farming.
"We fit their needs for long-term loans," he says. "The Kauzlarichs are excellent borrowers. They stay on top of their game."
Semi-retired from running their company, Jeff and Lynda largely focus on their home life these days. Son Brandon, 25, is on his own, and son Gage is an eighth-grader. Daughter Taylor, a high school senior who plans to study veterinary medicine, competes in team roping, breakaway roping and goat tying.
Outdoor Time
To accommodate their horses, the family built a roomy wooden barn with a tongue-and-groove interior and cathedral ceiling.

"If our kids ever stop riding, we can have weddings there," Lynda says. "In fact, we've already had one."
In the meantime, Jeff and Lynda treasure every day at their YNOT Ranch, an acronym for "Y'all Need Outdoor Time." As hobbies, Lynda tends bee hives, and Jeff grows 10 acres of sunflowers for fall dove hunts.
"Our property is a sportsman's paradise," he says. "It's a unique place where the Midwest meets the South. We have everything from rolling hills and oak bottoms to the last stand of longleaf pines in this area. We have six lakes, which includes a 26-acre lake that our home overlooks."
It's also their own rural paradise.
"We're both huge outdoor people who aren't into devices and electronics," Lynda comments. "We prefer to go outside and plant trees and other things that benefit nature. Being outdoors brings our family peace and togetherness, and it's good for the soul."
---