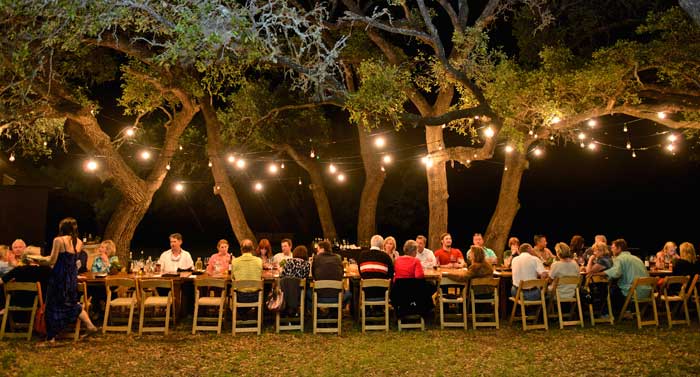 ---
For Bill Blackmon and Chris Brundrett, there's no place like home.
At their winery and vineyard in Hye, in the scenic Texas Hill Country west of Austin and north of San Antonio, they look out over the river valley and talk about their state's unique soils and climate.
Fruit from two vineyards can have noticeably different qualities, whether they're grown 30 miles or 300 miles apart, they'll tell you. It's a difference worth celebrating.
"On the High Plains there's a spiciness to the fruit, not so floral as the Hill Country, where there's more minerality," says Blackmon, who has developed and managed vineyards for over 30 years. "The flavor's brambly in the High Plains, more up front. In the Hill Country, it's more elegant and subdued."
A shared devotion to producing wine with Texasgrown fruit inspired the two to start William Chris Vineyards nearly five years ago. Passionate about quality, they farm six vineyards and partner with other vineyards in several Texas regions.
"The wine we make has a sense of place," explains Brundrett, who was head winemaker and vineyard manager at a winery nearby when he and Blackmon met. "A few are blends of every place in Texas, but every other wine is from a single vineyard, or two or three vineyards very close together. We want to share what 15 minutes north of Fredericksburg tastes like, or a small area in the High Plains."
Blackmon and an assistant vineyard manager oversee the grape harvest, while Brundrett, an assistant winemaker and their crew employ Old World techniques that bring out the fruit's best qualities.
"We scrub up to our shoulders and handpunch the cap down four or five times a day," says Brundrett, lifting the lid of a low bin to reveal grape skins and pulp that float on the juice. "You get to use all of your senses. You can see the foam, feel the heat, and splash it by hand to feed the fermentation oxygen. It's a very natural process."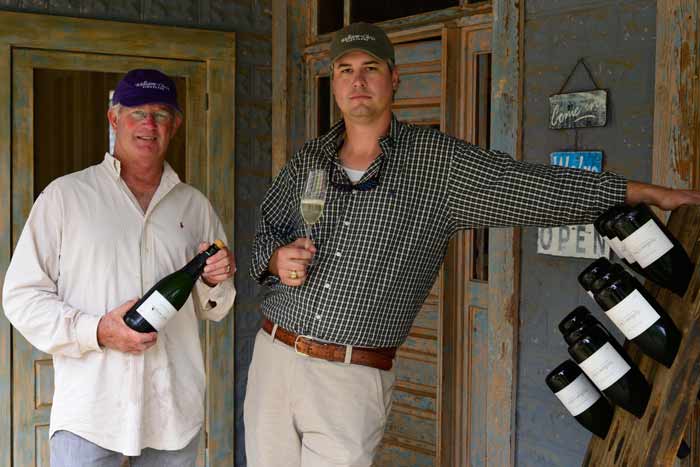 ---
The winery produces some crisp white wines that can temper the Texas heat when served chilled, and recently introduced still and sparkling rosé wines, but is best known for complex reds that pair well with foods.
Asked if he has a favorite, Blackmon quickly names Enchanté, their flagship red wine, which won a gold medal at an international wine competition in Lyon, France, this year. Brundrett calls Mourvèdre, their other gold winner this year, a favorite.
"I love making all of our wines, but it's a different animal," Brundrett says of Mourvèdre's spicy complexity. "It has a fruit-driven structure, wonderful gaminess, and cinnamon and butterscotch, like a snickerdoodle cookie, all wrapped in one.
"I don't like boring wines."
SHARING THEIR WORLD
Of the eight designated viticultural areas in the state, the Texas Hill Country is one of the most popular with tourists. Wineries have been springing up like wildflowers in this historic region.
On the smaller side for the area, William Chris Vineyards has a big following. In a typical week, 1,000 people cross the cattle guard to the tasting room, across the road from the ornate Hye Post Office building where President Lyndon B. Johnson mailed his first letter as a boy.
For the winegrowers, how guests enjoy the wine is almost as important as the wine itself. The winery provides a relaxing setting for tastings, offers weekly live music in a grove of 350-year-old live oaks, and frequently hosts seminars, release parties and farm-to-table dinners prepared by visiting chefs.
"We're very serious about sharing our world," Brundrett says. "We want to be that amazing experience that makes you love wine."
Their clientele grew quickly after they opened their tasting room in a rustic farmhouse in 2010, prompting them to build an airy addition in 2012.
"We tried to marry the old and the new," Blackmon says. "When you come into the old farmhouse, you don't see the contemporary tasting room until you step inside and get the gorgeous view of the Pedernales River Valley.
"People may not have a ranch in the Hill Country, but they can come here. That's a lot of the draw."
But rapid growth was a mixed blessing. After the winery was praised in Texas Monthly magazine, the wait for a tasting stretched to an hour and a half.
To ensure a more enjoyable experience for visitors, the winegrowers took the radical steps of turning away bus tours and requiring reservations for big groups. Sales actually increased. They also converted the 1905 farmhouse into a private lounge for their wine club, which is managed by Carol Blackmon, Bill's sister.
Hye Society members not only skip the line, but also get the best access to wines and special events, which can sell out quickly after they're announced on social media.
"It's a way to get a little closer to the winery," Brundrett says of the 3,000-member club, which now has a waiting list to join. "The major benefit is getting to experience more exclusive wines. We have all these small vineyards."
A COMMITMENT TO QUALITY
Quality takes precedence over quantity at William Chris Vineyards, which will produce about 10,000 cases of wine this year. Most will sell for $25 to $50 a bottle, primarily through the winery and select restaurants.
"I would say William Chris is on the forefront of quality in their wine," says Trae' Ottmers, vice president and senior relationship manager at Capital Farm Credit's branch office in Fredericksburg, 20 miles west of Hye.
When Ottmers drops by on the way to Austin with his young daughter, Brundrett scoops her up in his arms and visits with her dad about the next equipment they plan to buy or lease.
The winegrowers say they met with several banks before choosing Capital Farm Credit, where Blackmon was already a customer.
"Capital has been the best we've worked with, as far as understanding the business and using the wine as collateral," Brundrett says. "Some lenders didn't do their homework. We're not ranching cattle or farming cotton. This is a unique business."
Ottmers points to Farm Credit's expertise in financing agriculture and agribusinesses, and its nationwide network of lending cooperatives.
"We have allies in other parts of the country we can talk to about things like working with startup companies in the wine industry," he says.
FROM SMALL BEGINNINGS
"It's hard to believe we started with one bin, one press and an electrical outlet," Brundrett says of the 4½-year-old business, which has 15 full-time employees and about a dozen seasonal workers. "Now we have two crews working day and night. When it's wine time or vineyard time, it's 100 percent commitment."
Behind the tasting room, Blackmon walks along trellises of young vines and describes the calcareous soil that yields dry, bold grapes, different from the subtly nuanced fruit they grow in sandy granite soil just 20 miles away.
"All wine is made in the vineyard," he says. "We wanted to share what we do and control the end result, not just sell the grapes. It's too hard of a chore to bring a crop to fruition and have everything you've worked for go to someone else.
"We grow our product. I think that sets us apart."
– Staff
Winery and Vineyard Financing
Capital-intensive wineries and vineyards rely on a variety of financing options over the course of the year and the lifetime of the business.
Capital improvement loans finance land or land fixtures such as wells, irrigation systems, electrical lines, fences and roadways. Cash-out equity loans are an option for additional fixtures such as trellises and grapevines.
Long or intermediate terms, such as 20 years for land and 10 to 15 years for improvements
Require a down payment
Construction loans finance tasting rooms, production facilities and warehouses, often with small living quarters.
Borrower

 

pays only interest until construction is completed, then principal and interest.
Terms of up to 20 years
Operating loans are revolving lines of credit for labor, supplies and other business expenses.
Loans can be renewed to suit the production cycle, typically 12 to 18 months for a winery.
How much a borrower can draw depends on collateral such as bottled wine inventories, wine sold, accounts receivable and other fluctuating assets. Known as the borrowing base, this offers a snapshot of the business at a point in time. Managing the borrowing base involves monthly reports to the lender.
Equipment financing for tractors, spray rigs, tanks, barrels, pumps, bottling lines and other equipment can be in the form of a loan or a lease.
Loans require down payments, typically have 5- to 7-year terms, and enable borrowers to deduct interest and depreciation on taxes.
Leases often have low or no down payments, help preserve cash flow, and enable lessees to deduct entire payments on taxes.
---