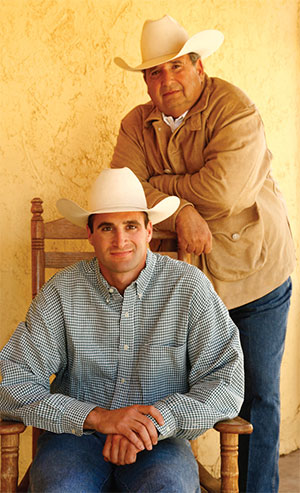 Seated at a table in his downtown Fort Worth restaurant, Mike Micallef is clearly at ease discussing a variety of topics — from cooking challenges and nutritional guidelines to commodity prices and the Texas drought.
Not surprisingly, the meandering discussion reflects two distinct backgrounds that Micallef brings to the job of running his family's Reata Restaurant — restaurants and ranching.
"I've probably got a closer touch to agriculture from the restaurant side versus the ranching side, but I think it helps in that I've got a better sense of meat than maybe even some world-class chefs," Micallef says.
Promoting Food Scene, Helping Youth
For the past few years, Micallef has used his knowledge to help aspiring young chefs and ranchers alike through two philanthropic endeavors — the Fort Worth Food & Wine Festival and the Ranch Brigade.
"We gave away $14,000 in scholarships this year," Micallef says with a certain pride in his voice as he talks about the Fort Worth Food & Wine Festival, an event he cofounded in 2013.
Recognizing that the city's rising restaurant scene was something worth promoting and celebrating, he and some other local restaurateurs began hosting pop-up restaurants and dining events to raise capital for the festival.
"It's been a very organic thing. It's the Fort Worth restaurant community coming together and making it happen," Micallef says. "The purpose of the festival is to promote the city and its restaurant scene, to educate people about food, and importantly to give back by providing scholarships to culinary students in Fort Worth."
Today the annual spring festival includes several events and hosts thousands of visitors from as many as 13 states.
As it has grown in prominence, the amount of scholarship money given each year has also grown, allowing the festival to have a significant impact on a number of students, Micallef points out.
"One of the recipients, Cameron, had to leave his family his senior year and provide for himself, but he was accepted to the Culinary Institute of America and the festival gave him the last $9,000 he needed to attend this year," he says with a smile of satisfaction.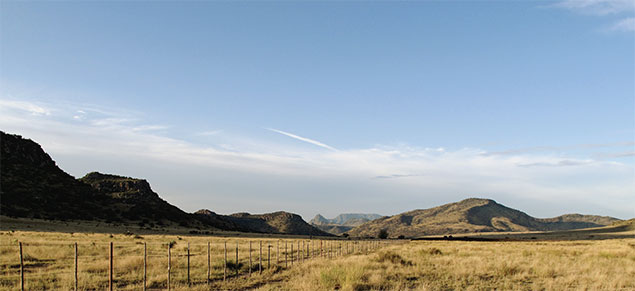 ---
It All Began With Cattle
As Micallef states in his 2008 cookbook, "Reata: Legendary Texas Cooking," his family's story began before the restaurant "with that most classic of Texas dreams: the cattle ranch."
His father, Al, relocated the family to Fort Worth from Detroit in 1975 after spending much of his youth enamored with the cowboy way of life. Their first ranch was on the Clear Fork of the Trinity River in northeast Texas, where Micallef and his two sisters were raised. In 1992, Al purchased property just north of Alpine, in the heart of the Davis Mountains in far West Texas.
Micallef went on to earn a finance degree at Texas Christian University in Fort Worth and a certificate from the school's esteemed ranch management program.
When a Texas Brigades professor in the ranch management program developed the Ranch Brigade in 2013 — a new youth camp that would focus on sustainable beef production "from conception to consumer" — Micallef quickly agreed to serve as a committee member and help with fundraising.
The Ranch Brigade
Ranch Brigade is a part of the Texas Brigades umbrella program, which offers six types of outdoor camps through a partnership among the Texas A&M AgriLife Extension Service, Texas Wildlife Association, Texas Wildlife Association Foundation, USDA Natural Resources Conservation Service, and Texas Parks & Wildlife Department. Each camp focuses on a specific aspect: bobwhite quail, Texas deer, fish, waterfowl or ranching. Students, called cadets, learn wildlife conservation, plant identification, shooting and angling skills, radio telemetry, public speaking, and even television and radio interview skills.
Every year, the Ranch Brigade selects 25 high school students from across the state to become ambassadors for land stewardship and livestock production in their respective communities. The students receive five days of intensive leadership training and livestock education. In turn, they are rewarded with scholarships and future ranch experiences.
"The whole Brigades program is a really good program, teaching kids about sustainable ag, wildlife and ranching," says Micallef, who was a cadet of the Bobwhite Brigade himself back in the early 1990s.
Social Media Savvy
While Micallef is impressed with the quality of participants the program attracts, he knows there are plenty more students out there to be reached. To help meet that challenge and attract more applicants, he and a handful of other Ranch Brigade volunteers started a group Facebook page. In the first week, the page posted a meme of an Angus calf featuring the words, "I turn grass into steak. What's your super power?" The meme has had more than 2,600 likes and has been shared more than 16,000 times.
"I've never been involved in something like this in social media, but all of a sudden we've got something shared 16,000 times that's talking about Ranch Brigade — that's the power," Micallef states. "If we can get these kids who go through the program to tell the story of agriculture and beef production, at least socially, it's going to help."
The Help of a Good Lender
The two Reata restaurants, the original in Alpine and the Fort Worth venue where Micallef spends most of his time, keep the family plenty busy. But the cattle are still the cornerstone of their food business. Today, father and son run approximately 330 cows on their two ranches near Alpine.
Like many of their fellow producers, the Micallefs were forced by the Texas drought to reduce their herd size the last few years. But with recent rains and financial assistance from Lone Star Ag Credit, they restocked their commercial cow-calf operation with 200 cows early this past summer.
They had financed a land purchase with Lone Star Ag Credit previously. With the lending co-op headquartered near their Fort Worth restaurant, the financing relationship has continued. Micallef even represented Lone Star Ag Credit at the 2010 Farm Credit Young Leaders Program, which takes young Farm Credit borrowers to New York City and Washington, D.C., to teach them how funds flow through the Farm Credit System, from Wall Street to farms and ranches.
"I really enjoy the people at Lone Star," he says. "They're good people, not just from a stockholder standpoint, but they're out in the community and support a lot of the same organizations that we do." – Staff
Find out more about the Fort Worth Food & Wine Festival. The next Ranch Brigade will be held July 18-22, 2016, in Santa Anna, Texas. For more information, visit The Texas Brigades.
Cowboy Cooking With Class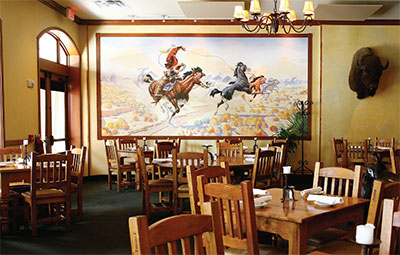 Photo by Laurie Smith
Al Micallef brought his family to Texas in search of the cowboy way of life, and that dream expanded into the first Reata Restaurant he opened in Alpine, Texas, in 1995. The family says its cuisine is inspired by cowboy cooking — a melding of Southwestern, Creole, Southern and Mexican flavors with a taste of traditional steakhouse. Reata is known for dishes ranging from rib-eyes to tamales and has launched the career of several notable chefs, including Grady Spears and Tim Love.
"The name Dad chose for our family's restaurant was something of a natural, yet definitely a stroke of genius as well," Mike Micallef says in his 2008 cookbook. "The word reata is Spanish for 'rope,' and there couldn't be a more basic, essential tool for the cowboy than that. You simply can't go about ranchin' without one. Yet the name, from the beginning, drew upon the mystique of another, less workaday West Texas icon. Reata had been the name of the ranch, the homestead — the Tara, if you will — in the myth-spinning 1956 film 'Giant,' based on the Edna Ferber novel."
The Fort Worth location quickly followed in 1996, and relocated to its current site in 2002. That same year, the Micallefs began operating a satellite restaurant during the Fort Worth Stock Show and Rodeo. Reata at the Rodeo was such a great success that the Micallefs took over the Backstage Club in 2008 and now operate two locations on-site during the annual stock show.
For more information, visit Reata Restaurant.
---