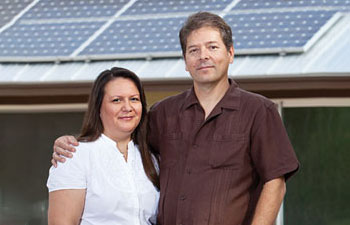 When Marvin and Dolores Groves were told they would have to clear a 30-foot-wide by 1,200-foot-long swath of trees to get electricity to their dream home in the Lost Pines region of east-central Texas, they knew there had to be another way. The tall loblolly pines and cedar trees were one of the reasons the couple purchased the property to retire on, and they weren't about to give them up.
Armed with determination and hours of research, they found their solution — a solar-powered house, which they finished constructing in March 2011. Equipped with 18 solar panels on the roof, the couple's country home gets virtually 100 percent of its electricity from the sun, which has allowed them to keep the view and privacy they wanted. For those rare times when there are long periods of no sunshine, they have a backup generator.
A Hidden Home in the Lost Pines
Marvin and Dolores purchased their 15-acre property, located just outside of Bastrop, Texas, in 1999, knowing that they would someday build a permanent home in which to retire. They named the property "Escondidos," meaning "hidden" in Spanish, and eventually built the house on the back of the property. They financed the construction with a loan from Capital Farm Credit.
"One of the things you can't buy in town is privacy," Marvin says. "That's one of the reasons we bought this property, and we wanted to exercise it fully. I've lived in the middle of five acres before, and even that was too close to the dust and noise of the road."
Because the property was covered in trees, the couple knew that a portion of the land would have to be cleared before they could build on it. For 10 years while their two daughters were in school, the family would make weekend trips from their home — roughly an hour away — to camp and work at clearing the trees.
Both Marvin and Dolores have full-time jobs in Austin and welcomed the change of pace that these trips provided. "After sitting behind a desk all week, it was nice to come out here and work with your hands and not think about anything," Dolores says.
In addition to not wanting to sacrifice the trees, the couple was also intrigued by alternate energy methods because of improvements they had made to past homes. Marvin says that while living in a single-wide mobile home in West Texas, he improved the structure's efficiency by installing a wood-burning stove and more energy-efficient windows.
"By making that work, I knew there had to be a way to build a home insulated enough that you don't have to worry so much about the temperature outside," he said.
Finding Ideas on the Internet and at Home Shows
Like many people looking for answers today, Marvin took to the Internet. Online he found information about everything from solar power systems to building materials.
The couple also attended home and garden shows to get ideas, and worked with an architect and a builder who were both knowledgeable about green-building technologies. Their builder, Steven Duncan, convinced them to use insulating concrete forms (ICFs) as the building material for the home's walls. Duncan describes ICFs as "LEGO-type foam blocks" that are then filled with concrete, giving you a concrete home with two additional layers of foam for insulation. ICFs can vary in design and material, and once finished have the look of any wood-frame house. The external walls of the home are 11 inches thick.
"We debated on what materials to use, and I think our design changed three times because of that," Marvin recalls.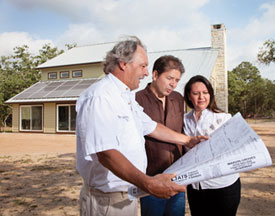 In addition to energy systems and building materials, the couple also had to consider the layout of the home. The front door of the house faces north with large picture windows along the east wall. The windows illuminate the entire first floor of the home for most of the day, reducing the need to turn on lights.
When they do have to turn on lights, Dolores says that she feels good about not using nonrenewable energy to do so. "I'm comfortable knowing that I can have the lights on all day and I'm not wasting," she says.
The couple tried to use other energy-saving features in the home, as well. These include a tankless water heater and a propane-powered clothes dryer. The house is equipped almost exclusively with LED light bulbs. The LED bulbs have 8 to 15 times the lifespan of an incandescent light bulb and use less energy. No LED bulb in the couple's home is more than 9 watts.
Like many homeowners using alternate energy, Dolores likes the freedom of not having to pay an electricity bill. Because their house is considered "off the grid," it also doesn't return excess energy back to the grid, which would have meant removing additional trees from the property. Going off the grid is more often suggested for residential buildings that are occupied only occasionally, such as vacation homes or hunting cabins, to avoid high initial costs of traditional utility connections.
Enjoying Their Surroundings
While saving money and conserving energy are huge benefits of their green home, Marvin and Dolores also truly appreciate the country life that the house and its surroundings have afforded them.
"We wake up in the morning and hear Whippoorwills," Dolores says. "That's pretty cool compared to city noises and cars."
To these rural homeowners, it's another point that reinforces their original plan to spare the trees and use solar energy.
After all, as Marvin points out, "What's the point of all these trees if you can't enjoy the view?" 
– Staff
The Rising Popularity of ICFs
According to the Insulating Concrete Form Association (ICFA), the use of ICFs in the U.S. housing market has skyrocketed in the last 20 years. The group attributes the rise in popularity to the many benefits of ICFs, including:
Energy efficiency – Homes built with ICF exterior walls require an estimated 44 percent less energy to heat and 32 percent less energy to cool than comparable frame houses.
Comfort – Concrete has a high thermal mass, meaning that it changes temperature slowly. ICF walls have about 3 to 5 times the thermal mass of a conventional wood-frame wall.
Quiet – Compared to a typical wood-frame wall, only about one-quarter to one-eighth as much sound penetrates through an ICF wall.
Fire resistance – Concrete walls have proven more resistant to allowing fire to pass from one side of the wall to the other. This is especially important in areas prone to brush fires, which could spread indoors.
Health – ICFs are promoted to allergy and asthma sufferers, and the concrete, foam and steel in a concrete wall system are not a food source for mold growth.
Reduced construction time – The lighter components and easy assembly of ICFs also can dramatically reduce wall construction time. In terms of design, ICFs can take any conventional finish.
ICFs are commonly used in commercial buildings, as well. The ICFA website highlights several commercial buildings that have used ICFs in their construction, including two potato barns in Canada, a movie theatre in New Mexico and an art studio in Georgia. 
---