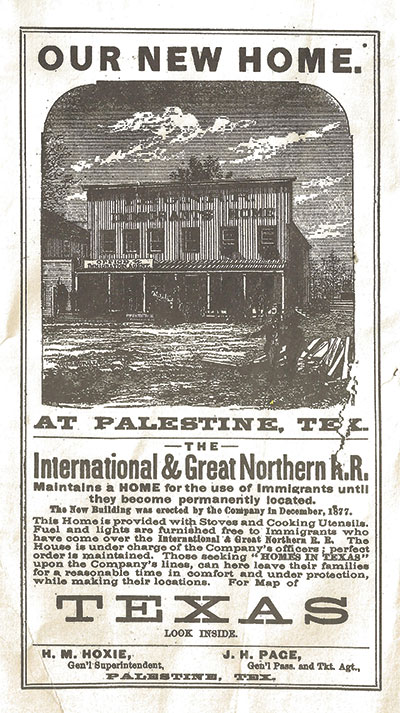 In these days of almost ubiquitous paved roads and airports in many small communities, it's easy to overlook the contributions that railways have made to American agriculture and in particular to our Southern states.
Who would have thought that such simple technology as two strips of metal laid in parallel over pieces of wood and piled rock would transform the landscape of rural America?
FARM TO MARKET
Beginning in the 19th century, rail offered a way to get crops to market. Land that had been considered almost valueless was turned into productive farms and ranches, and fishing and forestry became productive enterprises. Towns and cities grew at regular intervals along the tracks, becoming market centers to support growing rural activity. Even ranching practices changed, as huge cattle drives to railheads for shipment to stockyards became a major economic activity.
The first railroad west of the Allegheny Mountains was built in 1830 and extended 2.1 miles from Tuscumbia, Ala., to the Tennessee River, a cotton shipping route. The oldest railroad west of the Mississippi River — the Buffalo Bayou, Brazos & Colorado — was chartered in 1850. Tracks reached from the coast at Galveston, Texas, as far inland as Columbus on the Colorado River, allowing Texas products easy access to a growing port and trade with northern states.
Connecting the Gulf Coast port of Mobile, Ala., with the Mississippi River was the Mobile & Ohio, chartered in 1852. It continued farther north to the Ohio River in Illinois, enabling the trade of goods and services up and down the route.
The Louisville & Nashville, first chartered in 1850, reached Biloxi, Miss., in 1870, bringing tourists and coal from Kentucky, and returning with fish and other Southern products, as well as allowing the military to grow in
the South.
As railroads spread, the population and the prosperity of Southern states grew rapidly.
In 1881, Southern Pacific decided to build a southern route under its own control that would connect Los Angeles on the Pacific with New Orleans on the Gulf Coast. Arizona, New Mexico and western Texas all benefited when the line began operating in 1883. The influx of new settlers looking for better opportunities transformed the once-sparsely populated region, and hundreds of towns, some becoming major cities, grew around seemingly isolated rail stops.
TRACKS FOLLOW THE WATER
Like today, water was a key to development. Early locomotives needed to have their boilers replenished about every 30 miles. The tracks not only required favorable geography, they also meandered wherever there was a reliable water source. Where geologists found water, windmills and holding tanks were installed.
In parts of West Texas and New Mexico, cattle ranching was just about the only viable way to make productive use of harsh terrain that had meager topsoil and low rainfall. Cattle pens were often built near the railroad's water supply. Next came the general store, which commonly served as the post office. A saloon would open nearby, followed by churches and schools. Before long, there would be a thriving community — and it all started with a railroad.
Laying tracks and building bridges was expensive, so whenever possible, railroad companies would find landowners who were willing to pay to have rails laid across their property. In the West, however, the states were the primary landowners, and they were in no position to pay for railroads, as much as they needed them to spur development.
So, as inducement, railroads were offered vast swaths of land along the tracks. Southern Pacific, which became one of the largest landowners in the west, set out to populate these areas. Company representatives traveled across Europe, as far as Poland and Czechoslovakia, encouraging people to move to this new land. Many would come to escape poverty, disease and autocratic governments, especially the younger sons of large families who had no chance of inheriting the family farm.
FARM TRAINS EDUCATE NEWCOMERS
The conditions and language the newly arrived immigrants found were often foreign to them. Many needed support and guidance in order to survive and prosper. Recognizing that their own survival depended on these new settlers being successful, the major railroad companies such as Southern Pacific and Missouri Pacific hired agricultural experts and sent out "farm trains" to teach people how to succeed in their new situations.
This unprecedented "corporate philanthropy" yielded wonderful results. The immigrants learned how to make the most profitable use of their newly acquired land, and the railroads brought in seed, equipment and fuel, plus extra labor at harvest time, and shipped out cotton, cattle and other crops.
Eventually, refrigerated boxcars were developed to move perishable fruits and vegetables, and a network of icehouses was developed to supply these cars. These icehouses also became community centers, allowing local people to store meat and vegetables until personal iceboxes, or refrigerators, were developed.
SHORT LINES SERVE LOCAL NEEDS
Not all tracks were owned by major companies, however. Local landowners developed short rail lines to service timber operations, vast land holdings that were split up into farms, and even tourist attractions. Mississippi alone had more than 85 short lines, plus hundreds of logging railroads.
Railroads cost far less to build than roads, and saved people time, as traveling just 30 miles by horse- or mule-drawn wagon could take days. They also were far less susceptible to bad weather — a concern for those hauling products to market.
Looking back, the major impact of railways on agriculture is undeniable — they allowed the nation to develop a flourishing agricultural industry and the network of interconnected rural communities we live in today.
– Hugh Hemphill
Hugh Hemphill is the manager and former board chairman of the Texas Transportation Museum in San Antonio. He is the author of "The Railroads of San Antonio and South Central Texas" and "San Antonio on Wheels," both published by Maverick Publishing.
---