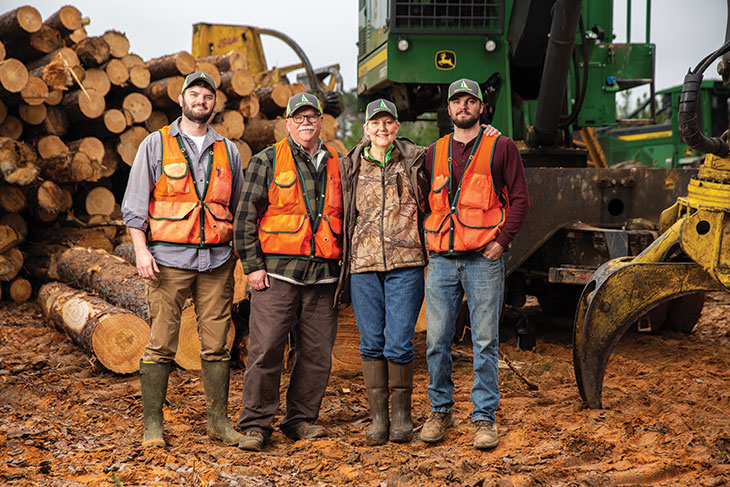 ---
After spending more than 20 years working for the other guy, Jim Long decided it was time for a change.
"I worked with four different timber companies and was laid off a few times," says Jim. "At 40 years old, I made a decision to go out on my own. I knew it was now or never."
In 1997, Jim founded Advanced Timber Services, Inc., (ATS). Now, more than two decades later, business is booming with help from Southern AgCredit.
Building a family business
Based in Shreveport, Louisiana, ATS buys and sells timber, and manages tens of thousands of acres of timberland for private landowners in Louisiana, Arkansas and Texas.
An outgoing entrepreneur, Jim steadily grew ATS into a thriving business. When land became available or landowners needed timber management support, ATS was there. Jim didn't shy away from risk.
"If you don't take a chance to get ahead in life, you won't ever know what you could have been," says Jim. "You can't be afraid to invest. Land always made sense to me."
At ATS, the Long family enjoys working together.
Jim, his wife, Susan, and their sons, Jeremy and Jamie, now manage the day-to-day operations. Jim is semi-retired, but never too far away. Susan is the glue, handling things behind the scenes. A 12-year cancer survivor, she helps with bookkeeping and human resource management.
Preparing the next generation
Over the past eight years, ATS operations have transitioned to Jeremy and Jamie. Jeremy oversees the timber side of the business, brokering and negotiating deals with the mills. Jamie manages the logging and trucking divisions.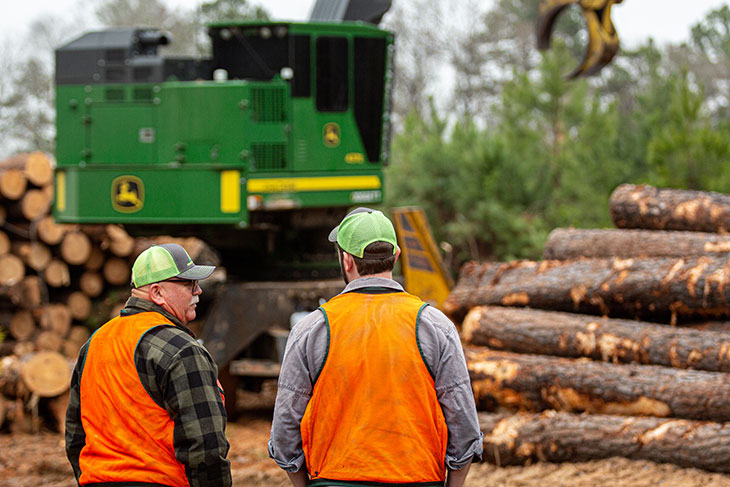 For both, there's been a lot of on-the-job learning combined with the experiences of their upbringing.
"Growing up, we'd ride in the truck and just listen to dad talk on the phone," says Jeremy. "That's how we learned the timber business lingo."
Chips off the old block, the boys have their dad's appetite for risk coupled with an aggressive business plan. They're buying logging equipment and cutting more tons of timber than ever.
"In order to scale the company, we know we have to spend money to make money," says Jeremy. "In our case, we're spending money on our own logging equipment."
Partnering with the right lender
To help, the Longs looked for a business partner who understood the timber industry. They wanted a lender who would take an active role in ATS's future. They found the right partner in Southern AgCredit.
"They were totally responsive and interested in our business," says Susan. "Justin [Morris] has been great to work with. He's helped us plan financing strategies for future needs of the business."
Morris is vice president and branch manager of Southern AgCredit's Shreveport branch.
"The ATS business model is built for the modern timber industry," he says. "They're as close to a vertically integrated operation as you'll see. They do everything except mill the timber."
Leading with their faith
To keep up with business growth, ATS is running three logging crews, with the goal of adding more in the future. Meanwhile, Jim continues to pour wisdom into his sons.
"Things will get hard and there'll be tough times. But never give up," says Jim.
Jeremy and Jamie are thankful for their dad's guidance. His depth of experience has helped them expand the business. But they also lean on a higher power.
"We're a faith-based company," says Jeremy. "Make no mistake, anything we've done over the past few years had God's hand on it."
Then mom quickly chimes in, "God's been involved since the beginning too."
– Staff
---