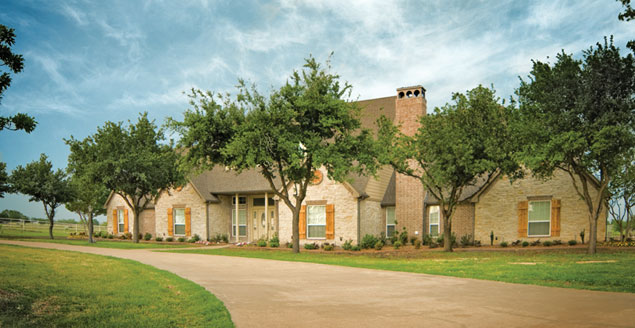 ---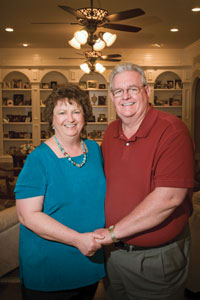 Marvin and Mary Ann Trojacek have been empty nesters since their two adult children left home more than 20 years ago. But with six grandchildren living nearby — plus the 18 brothers and sisters they have between them, and a host of nieces and nephews — they seldom have an empty house.
Thus, at a stage in life when many people are downsizing their homes, the Trojaceks went the other way.
Last year, they undertook an ambitious remodeling project that doubled the size of their rural home near Ennis, Texas, from approximately 3,000 square feet to almost 6,000 square feet of air-conditioned space.
"We wanted a big place where we all could sit down and eat dinner together," says Marvin, as he shows visitors the long formal dining room that easily accommodates a table for 12.
More dining space was just one item on the couple's wish list. "Mary Ann wanted her craft room, and then I decided to add a game room," he explains. They wanted to designate a bedroom for their youngest grandson, who spends weekends with them, and to have a guest room for their son, who makes frequent trips back to Ennis, from his home in Kansas.
Active in their church and their community, the Trojaceks also wanted a larger living room, suitable for entertaining a crowd. Although they both work in Dallas, where Marvin has been with Exxon Mobil for 42 years, the Trojaceks focus their lives on Ennis. They don't take exotic vacations, seldom travel, and admit to being homebodies. In fact, Marvin turned down a job transfer to the East Coast many years ago, so they could remain in the Ennis community, where they met during elementary school and where their Czechoslovakian ancestors settled almost a century ago.
Update or Add On
"We'd talked for a long time about adding on to the house. Marvin had an idea of what he wanted, but nobody could ever do it the way he wanted it," says Mary Ann, crediting her husband as the visionary for the plan.
Then, the economy weakened in 2008, and they put the project on hold. "Finally, Mary Ann said, 'Well, if we're not going to add on, let's at least update the house,'" Marvin reports. "But when we looked at the cost, we decided to go ahead and do the addition."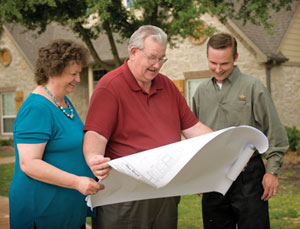 Marvin sketched the basic house plan on tablet paper. A local architect, Steve Shuart, drew up the blueprints and referred the couple to custom homebuilder Mike Cusack of Waxahachie, who readily grasped the Trojaceks' vision for the house.
For financing, they turned to their longtime lender, Texas Land Bank, which commonly makes rural home improvement loans and interim construction loans for projects like the Trojaceks'. "The Land Bank was there for us when we bought our first place in 1980, and when we built our next house in 1988, and then again for this last job," Marvin says.
Deep Rural Roots
The couple still owns the land they purchased over 30 years ago, when they returned to Ennis, after living in the Dallas metroplex for a few years. They since have increased the number of acres by purchasing adjoining property, where they keep a small herd of cattle.
"This is our home; our roots run deep here," says Marvin. His parents, now both deceased, owned the farm property next door, and Mary Ann's parents are just down the road.
Cusack began the project by pushing out the back of the house to increase its footprint, and lifted the roof and ceilings. The existing kitchen, dining room, living room and closets were expanded, and seven rooms were added: a bedroom, a bathroom, a mudroom, a game room, an office, a huge family room and a craft room. New walnut flooring, carpeting and fixtures were installed in the original structure to blend with features in the addition. The entire house was re-stoned and re-bricked, as well. "Mike did his best to make it look like it wasn't added on," Mary Ann says.
Even a new "barn,"" which serves as Marvin's workshop and implement shed, was bricked to match the house.
The Trojaceks also replaced the windows in the original house and added extra insulation for energy efficiency. "The temperature in the attic is supposed to be no more than 5 degrees warmer than the rest of the house," Marvin notes.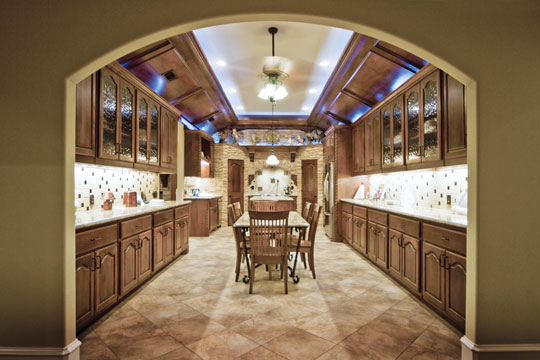 ---
Designed for Hobbies
Other custom features include built-in bookcases and display shelves to hold the couple's many collectibles. Mary Ann had cupboards built to contain her large cookbook collection and cabinets to hold quilting supplies. Fifty floor-to-ceiling shelves in the living room display photographs of their combined family. "When we all get together, there are about 60 or 70 people here," Mary Ann notes.
On those occasions, Marvin and his siblings might reminisce about working in the nearby fields as children, or how, many years ago, he moved Mary Ann out from the city in August to an old farmhouse with no air conditioning. Or Mary Ann might joke about the time she told Marvin she would quit her job if he ever earned $1,000 a month. After all, she says, dreams do come true.
Currently, neither one intends to quit work or retire soon. However, when they do, friends and family will know where to find them — enjoying the home they always wanted. 
– Staff
---