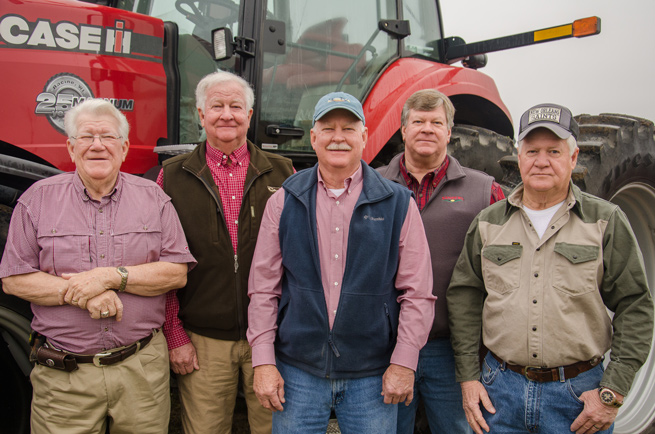 ---
For 30 years, five Marsh brothers have farmed in partnership in northeastern Louisiana. Today, seven sons farm with them.
Around 7 a.m. each weekday, the five Marsh brothers file into the break room at their northeastern Louisiana farm headquarters, plunk down coffee mugs on the wood veneer table, and catch up on news. Sometimes, a few of their seven sons show up, too. From his upholstered office chair, Larry Marsh, the fourth oldest brother, checks the weather and commodities on a computer monitor.
"We figure out who goes where and what we're going to plant on which fields," Larry says. "Then everyone takes off in different directions."
This morning routine at Marsh Farms Partnership in Sondheimer, La., started in 1984 after the five brothers — longtime customers of Louisiana Land Bank — jointly accepted the reins of the family's farming operation from their father, Jeff Marsh.
"People around here said we wouldn't last," Larry says. "We've had our ups and downs, but overall, we get along just fine."
SHARECROPPING ROOTS
The strong work ethic, love of farming and camaraderie evident around the table began with Jeff and their mother, Lucille, who were married in 1935.
"As the old saying goes, behind every good man is a strong wife and hardworking woman," says Paul, the eldest of the couple's five sons and five daughters.
As a young man in the 1930s, their father worked on a dredge boat, helping crews straighten out the Mississippi River.
"Daddy grew up on a farm in Mississippi, and he always wanted to go back to farming," Paul says. "In 1941, he started as a sharecropper here in East Carroll Parish. A year later, he bought a plow, a mule and a milk cow."
Jeff soon left sharecropping and rented his own farmland, often clearing the land of timber with the help of a hired hand before he could sow cotton or grow corn to feed his hogs.
"Daddy used to say he had to travel one row seven times with a mule before he could plant," Paul says.
A Farm of His Own
When finances allowed, Jeff bought his first International Harvester tractor, followed by one of the area's first mechanical cotton pickers. In the early 1950s, he purchased Sycamore Plantation, a 900-acre farm.
"Then, as he could, Daddy would buy 40 acres here and 70 acres there," Paul says.
Back then, the entire family worked on the farm, girls included. And the work wasn't easy.
"I remember chopping and picking cotton as a kid. At the end of a row, we could get a drink of water. And it wasn't cold either!" Pauls adds.
As the years passed, Jeff continued to buy land. After high school, the boys — Paul, now 77, William "Cooter," 70, Jimmie, 67, Larry, 63, and Billy, 62 — left for college, trade school or the military. Afterward, they all returned to the farm.
"That's when Daddy formed Jeff Marsh & Sons Inc.," Billy says.
LAND FOR 10 CHILDREN
In 1984, Jeff retired and divided his 1,200 acres equally among his children.
"Daddy wrote down the numbers one to 10 on pieces of paper, put them in a medicine bottle, and tossed them on the table," Cooter remembers. "Then everyone picked a number. That's how we each got our piece."
"Early on, we decided that we'd plant everybody's land, including our sisters', and put it all into one pot. Then everyone takes a percentage." - Cooter Marsh
That same year, the five brothers formed Marsh Farms Partnership, which farms both family and leased land.
"Individually, we (brothers) own our land and rent land, too," Cooter says. "Early on, we decided that we'd plant everybody's land, including our sisters', and put it all into one pot. Then everyone takes a percentage."
Today, the five brothers farm cotton, corn and soybeans on approximately 6,500 acres of owned and leased farmland. Several years ago, an additional 2,500 acres of familyowned land was converted from cattle production to timber and recreational use, and eventually each brother established his own hunting camp on the property.
"We like to hunt more than run cattle," Cooter quips.
STRONG CAMARADERIE
In recent years, all five have participated more in the farm's management than running tractors and other physical work. Larry serves primarily as marketer, while Paul takes care of the banking business. Two of their seven sons work for the operation; the other five farm on their own. All the farms are located within a 10-mile radius.
"We help our sons, and they help us, though we don't do business together," Cooter says. "Sometimes we might cut a little for them, or they might cut for us."
Such camaraderie among family members is hard to find, they agree.
"Most families bust up after they try farming together," Cooter notes, "but not us. Certainly, we have our differences sometimes. But it's like a marriage. You have to give a little and take a little. You also have to consider everybody's ideas. Plus, none of us are hotheaded, so that helps, too."
Keith Post, vice president and branch manager with Louisiana Land Bank in Monroe and Tallulah, has worked with the Marsh brothers for more than two decades.
"They are a unique family, in that they get along so well," Post says. "They always do what they say they will, and they always have a great attitude. They're also great farmers and stewards of the land."
THEN AND NOW
From sharecropping to smartphones, and handpicking cotton to six-row mechanical pickers, the Marsh brothers have witnessed tremendous changes in their industry.
"Farming now is a lot different than 50 years ago," Cooter reflects. "Daddy had a third-grade education. Today, you definitely need a college education, which most of our sons have. They all have knowledge of GPS (Global Positioning System) technology, so they program our equipment. Also, they're more knowledgeable about crop varieties. We have pages of soybean varieties now, whereas there used to be only five or so."
"Roundup Ready made big farmers out of little farmers," Jimmie adds. "It revolutionized farming. Now we don't have to spray or cultivate like we used to."
As for the future, there's a good chance that a fourth generation of Marshes will take the reins.
"My 7-year-old grandson Alex has already told me, 'I want to be a farmer just like you, Pop Pop!'" Paul reports.
- Sheryl Smith-Rodgers
---