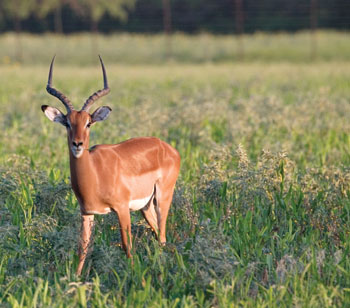 "Look over there!"
Jason Molitor motions out the open window of his gray pickup. Not far off in the distance, a herd of long-legged animals, startled by the truck's rumbling motor, races to hide among the mesquites.
Molitor grins. "Not many places in Texas where you can see that!" he comments to visitors.
He's right. Wildebeests, unusual-looking antelopes with sharp, curved horns, normally range across parts of Africa. So do watusi, springbok, Cape buffalo and zebras. But here at the sprawling 777 Ranch near Hondo, Texas, those exotic species and 55 others — not to mention native white-tailed deer, turkeys and doves — thrive among the brushy hills and open pastures.
The commercial hunting operation, established in 1966, today caters to outdoor enthusiasts from all over the world with first-class guided hunts, outstanding fishing and comfortable accommodations. Jeff Rann purchased the 4,300-acre ranch in 2002, later added 1,000 more acres and recently refinanced the property through Capital Farm Credit. He also owns a world-renowned safari hunting business in Botswana, Africa, where he lives half the year.
It's his Texas operation, though, that repeatedly earns top billing for record exotics. "No outfitter in the world has more entries in Safari Club International's Record Book of Trophy Animals than the 777 Ranch," says Molitor, Rann's ranch manager. "We have several No. 1 records, and we're in the top 10 of every species we have on the ranch."
Managing Healthy Animals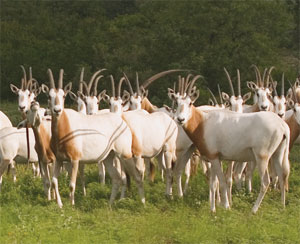 A prime location plays a key role in the ranch's long-running success. "Geographically speaking, we're in the perfect spot in Texas to do what we do," Molitor explains. "We have very good native browse vegetation and few days of freezing temperatures. Exotic species do not do well in cold weather. Plus we're in the transition zone between the Texas Hill Country and the South Texas plains. So we get more rainfall than South Texas, but we also have their beneficial browse brush."
Consider some 4,000 animals spread across 23 square miles of hills and pastures, and that's a lot to manage. How do Molitor and his crew of six keep up with so much? They rely on meticulous record-keeping and miles of high fences, which encircle the ranch and subdivide the acreage into 16 major pastures. Within each, certain species live based on their compatibility and habitat needs: Some prefer brushy cover, while others prefer open areas.
To boost animal health, the ranch produces an ample supply of hay. "We plant 150 acres of hay grazer and 100 acres of milo to cut for hay," Molitor says. "We bale it up and put it out for the animals. Later, we dove hunt over the milo fields. After dove season's over, the milo comes back and puts on seed heads. Then we open the field up for animals to browse.
"No outfitter in the world has more entries in Safari Club International's Record Book of Trophy Animals than the 777 Ranch." - Jason Molitor
"We also spend a lot of money on protein feed," Molitor adds. "Every month, we buy 70 tons. We take good care of all our animals." The healthier the animals are, the more offspring and bigger trophies they'll produce, and the better they survive winter.
Born and Raised on the Ranch
Most exotics that visitors spot on a guided hunt or tour were born on the ranch. "Jeff and I concentrate on our breeding programs for all exotics," Molitor says. "We like to ranch-raise our animals as much as we can. For one thing, we think future federal regulations could require that all our animals be raised on site. Also, as a hunter, when you can see the different ages of an animal, not just a single trophy, it makes for a much better hunting experience."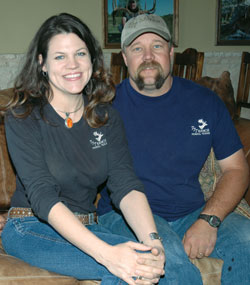 From a conservation perspective, the breeding program pays off, too. Four endangered species inhabit the ranch: Arabian oryx, a middle-sized antelope from the Middle East; barasingha, a deer species indigenous to India; common lechwe, an African antelope; and Eld's deer from Vietnam.
"Some of our female Arabian oryxes have even been shipped back to the Middle East for breeding programs there," Molitor says.
Fees Support Conservation
"To my knowledge, only one or two other ranches in the country have permits from the U.S. Fish and Wildlife Service to harvest these four species," Molitor adds. "We keep detailed records on all our animals, and 10 percent of the trophy fees for these species go to John Jackson's Conservation Force, a nonprofit international organization dedicated to wildlife conservation."
On the native side, the 777 Ranch is permitted through the Texas Scientific Deer Breeder Program. For more than a decade, efforts have been made to improve the ranch's white-tailed deer through selective culling of inferior animals and the introduction of genetically superior South Texas bucks and does.
At the ranch, scientific-breeding pens house 16 breeder bucks, 225 breeding-age does and 20 doe fawns. Another enclosed pen contains 400 bucks, ranging in age from yearlings to four-year-olds. "We turn them out at four years of age and give them a year to get acclimated to the pasture before they're hunted," Molitor says. "We release 100 bucks a year in the 1,000-acre area that we hunt.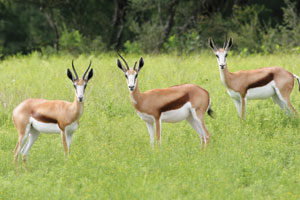 "We've been working hard, and we're seeing improvement," Molitor adds. "Each year our bucks are getting bigger. Our average trophy bucks range from 150 to 170 (Boone and Crockett Club) with several over 170 taken each year."
Fantastic Fishing
An extensive water system crisscrosses the property, providing not only year-round water for animals but amazing fishing as well. At some 20 lakes, stocked with trophy-size largemouth bass, hybrid bass and crappie, anglers have a choice of either catch-and-release fishing from the banks or fishing from small boats that have trolling motors. "On a three-day fishing trip here, clients have a real good chance of catching a fish over 10 pounds. Our record is a 15.2-pound largemouth bass," Molitor says.
"But then if the fishing's not good," he adds, "guests can always take a guided tour of the ranch and see the wildebeests and other animals. There's definitely plenty to do here!"
– Sheryl Smith-Rodgers
Jeff Rann
Safari Hunter Extraordinaire
He's been mangled by a leopard and trampled by a Cape buffalo, and he has faced off with angry elephants. As an African safari hunter, Jeff Rann definitely has had his lion's share of adventures!
Rann, 53, began stalking big game in the mid-1970s, when he first apprenticed with a safari company in central Africa. These days, Rann — who owns two highly successful safari companies in Africa and hosts "Dangerous Games" on the Versus network — has guided clients from all over the world. He is the cofounder of the Rann-Force Botswana Lion Project, which seeks to conserve the lion species through selective harvest methods.
Why expand into Texas?
"I wanted the security of having a major asset in the U.S.A., so I bought the 777 Ranch," he states via e-mail from Botswana, Africa. "Whenever I'm on the 777, I feel like I'm in Africa, which I love. What's more, I believed my reputation as the owner of Africa's premier hunting company would further elevate the 777's already-outstanding reputation.
"In the past seven years," he adds, "we've increased herds, added new species and increased the size of our Texas operation through land purchases. Now and in the future, we're going to continue moving forward with our goal of turning the 777 Ranch and our African concessions into the world's largest company, offering the most species to hunt anywhere on the globe."
Everyone Receives the Royal Treatment
From professional athletes to Hollywood stars, a lengthy list of celebrities has stayed at the 777 Ranch, including a princess from Morocco several summers ago.
"I drove her to Central Market in San Antonio so she could buy Moroccan spices," says Jennifer Molitor, ranch marketing director and wife of ranch manager, Jason Molitor. "Then she cooked for us! She liked the ranch so much that she came back a few weeks later and brought different friends."
No matter who they are, though, all guests receive the royal treatment at the 777.
Lakefront cabins, daily meals prepared by a professional chef, and guided hunting, fishing and touring — all included in the package price — make overnight stays extra special. Additional trophy fees vary by species, however.
Visits revolve around the spacious lodge, where guests can browse souvenir shirts and sporting goods at the ranch's store, relax on a cushy leather sofa in the huge trophy room and dine with family and friends. A private conference room caters to corporate meetings, while a back deck overlooking Sugar Lake provides outdoor space for entertaining.
Likewise, the ranch's 10 cozy cabins front the lake. Tucked beneath shady live oaks, each cabin is furnished with two double beds, a single bed, a whirlpool tub, a gas fireplace and a small refrigerator. Lounge chairs on the wooden decks are a great place to unwind and enjoy views of the lake. "Jeff wanted the cabins to be wife- and family-friendly," Jason says.
For more information, visit www.777ranch.com.
---