Advanced technology and modern machinery have drastically changed the way ranchers do business. Four-wheelers and helicopters have replaced horses in helping to round up cattle, and long gone are the days when animal husbandry was not much more than putting a prize bull in a pasture with as many cows as he could handle.
Today, animal breeding has gone high-tech. Instead of buying a new bull, ranchers might buy straws of semen with which to artificially inseminate their cows. The same is true for breeders of deer and rodeo stock. They are all looking for the right genetic traits to improve their herd. Companies like Champion Genetics help make it possible.
A Service for Cattle Producers and Deer Breeders
Located in northeast Texas near Canton, Champion Genetics specializes in bull and white-tailed deer semen collection and storage, as well as bovine artificial inseminations (AI), embryo transfers and breeding synchronizations.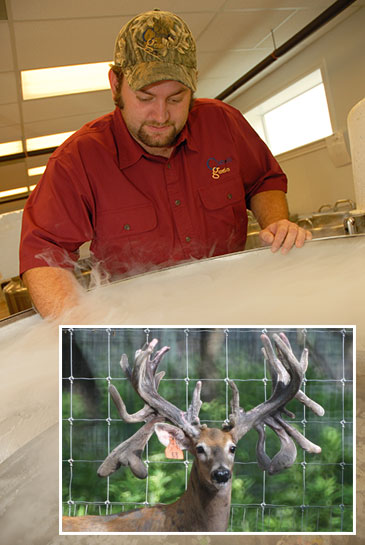 For Champion Genetics owners Craig Barton and Bob Woodard, it is all about providing a needed service for cattle producers and deer breeders — and the men are well qualified to provide that service.
For more than two decades, they worked for North America's largest artificial insemination organization, Select Sires, which is composed of 10 farmer-owned cooperatives. In 2006, COBA/Select Sires decided to phase out the custom semen portion of the business, and the two men purchased it and formed Champion Genetics.
The risk of starting their own business was outweighed by the customers' need for the service. Their motivation was simple. "We wanted our customers to continue being able to produce quality cattle," says Barton, who spent 23 years in sales and cattle evaluation.
Barton and Woodard have extended this philosophy to serve the state's deer breeders, including Bill Grace, owner of Mustang Creek Ranch. Grace exclusively uses Champion Genetics to collect from his bucks. His Central Texas ranch is home to 12 homegrown bucks with scores over 200 on the Boone and Crockett (B&C) scoring system.
Woodard collected for the ranch's first artificial insemination in 1994, and Grace credits him with helping to set a standard for quality control within his operation.
"He's very professional and very proficient," Grace says of Woodard. "I have a lot of trust and confidence in him."
Breeders like Grace are striving to produce genetics that will yield high Boone & Crockett scores. In Texas alone, the deer-breeding industry has an economic impact of $652 million, according to a study conducted last year by Texas A&M University.
"Deer collections are about one-third of our business," says Barton. "Of the cattle, about 60 percent (of the bulls collected from) are rodeo stock."
Sperm Bank for Cattle and Deer
Originally located in Tyler, Texas, Champion Genetics moved to a newer, larger facility in nearby Canton in November 2007. The state-of-the-art facility, which was financed by Heritage Land Bank, provides the right environment for the animals that are brought in for collection and breeding services.
Barton and Woodard also will travel to a farm or ranch to collect semen or do artificial inseminations. Much of the work done on-site at Champion Genetics involves collecting, processing and storing semen from bulls and bucks.
A bull can be brought in, collected and sent home the same day, or if it is brought in for CSS semen collecting, it can be placed in an isolation barn for six weeks while it undergoes testing for diseases, which include tuberculosis, leptospirosis and brucellosis. If the tests come back negative, it is then moved to a resident housing barn, and collection can begin. Cows brought to Champion Genetics for artificial insemination and embryo transfer also have a separate housing facility.
"The new facilities really helped during the summer," Woodard says. Texas summers can be particularly unfriendly to livestock and cause animals to become overly stressed.
From the Field to the Freezer
Once a collection is taken, it is visually evaluated to note its concentration and measure its volume. An extender mixture of sodium citrate, egg yolk and glycerin is then added to the collection sample. The egg yolk protects the cells against cold-shock, and the glycerin serves as a cryogenic preservative. Supply for the extender isn't a problem — Barton's wife, Brenda, has a flock of hens that provide the eggs.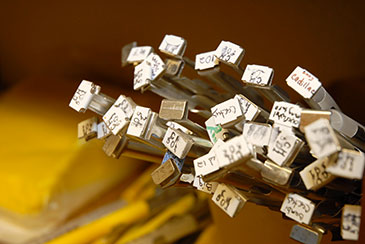 A sample from the vial is evaluated under a microscope and scored for sperm motility and morphology. The microscope is connected to a laptop, giving a larger view of any abnormalities in the cells, such as curled or missing tails or misshapen heads. If the collection passes the evaluations, it is injected into straws for freezing. After freezing, post-thaw and stress evaluations are made and a normal cell count is conducted so the quality can be verified. Semen meeting quality standards is then stored.
An average bull collection makes 200 straws, while an average buck collection makes 75 straws. Last year, collections totaled 96,000 units.
"Those 96,000 units were collections taken from 160 bucks and 350 bulls," Woodard says. "We hope to be collecting 250,000 units in five years."
Champion Genetics can store the straws until they are ready to be used. Often, a ranch will have semen collected and stored for later use, so the elite genetics of one herd sire can have a much larger impact on their herd. One bull can now produce hundreds of offspring, versus 30 or 40 in a breeding season. It can also serve as an insurance policy should something happen to the bull, enabling his genetics to be carried on.
Producers also can sell the straws to a third party. The price per straw can range anywhere from a few dollars to thousands of dollars. Collections from bucks and rodeo bulls are by far the most expensive.
Hands-on Training for Producers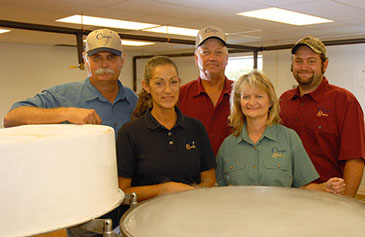 Champion Genetics is also one of two companies that partners with Texas AgriLife Extension to offer the Statewide Artificial Insemination and Pregnancy Determination School. Woodard sees the teaching opportunity as another tool in helping Champion Genetics satisfy and retain customers.
"It's important that we answer all of their questions because we want customers to keep coming back," Woodard states simply.
Woodard and AI instructor Gene Lowe also will train customers to artificially inseminate their own animals. As reproductive specialists consulting on breeding programs and protocols, they have more than 60 years of experience.
"We've learned to keep the customer first," Barton says. "We have a lot of first-time customers and we want to inform them about the process, whether it's collection or breeding or synchronization. We'll work 24/7 to make sure the customer has what they need."
CSS Certified
In October 2008, Champion Genetics was recognized for meeting the requirements set forth by Certified Semen Services (CSS), a non-profit program that regulates many North American artificial insemination businesses.
CSS was established more than 20 years ago by the National Association of Animal Breeders, which wanted industry standards to insure that the semen its members produce is identified properly and disease-free.
Champion Genetics now has CSS semen available and requires owners who wish to extensively market their bulls here and abroad to have their bulls' semen CSS-approved.
– Article by Staff
– Photos by Jeremy Crow and Bill Grace
---