THEN & NOW
In 1998, Landscapes readers were introduced to the Langes, who — with the help of a Federal Land Bank loan — had just completed construction of a lodge on their exotic game ranch in West Texas. Ten years later, the ranch is an established hunting operation that complements the family's helicopter service.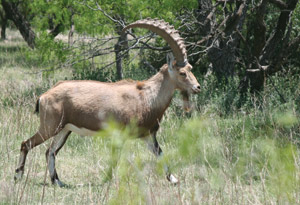 ​Like many rural kids, Aubrey Lange knew growing up that he wanted to someday own land — he just didn't know how he would accomplish his goal. It wasn't until after he served in Vietnam, as a Medivac army helicopter pilot, that the answer came to him — he could combine his love of flying with his love for the land.
Today, Aubrey — along with his wife, J. Ann, and their son, Kyle — is successfully doing both. The family's Indian Spring Ranch, near Mertzon, Texas, offers 45 to 50 exotic game hunts annually. Their other enterprise, Lange Helicopters, specializes in animal roundup and capture, and allows them to acquire game for their own ranch, as well.
"I've always said that I got in the helicopter business so that I could buy land and be in the ranching business," Aubrey says.
Front-Runners in Exotic Game Hunting
With the operation in its fifteenth year, the Langes are considered to be pioneers in Texas' exotic game hunting industry. It began in 1993, when they recognized the hunting industry's potential and a need for their ranch to make money. They deer-proofed the property, including the section called Indian Spring Ranch, to start a commercial hunting operation. Twice in the last decade, they've added acreage, financed by Central Texas Farm Credit in San Angelo.
Over the years, the Langes have learned which animals can thrive in the harsh West Texas climate and with which other wildlife those animals can co-exist. Today, the ranch is home to a combination of natives and exotics, including white-tailed deer, quail, turkey, blackbuck antelope, axis deer, Aoudad sheep, Iranian red sheep, scimitar-horned oryx, Nubian ibex and sika deer.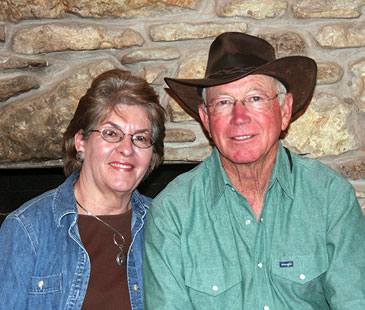 "We've stuck with what did the best, and what raised the best on their own," Kyle says. 
Several species, including sables, blesboks and lechwe — a breed of antelope they were raising in 1998 — have proved unsuitable for the ranch. The sables were popular with ranch guests, however, because they would venture close to the lodge.
"Those sables were my favorites," Aubrey painfully admits. "I really wanted to keep those, but we just couldn't stand to see that loss. You're dealing with money, and you can lose a lot of money if you don't watch it."
The Langes keep a careful watch and monitor for overpopulation. It can be a full-time job itself, but they believe that they have found a balance in the species on the ranch and have achieved a population level that works.
Change Is in the Air
Just as changes have been made to the hunting operation, Lange Helicopters has evolved, as well. Kyle followed in Aubrey's footsteps and received his pilot's license in 2001, and they now operate three helicopters.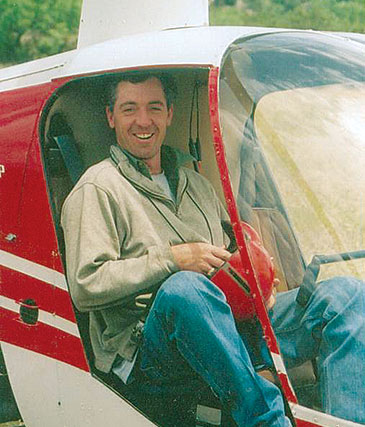 Most of the Langes' business consists of gathering and penning livestock on ranches across Texas, Arizona and New Mexico. They also offer predator control, and contract with the Texas Sheep and Goat Raisers Association to hunt coyotes and feral hogs for ranchers.
As commercial wildlife operations become more prevalent, Kyle and Aubrey are in greater demand to conduct wildlife surveys. With an aerial view of the wildlife population, owners and outfitters can learn vital information, such as the property's buck-to-doe ratios, deer density, fawn survival rate and the age of classes.
Animal capture, which involves the trapping, transporting and transplanting of wild game, accounts for about a tenth of the Langes' business. In fact, theirs is only one of a few capable of catching exotics and game animals in the state.
Over the years, the Langes have found novel uses for the helicopters, from taking photographers up in the air, to surveying pipelines for oil and gas companies, to flying the cameraman for a Charlie Daniels music video. Aubrey even participates in an Easter egg drop every year.
"We do everything we can legally get away with," Aubrey laughs.
Customer Service Keeps Hunters Coming Back 
While the Langes use the helicopter business to give them a "big picture view" of their exotic wildlife operation, it is their attention to the details that has kept them in business. 
To the Langes, this includes maintaining their customer base as much as the herd or ranchland.
"Game ranches have gotten very popular," Kyle says. "But, I've seen lots of them last only about 5 years, because it's more fun to build them than maintain them."
​Kyle has insisted that they weren't just in the business of selling hunting trips, but vacations. It's this philosophy that has the Langes boasting a 65 percent rate of repeat customers.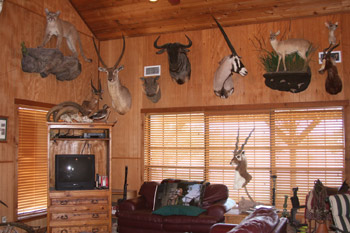 "I'm always asking these guys what they like about being out here, and their answer is that they just like being out here," Aubrey says.
Weeks before a scheduled hunt, the Langes gear the hunters up for the trip by sending them photos taken by game cameras stationed near feeders. Once the hunters arrive, digital cameras and wireless Internet service at the lodge allow them to immediately share the thrill of the hunt with friends and family back home.
"They are our guests," Aubrey says of the hunters. "They need to be comfortable and feel like they are welcome all the time."
For more information, visit www.langehelicopters.com.
– Article by Sarah Harris
– Photos by Sarah Harris and Lange Helicopters
---