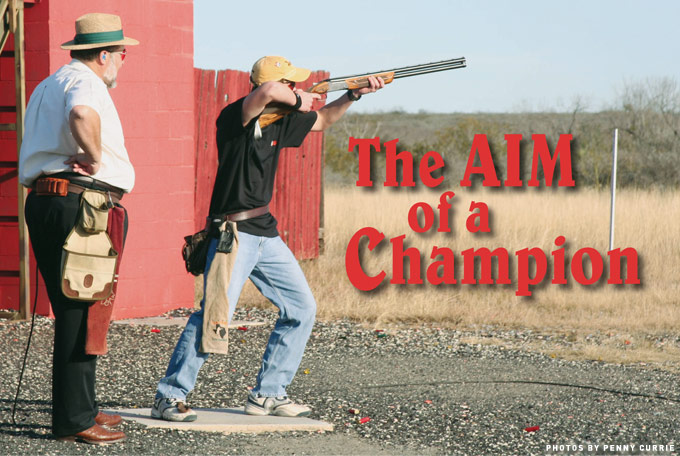 ---
Ask skeet shooters how hard it is to shoot clay targets zipping across the sky, and they'll probably answer, "They're not hard to hit, but they sure are easy to miss."
Skeet shooting is a sport that requires amazing accuracy. To win, a contestant's shots must be nearly perfect, hitting the target 100 times in a row in each of four gauges and doubles competitions.
Sixteen-year-old Harper Foley from Uvalde, Texas, knows how hard it is to focus in order to consistently hit the target. As the current National Skeet Shooting Association (NSSA) 12-gauge runner-up for junior world champion, he has had many perfect runs, or "straights," during competitions.
"You've got to be mentally there," Foley says. "If your mind is not in it, then there's no way you can score 100, and if you don't hit 100 percent, you get nothing," he says. Then, with a wry smile, he adds, "Well, you get to go home."
Foley, a sophomore at Uvalde High School, has been participating in shooting sports through 4-H since he was 8 years old. In 2005, he registered with the NSSA to shoot competitively. He won the open doubles in the first registered competition he entered and has earned many other honors since. In fact, in 2006 alone, he won four open gun championships and 12 junior gun championships.
San Antonio, a Hub for Shooting Sports
Foley is fortunate to live near San Antonio, Texas, which is a hub for shooting sports across the country. The National Shooting Complex and the NSSA headquarters are located in San Antonio, and many competitions, including the NSSA Open World Championships, are held in the area.
Shooting sports are gaining in popularity, however, and competitions are held across the country. This year, Boston will host the NSSA Junior World Championships. The sports continue to grow because they attract both young and old participants, as well as male and female. Generally, shooting sports collectively refer to skeet shooting, trap shooting and sporting clays. All of them involve hitting clay targets, but they differ from each other in the field situation.
In skeet shooting, shooters shoot from eight stations, and the targets are thrown from a high house and a low house. In trap shooting, there are five stations and one house. And sporting clays have a variety of situations, which can be changed frequently to offer new shooting experiences.
Foley's father, Joe Foley, vice president in Capital Farm Credit's Uvalde office and a volunteer leader of the local 4-H Shooting Sports program, describes skeet shooting as a video game in real time. Plus, shooting clays can be more fun than hunting because "you don't have to clean the targets after you hit them," he says.
Skill, Concentration and Practice
Skeet shooting competitions usually last three days, and participants fire upon a total of 500 targets in 12-gauge, 20-gauge, 28-gauge, .410 bore and doubles competitions. Shooters are classified into categories based on age and accuracy, with ratings from AAA to E. A shooter's accuracy class is based on a running average from his or her last five competitions. At each competition, any player can win the open event, regardless of classification.
"It takes endurance, and it will wear you out to be in the sun all day," Foley says. "But you get used to it. It's kind of mechanical now. I can go out on the field, relax and have fun. If you're not having fun, there's not much use in doing it," he adds.
In 2006, Foley competed in 14 registered shoots, firing upon 5,600 targets. He finished the year ranked AAA in 12 gauge and 20 gauge and A in everything else. His 4-gun high overall average was 95.17 percent, and his high all-around (4 gauges plus doubles) average was 94.66 percent. He also finished 2006 as the sixth-ranked high average leader in the nation in Junior 20 gauge with an average of 98.52 percent on 1,150 attempted 20- gauge targets. Based on those accomplishments, he recently was named to the NSSA's Junior All- American First Team and the Texas Skeet Shooters Association's All State Junior Team for 2007.
Every Monday after school, Harper can be found at the Uvalde Gun Club practicing with his squadmates. Shooting competitions take place in squads of five, so it is an advantage to practice with the same shooters who are around him in competition.
Foley's squadmates include the second-in-command at the local Border Patrol station, a retired Bureau of Alcohol, Tobacco and Firearms officer, a retired sheriff and a rancher. The other team members, also championship shooters, have become informal coaches. Although Foley is the youngest member, he is respected for his skill and dedication to the sport. In fact, he and the Border Patrol agent compete as a 2-man team in addition to entering shoots as individual competitors. Last year, they won 10 open 2-man team championships.
Like most of the sport's junior competitors, Foley is a serious student who excels as much in school as he does on the field. The maturity he displays as a serious competitor should help him as he takes aim at an even higher target after his high school graduation: attending the U.S. Naval Academy to become a fighter pilot.
- Staff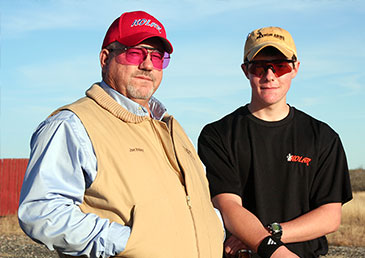 Harper Foley's Shooting Tips
1. Determine whether you are right-eye dominant or left-eye dominant, and then either shoot from the dominant side or slightly obscure the vision in the dominant eye if you must shoot from the non-dominant side.
2. Your eyes are the rear "sight" on a shotgun -- therefore proper gun fit, especially the height of the comb, is critical. I highly recommend using a shotgun with a stock that has an adjustable comb and an adjustable butt pad, and then employing a professional stock-fitter to make the adjustments. A properly fitted shotgun will give you the biggest bang for your buck in improving your scores.
3. Address each station on the skeet field with the proper foot position and stance. Your feet should be parallel and shoulder-width apart, with 80 percent of your weight on the leading foot and your belt buckle pointed at the low house window (for a right-handed shooter) or belt buckle pointed at the high house window (for a left-handed shooter).
4. Mount the shotgun by bringing the comb to your cheek, rather than bringing your cheek to the comb, then pull the butt of the stock back firmly into your shoulder and turn your eyetooth into the stock.
5. Make your upper body a "turret" by locking your cheek to the gun, locking the gun to your arms and shoulder, locking your arms and shoulders to your torso, and swinging your torso with your legs. This way, all the parts stay locked and the swing is accomplished by your lower body with your shoulders parallel to the ground.
6. Develop and consistently use gun hold points and eye hold points that work for you at each station.
7. Hard focus your eyes on the target -- not on the barrel, establish and maintain the proper lead, and follow through after taking the shot.
8. Stay "in the gun" -- never be in a hurry to dismount the gun after taking the shot.
9. Shoot each practice like it's a competition; shoot competition like practice.
10. Relax and have fun. After all, it's only a game.
---