With each generation, the education and communication gap widens between those who produce our nation's food and those who consume it.
Although fewer people today live and work on farms and ranches — a testament to the productivity and efficiency of modern agriculture — youth programs such as FFA and 4-H are thriving. These nationwide organizations continue to promote agriculture education and the development of citizenship and leadership skills that create opportunities for their members. The Farm Credit System is proud to support FFA and 4-H because, whatever these young people end up doing in life, they will have a positive understanding of and appreciation for agriculture — an appreciation that they will share with the world around them.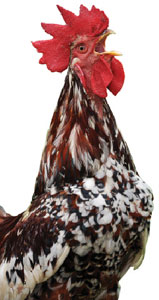 Sharing positive stories about agriculture with a diverse, growing and influential audience is critical to the success of farmers and ranchers throughout the country. Consumers need to be able to see firsthand what modern agriculture looks like — the role technology plays, the complex dynamics of agribusiness today, and the many related issues that impact the industry.
To that end, the Farm Credit System believes it is important to provide a place where consumers can go for accurate information about how food products make their way from farm to table. This year, Farm Credit has put its support behind two initiatives that provide this important resource.
"America's Heartland" PBS Series
The award-winning "America's Heartland" is the only nationally distributed program about U.S. agriculture airing on public television and RFD-TV. The program is seen on more than 230 Public Broadcasting Service stations, covering 62 percent of the United States, including 20 of the top 25 television markets. "America's Heartland" also reaches viewers with prime-time broadcasts on RFD-TV, the cable and satellite channel celebrating the rural lifestyle, and thousands more people through its social networking and online resources (www.americasheartland.org). Overall, the series reaches more than 38 million viewers each season.
Farm Credit is proud to support "America's Heartland," which begins its seventh season this summer. The program introduces millions of people across the United States to the important agricultural issues that impact the nation and everyday life.
U.S. Farmers and Ranchers Alliance
Farm Credit also has joined with a long list of national food and agricultural organizations that are working together as the U.S. Farmers and Ranchers Alliance (www.usfraonline.org). The purpose of this newly established group is to enhance consumer trust in the food production system. Often taken for granted, the American agriculture industry consistently produces an abundant, safe and affordable food supply; the U.S. Farmers and Ranchers Alliance hopes to raise public awareness of this fact, and highlight the value of modern technologies and practices that help meet the growing global demand for food.
Farm Credit is proud to support efforts that help farmers and ranchers communicate positive messages that build consumer trust in the industry. As a cooperatively owned agricultural lender, we have a responsibility to our customer-owners to spotlight agriculture's important role in our nation's economy and in the lives of people around the world. It is a responsibility we take seriously. 
– Stan Ray
---