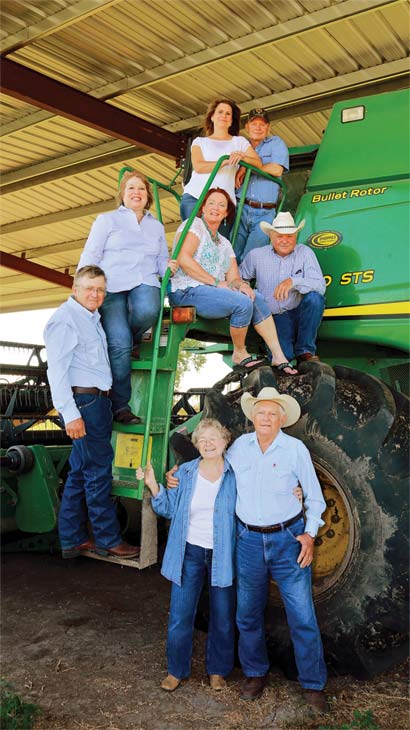 Anyone who thinks family farms are a thing of the past hasn't met the Zboril family from Wharton County, Texas.
This cattle-raising, rice-farming family has been working and playing together for six decades, and as far as grandfather Frank Zboril Jr. is concerned, the reason for their farm's success is the hardworking family members themselves.
Asked what keeps a farm business thriving for more than 60 years, he responds without hesitation: "Good labor, hard work and initiative!"
The Early Years
Born and reared on a farm during the Depression, Frank Jr. learned about hard work at an early age, laboring in the cotton gin that his father built in the 1930s and that the family operated until the late 1940s.
In 1950, he started buying acreage in Wharton County when he saw a brighter future operating his own business instead of working for his brothers.
"I started working for my brothers for $5 a day — or $7.50 if we ran until midnight," he says. "I drove many a night until 12 o'clock to earn that extra $2.50."
A Shared Work Ethic
Fast-forward to 2014, and you'll see that Frank Jr. has instilled the same work ethic in his three sons, who are his "good labor."
A late summer day finds sons Frank III and Floyd on combines, rolling steadily through a field of corn. Their little brother, Farley, jockeys semi-trucks back and forth between the field and the family's on-farm grain storage facility. Meanwhile, Frank Jr., 84, waits for the ground to dry enough from recent rains so he can climb aboard his tractor to disk behind the combines.
When the corn harvest is complete, the Zborils will switch over to their rice crop, where Frank Jr. also drives a combine.
This is Frank Zboril and Sons Farm, and it operates efficiently with a lot of hard work and cooperation by an entire family. Call it a system. Call it teamwork. Call it a welltuned machine. Whatever you call it, this family stays in synch to stay successful.
"Everybody pitches in," says Frank Jr. "And you'd be surprised how much you can get done if everybody knows what he's doing."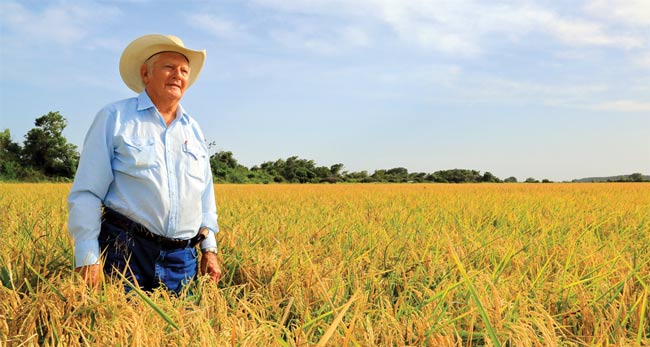 ---
"Everybody pitches in. And you'd be surprised how much you can get done if everybody knows what he's doing."
– Frank Zboril Jr.
Such family teamwork has even filtered down to Frank Jr.'s grandkids, some who helped on the farm as children and others who are still helping. But family lore has it that Frank III, Floyd and Farley are so in tune with each other that they communicate without even speaking, which can be disconcerting for a kid learning to be a part of it all.
"When our own sons helped in the summer, they'd come home at lunch and say, 'They all went this way and that way and I didn't know which way to go!'" says Linda Zboril, Frank III's wife.
Although the farm has expanded to accommodate each son and his family as they've joined the business through the years, the Zborils prefer to keep the farm a moderate size that they can manage themselves. Most of the work is done by family members, with two longtime helpers, plus custom workers for certain seasonal jobs, rounding out their labor force.
Content with Moderate-Size Farm
"We don't try to get too big," says Floyd, the middle of Frank Jr.'s three sons. "We're in a comfort zone so we can be good at a particular size of operation and do most of it ourselves."
What they call moderate is about 6,000 acres of owned and leased land, all located within just a few miles of the center of the farm in the community of Louise.
Mainstays on the Zboril Farm have always been rice and cattle, with a few other crops based on necessity and market opportunities.
When the corn is in the bins, it's time to harvest the rice crop. The wives pitch in to unload the trucks and handle other essential tasks, which they mesh with offfarm careers, grandchildren's activities and assorted duties.
The whole team includes Frank Jr. and his wife, Marianne, and their sons and daughters-in-law — Frank III and Linda, Floyd and Tammy, and Farley and Jalisa — plus grandchildren. Their daughter, Cynthia Zboril Garrett, and her husband, Derral, are also part-owners of the farm and live just 30 miles away in El Campo, where they are both accountants.
Rotating Cattle and Rice
"We rotate the cattle and rice," says Frank Jr. "We may have cattle on a piece of land for two years, and then it's rice, because the rice does better that way. It needs a little rotation."
He has grown rice since he began assembling this farm, and it's their favorite crop for several reasons: Rice prices fluctuate less than corn prices, and the yields are more dependable than soybean yields in this area. Also, while they farm in a location where farms and peripheral businesses depend heavily on water from the Colorado River, which the river authority has restricted recently during drought, the Zborils get their water from wells.
"We are still limited to the acres of rice we can grow by how much water we have," Floyd says.
Rice farming isn't without its challenges here, however. Hurricanes and other storms are always a threat.
"Two years ago we had 100 or more acres of rice ready to harvest when a squall came in," Floyd says. "We got out there in the morning, after the storm, and the rice was plastered flat on the ground. With three combines working, it took us nine days to cut those acres."
Brahman Genetics
The main cattle herd consists of about 550 Hereford- and Brahman-crossbred cows, the Brahman genetics giving the cattle the ability to thrive in this hot, humid environment. These F1 cows are bred to Angus and Charolais bulls.
"We do have 50 Hereford cows that we run Brahman bulls on, and then we keep our own heifers from that mating," Floyd says. "We lose a few more females out of the herd than we raise, so we may buy some to keep our numbers up."
Calves from the herd are processed through VAC-45, a vaccination program developed by Texas A&M University, and then backgrounded on pastures of Jiggs bermudagrass. The cattle are sold in truckload lots of same-size steers or heifers through an order buyer.
A Good Lender Helps
With so many crops and cattle being marketed at various times of the year, the family appreciates having a local lender they consider is part of their team. For the Zborils, that lender is Capital Farm Credit where Bill Baker, credit office president in Edna, handles their financing.
"They financed some land for us to start with," Floyd says. "Then they financed our grain dryer and storage tanks. And now we get our production loans from them. Any of the land that we've all bought together has been through Capital Farm Credit."
"Without their help, we wouldn't be where we are today," says Marianne. Baker and his predecessors have been a regular part of the Zborils' business for decades.
"Mr. Baker is a guy you can reason with," says their dad. "He understands people like us."
Frank Jr. also appreciates the way the cooperative shares its profits with its members by paying patronage refunds.
Listening to the friendly banter within the family, it's obvious that the cooperative spirit is a part of this family's fiber, as well.
"It means a lot to have a good crew here," says Frank Jr., referring to his wife and his children and their spouses and children. "It's fun to be around people you enjoy, and these boys are so good to work with every day."
"We're hardly boys anymore!" Floyd interjects. "We're getting old!" The comment elicits laughter all around, and brings a shrug and a smile from his dad.
"Hey, to me they'll always be boys," says Frank Jr.
- Karl Wolfshohl
Staying Successful
Here's how the Zborils say they have been able to thrive over the decades:
Their enterprises fit together.

 

For example, the family times calving so their cattle work doesn't interfere with cropping. After the crops are harvested in the fall, cattle work begins anew.  
They change with the times.

 

They grew organic rice until their market ran out. Then they tried wheat one winter, but it turned out to be a season of no rain. Now, after many years without cotton, they are planting this crop again in fields where feral hogs have been a particular nuisance with corn crops.
They invested in on-farm storage, and consider it one of their best investments. Their first bins were built nearly 30 years ago to store rice. They added one corn bin last year and another this year. And the bins are all paying off. This September, for example, when a bountiful U.S. rice crop sent prices down, the Zborils stored much of their rice harvest to await higher spring prices. "The storage allows us to market our corn over a six- or seven-month period," Frank III says. "We seldom hit the highs or lows, but we come out okay.
They spend conservatively.

 

An example is buying their combines used. The one Floyd drives will soon celebrate its 20th birthday, but they keep it fixed up and running like new. A phrase you'll often hear said by Frank Jr. and Marianne: "There are needs and then there are wants."
They work with good business partners, such as Capital Farm Credit in nearby Edna, Texas.
The family communicates and cooperates.
---