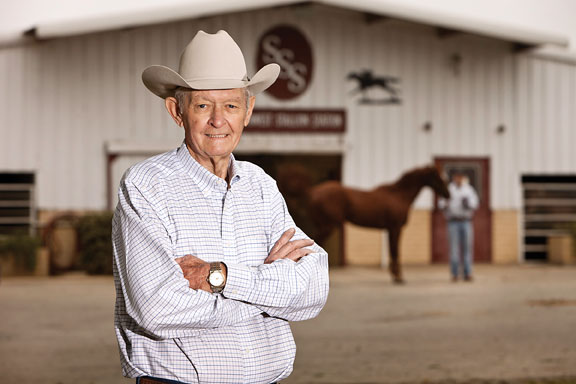 ---
Dr. Charles "Doc" Graham is well into a pot of coffee before anyone else arrives at the Southwest Stallion Station office in Elgin, Texas. Known as an early riser, the 78-year-old veterinarian and businessman always arrives first, usually around 4:30 a.m. It's a habit formed during years of hard work — a habit he has no intention of quitting any time soon.
For it was hard work that made him successful. Without a doubt, Graham has earned his place as a well-respected and prominent figure in the Texas livestock industry. He owns and runs 10 companies, and has been recognized with numerous distinguished awards from the livestock industry.
Evidence of his accomplishments lines the walls of the main office. There is the banner for the 1968 Ruidoso Downs' winning horse, Three Ohs, signifying the racing win that first put Graham's breeding business on the map. Standing in the corner is a pair of bronzed boots, presented to him when he was inducted into the American Quarter Horse Hall of Fame in 2009. A Brahman cow figurine sits on the shelf, a reminder of Graham's designation as the Texas Brahman Association's Beef Booster of the Year. New to the display is a plaque announcing him as one of the 2010 outstanding alumni from Texas A&M University's College of Agriculture and Life Sciences.
Trophies of various kinds fill the space, but the figure that dominates the room is Graham himself. Tall and lean, with a cowboy hat sitting comfortably on his head, Graham stands taller than most people. When he tells a story, his words convey both his wit and his no-nonsense convictions about life and business.
No Stranger to Hard Work
Graham has built his businesses and his reputation on his unwavering work ethic. As a veterinary student at Texas A&M University in the late 1950s, Graham says that he didn't have "two nickels to rub together." What he did possess, however, was far more valuable — a compelling desire to succeed and the willingness to work hard to do it.
"My dream was to own a horse facility and be in the stud business. If I was going to succeed, I figured I'd have to impress them with my work," Graham says. "I thought it was possible, because I didn't know a person who could outwork me."
His Aggie ring, worn smooth by years of manual labor, is a testament that he stayed true to his word. "It didn't get like this from sitting behind a desk," he says of his class ring.
Friends and family will tell you it would still be a challenge to find anyone who works harder. While many of Graham's friends are retiring, he has not slowed down.
"They don't understand wearing boots on the golf course," he quips.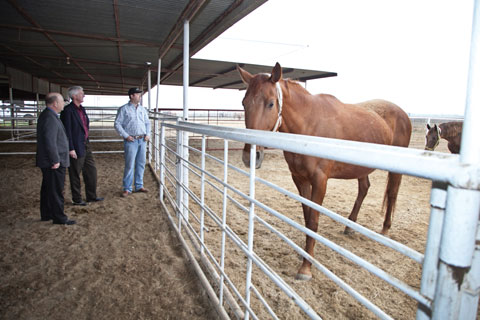 ---
A Career Dedicated to Agriculture
Graham's entire career has been built around agriculture. He earned bachelor's degrees in animal husbandry in 1953 and in animal science in 1954, both from Texas A&M. After serving in the U.S. Army, he returned to A&M to earn a doctorate in veterinary medicine in 1961. 
After vet school, Graham and Dr. W.H. Cardwell worked hard to establish the Elgin Veterinary Hospital, of which Graham was a partner for more than 30 years. Slowly, they grew the practice into one of the largest equine veterinary facilities in the nation, and Graham developed into one of the state's renowned equine vets.
Success with the vet hospital led to the establishment of Southwest Stallion Station more than 40 years ago — the fulfillment of Graham's dream to be in the horse-breeding business. Today, the 1,300-acre Southwest Stallion Station is one of the most prominent breeding facilities in the southwest for both quarter horses and thoroughbreds.
Graham was one of the initial investors and today is one of four partners in Heritage Place in Oklahoma City, one of the largest sale venues for racing American quarter horses. His success has not changed his hands-on approach though. Many nights, he has slept on a saddle blanket in his office near the barn's main corridor. When he hears a horse's hooves, he can tell just by the sound which horse it is.
Cattle as Well as Horses
Graham's enterprises were built around horses, but that didn't stop him from getting into the cattle business and becoming a major voice in the cattle industry, too.
"We think Doc has a soft spot for cattle," says Gayle, Graham's daughter-in-law and the office manager at Southwest Stallion Station. "He's a cattle producer himself, and he'll always have cattle around."
In 1987, he bought a feedyard in Gonzales County, Texas, and established Graham Land and Cattle Company. The feedyard serves South Texas cattle producers and has the capacity to feed 30,000 head and background another 15,000 head. The facility specializes in feeding Brahman-influenced cattle.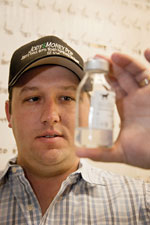 He also owns an auction barn, Hills Prairie Auction in Bastrop, Texas, as well as a transportation company, Sunset Livestock Carriers, Inc., which provides the opportunity to move cattle from the Gonzales County feedyard in a timely and efficient manner.
"Charlie Graham understands the entire beef production system, because he's involved in most of its segments. He's a cow-calf producer, and he owns a sales barn and a feedlot. He's also well connected politically and has been able to go to speak to elected representatives on behalf of the beef industry. It would be hard to sum up all of his contributions to the industry," says Chris Shivers, executive vice president of the American Brahman Breeders Association.
raham is president of the American Breeds Coalition, a group that represents six U.S. breed associations that have partnered to promote American breeds of cattle. In addition, he helped to establish the Brahman Influenced Marketing Group to aid marketing of "eared" cattle in south and central Texas.
"Charlie has been a pivotal voice in the progression of the beef cattle industry in the southern United States," Shivers says.
A Commitment to Service
The long, hard hours he put in have resulted in remarkable success for him and also significant benefit to the Texas livestock industry. A firm believer in giving back, Graham stays active on numerous boards and committees.
"Doc will attend every meeting he can make, because he believes it is important to stay involved and give back," explains his 28-year-old grandson, Tyler, to whom Graham is handing over leadership of the family's enterprises. "He'll do something every night if he can. And he doesn't just go, he takes an active role."
He has served as president and/or a board member of the American Association of Equine Practitioners and the Texas Veterinary Medical Association. In addition to being president of the American Breeds Coalition, he is a director of the American Quarter Horse Association and the Star of Texas Fair and Rodeo. On top of that, Graham is a governor-appointed member of the board of the Texas Department of Rural Affairs. He also stays active in the Texas and Southwestern Cattle Raisers Association.
"Dr. Graham's contributions to agriculture have been tremendous at many levels, and even more impressive is that he hasn't missed opportunities to help individuals along the way," says his loan officer, Mark Rutledge, regional president for Capital Farm Credit. "I've seen or heard about Dr. Graham helping high school students applying to college and promising vet students working to obtain their degrees. He has provided key referrals to businessmen and brought dignitaries together to explore ways to further improve and promote agriculture. His interest in helping people, regardless of their status, is a big reason he has won so many awards and honors in his lifetime."
A proud Aggie, Graham remains closely connected with Texas A&M. He contributes to educational programs by, for example, opening up his equine and beef cattle facilities for tours and other learning experiences.
Graham also chairs the animal care committee for the Star of Texas Rodeo in Austin, a committee that proactively monitors the health of the rodeo stock. Over the years, he has been a strong supporter of the rodeo.
"Dr. Graham is a visionary for agriculture and one of the greatest philanthropists of youth education," says Johnny Philipello, senior manager at the Star of Texas Fair and Rodeo. For his contributions, the Star of Texas Fair and Rodeo named their offices the Charles W. Graham Western Heritage Center in his honor.
Passing the Torch
Graham is currently grooming grandson Tyler, also a Texas A&M graduate, to take over the family businesses. Although he has a hand in all of the Graham Enterprise businesses, Tyler's favorite work involves the horses. He is the youngest director ever to serve on the American Quarter Horse Association board, and he has invested a lot of effort building up a herd of breeding mares at Southwest Stallion Station, transforming the company from primarily a stud business into a full custom reproduction facility.
Tyler also has acquired state-of-the-art technology to achieve horse-breeding success with lower-quality semen — a definite plus when working with million-dollar stud horses. "It's a tedious process, but we are able to filter out bad cells," Tyler explains. "It results in a smaller sample but with all perfect cells. As a result, we can have the same success rate with breeding these horses, but the process takes longer."
A true Graham, Tyler recognizes that success will only come from hard work, a lesson that has been drilled into him since childhood.
"It's a lot of responsibility, but I've grown up around it," Tyler says. "I've never known a five-day work week — and I didn't start in the office. I started with the grunt work."
It's a mindset that surely makes his grandfather proud. 
– Staff
A LIFETIME OF ACHIEVEMENT
Dr. Charles "Doc" Graham is the only individual who has served as president of both the Texas Quarter Horse Association and the Texas Thoroughbred Breeders Association, and is the only individual to be selected as Horseman of the Year by both organizations.
Other notable achievements to his credit include:
•Three-time Hall of Fame winner
     •American Quarter Horse Hall of Fame Inductee (2009)
     •Texas Rodeo Cowboy Hall of Fame Inductee (2008)
     •Texas Horse Racing Hall of Fame Inductee (2002)
•American Brahman Breeders Association Brahman Friend of the Year (2004)
•Man of the Year in Agriculture by the Texas County Agricultural Agents Association (2003)
•Outstanding Alumnus of Texas A&M's College of Veterinary Medicine and Biomedical Sciences (1991)
•Honored with a Senate Concurrent Resolution during the 70th Legislature of the State of Texas (1987)
---