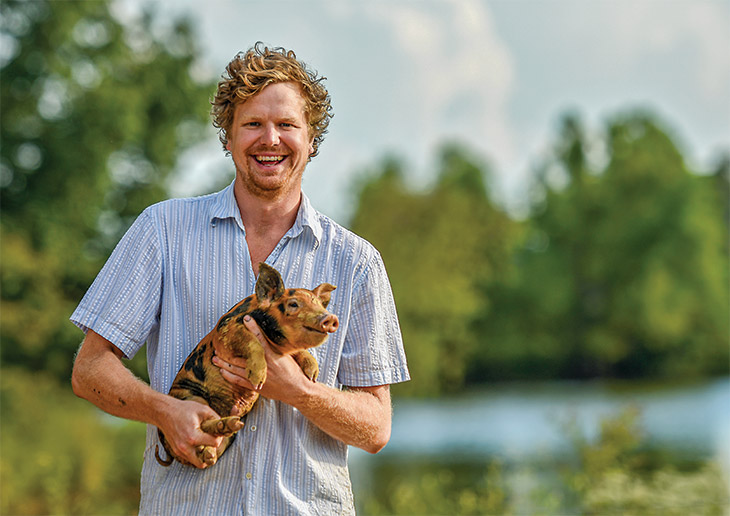 ---
Home Place Pastures is something of an agricultural enigma.
From a distance, the 147-year-old Como, Miss., farm conjures turn-of-the-century rural living. Weathered, vine-covered barns and outbuildings are flanked by rusted fuel tanks and timeworn equipment and implements. Snorting, mud-caked swine cool themselves in nearby wallows, as the shrill of a million cicadas rises and falls.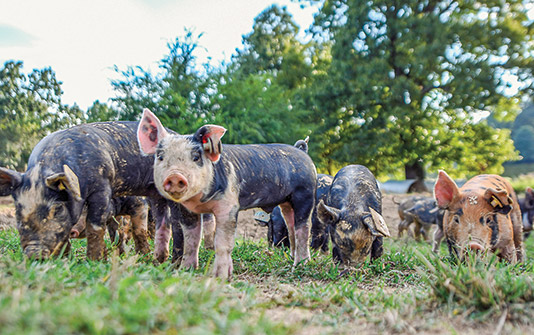 There is no sign of the high-tech, high-dollar approach found in much of today's production agriculture. But a closer look reveals a youthful, progressive and innovative operation at the cutting edge of America's trend toward local, fresh, pasture-grown meats, produced to the highest ethical standards.
"There's a massive market for people who love cooking and are passionate about their food," says Marshall Bartlett, president of Home Place Pastures. "More and more, consumers want to know where their food comes from and how it was produced. We are committed to serving that market at the highest possible level."
In only five years, Bartlett has made fruitful connections with fine-dining restaurants throughout the South and created a stir within the "foodie" community of the Mississippi Delta and beyond. Home Place Pastures' pork, in particular, is sought by more and more chefs in the area, and the farm's quaint retail store has become a destination for home cooks and food enthusiasts.
Reinventing the Family Farm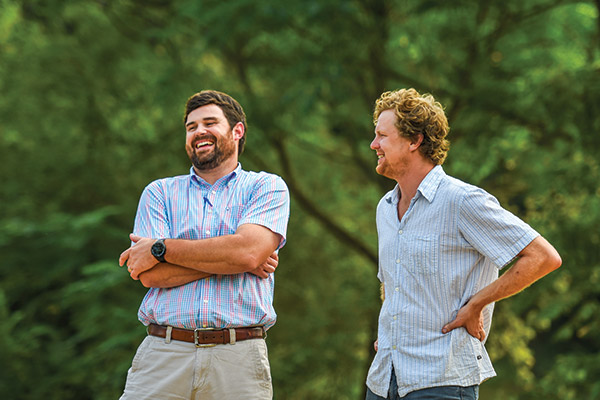 Any seasoned business owner would classify this as a resounding success. But the fact that Bartlett began reinventing the family farm at a mere 24 years of age is most commendable.
"As a teenager, I had basically decided against going into agriculture," says Bartlett, who represents the fifth generation to farm this 1,800 acres of Mississippi Delta land. "I mistakenly believed that the only way for me to make a living would be to continue the family tradition of row-crop farming. Nothing wrong with that, but it wasn't appealing to me."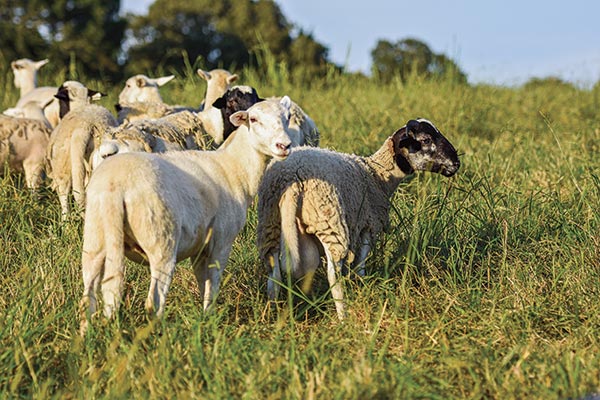 After earning a degree in environmental studies from Dartmouth College in Hanover, N.H., Bartlett worked for a New Orleans–based beef and lamb operation before heading back to Como with a new approach to farming.
His father, Mike, had recently retired from row-crop farming and running a cow–calf operation, but he was determined to do something different than his dad. His goal: to create a specialty product, build a brand and market directly to the consumer.
"We built our entire business plan around pigs," Bartlett says. "It's funny, because I had no knowledge at all about swine. I'd never raised a pig and we never had one on the farm. Regardless, we believed we could get up and running quickly and that there was a rich market in this area."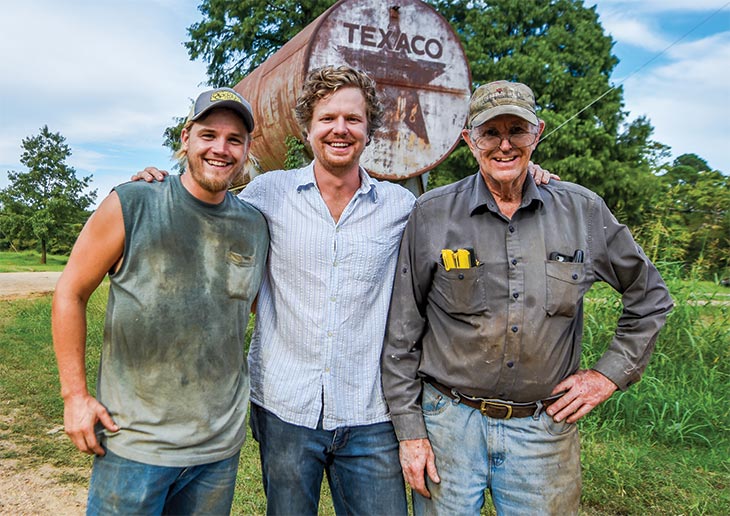 A Sibling Partnership
Supported by his parents and his siblings — brother Jemison Bartlett and sister May Leinhart, who signed on as partners — Bartlett launched the operation in 2014 with just 15 pigs.
The idea was to raise heritage swine breeds, Berkshire and Tamworth, because they are well-suited to pasture living and could be processed "nose-to-tail," using the entire carcass. Production would focus on providing the animals with the highest quality, non-GMO feeds and raising them on pasture using humane, nonstressful practices and without antibiotics or growth hormones.
Marshall and his family were right in line with the farm-to-table movement that we support. We're also trying to help people get started, especially young farmers like Marshall.
– Scott Crockett, Mississippi Land Bank
"This not only makes for a much more ethical approach to livestock farming, but it has a direct consequence on the quality of the meat," Bartlett says. "There's a tendency to think that 'pork is pork' and the quality is roughly all the same. But you quickly find that not to be the case when you taste our products in comparison to something you find at the grocery store."
Bartlett tweaked the traditional hog-farm model even further by building a USDA-inspected slaughter and processing facility on the farm itself.
"There are a lot of value-added products that we make right here," he says. "We make smoked and cured sausages and bacon, and package lots of other items besides the obvious cuts."
Supplying Nearly 100 Restaurants
Bartlett says his business model relies on marketing high-end meats directly to the end user, both by retailing fresh cuts from the farm store and by providing pork and lamb to fine-dining chefs across the South. Building networks with restaurants was a matter of "blood, sweat and tears," he explains.

---
Farm Events Feed the Body and the Soul
There's more than one way to experience Home Place Pastures.
The farm celebrates Mississippi's rich culture by hosting chef-prepared farm-to-table dinners, live music and more. Visitors also can shop at the on-farm butcher shop three days a week, and can schedule educational farm tour.
The farm's biggest event — the annual Hill Country Boucherie and Blues Picnic in mid-August — is equal parts music festival and cooking demonstration. Owner Marshall Bartlett invites about 20 accomplished chefs from regional eateries, and challenges them to create dishes using lesser known cuts of pork, beef and lamb.
"Our goal is to promote the 'waste nothing' tenet of whole-animal eating, so dishes often include cuts like livers, tails, tongues, cheeks and shanks," says Bartlett. "This harks back to a more resourceful era when rural families would have hog killings each fall and share every part of the animal with their neighbors."
Some 15 area blues and gospel bands perform for the event, which draws approximately 500 people.
"It involved a whole lot of driving and cold calling. We learned quickly never to walk into the front of a restaurant because you'll get blocked by the wait staff. We'd go in the back, straight into the kitchen, and act like we were supposed to be there," Bartlett says with a chuckle. "I think a lot of chefs appreciated the fact that we were young and hungry, so that gave us an advantage."
Their efforts paid off. Today, Home Place Pastures is making weekly deliveries to nearly 100 fine-dining restaurants, mainly in New Orleans, Memphis and Nashville, Tenn., and Oxford, Miss.
"It was tough to break into that market, but once we did, the floodgates opened up," Bartlett says. "The restaurant community is fairly tight-knit, and the chefs socialize with each other a lot, so it's been a matter of word-of-mouth marketing."
Marcus Jacobs, owner and chef of Marjie's Grill in New Orleans, says that when he opened his restaurant two years ago, sourcing Home Place Pastures products was a "no-brainer."
"There's a night-and-day difference between their meats and run-of-the-mill, commodity-type products," says Jacobs. "You can clearly see and taste the care and effort that Marshall and his staff have put into the animals. Honestly, I couldn't do what I do without them."
Expanding With Land Bank Help
As the restaurant business increased, the Bartletts found it necessary to expand their facilities, and contacted the Senatobia branch of Mississippi Land Bank for help. Scott Crockett, a vice president with the Farm Credit lender, says working with Home Place Pastures fit the "charge" of his branch.
"Marshall and his family were right in line with the farm-to-table movement that we support," says Crockett. "We're also trying to help people get started, especially young farmers like Marshall. He has set a great example for this community."
Now employing a full-time staff of 18 and pasturing more than 600 pigs, along with a small flock of Katahdin and Dorper sheep, the farm has become a hub of activity in Como.
"I like to think that the previous four generations of my farming family would be happy with what we're doing," says Bartlett. "We're keeping traditions alive, and creating some new ones, too."
– Mark Johnson
For more information, visit HomePlacePastures.com

 @HomePlacePastures

 @HomePlacePastures

 @HomePlaceHogs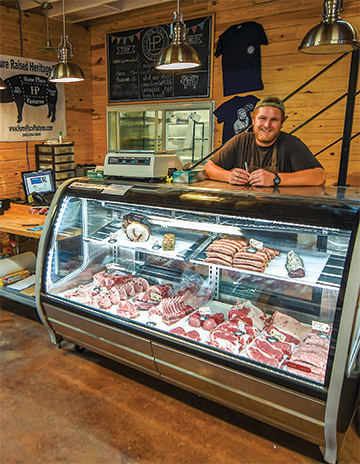 To Market, to Market
Home Place Pastures markets its products directly to the consumer through three different channels — online, at the farm's on-site retail store and through membership in its community-supported agriculture (CSA) program. In addition, Home Place Pastures' meats are sold at two retail stores in New Orleans, Piece of Meat Butcher and New Orleans Food Co-op.
For an annual fee, CSA members receive a delivery of fresh and smoked meats each month.
For those who prefer to let others do the cooking, the farm's meat products are on the menu at scores of restaurants throughout Mississippi, Louisiana and Tennessee. These include the renowned Peabody Hotel in Memphis, Tenn., and Emeril's in New Orleans.
To order directly from the farm, go to HomePlacePastures.com/shop.
---