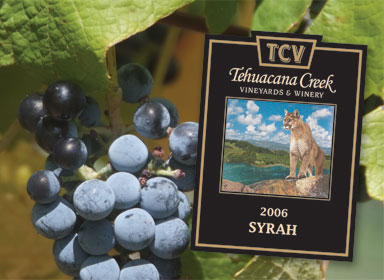 Spirits were high at the Tehuacana Creek Winery during this year's harvest, even though a late freeze, a windy spring and bird damage had knocked down yields of Black Spanish and Favorite grapes to just 500 pounds. That's enough grapes for only about 300 small bottles of Tehuacana Creek's coveted Harrison Plantation Port, sure to sell out in weeks.
But the volunteers who had picked the grapes — a dozen and a half friends, neighbors, customers and alumni of Tehuacana Creek wine events — didn't let the yields get them down that August day. They knew that each hard-earned bottle of port would reflect a unique and exciting team effort — an effort that has helped owners Ulf and Inga-Lill Westblom turn Tehuacana Creek from a fantasy into a thriving little winery just outside of Waco, Texas.
The 2009 harvest marked the third season that Judy Bergendahl of Hewitt, Texas, and Harold Hyde, of Waco, volunteered to pick grapes at Tehuacana Creek.
"I love it so much," says Bergendahl. "It's such a neat experience. You kind of get it in your blood. You look forward to it, like Christmas."
Powered by Friends
Right from the start, Tehuacana Creek has been powered by good friends. Inga-Lill recounts the winery's first day of business in 2006.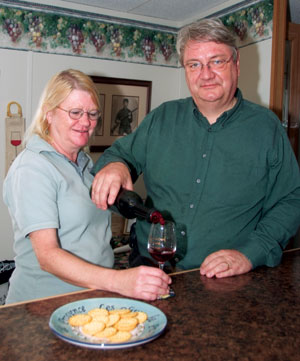 "We were supposed to open on Saturday morning at 11:00, and the labels arrived at 10:30 by FedEx from Seattle," she laughs. "There I was in the back room with some friends from church, putting on labels, while Ulf was in the front pouring for customers. We made our first sale before we realized we didn't have any bags. Our first customer walked out with our wine in a Wal-Mart bag."
Today, visitors are treated to a thoroughly professional experience and an array of 18 skillfully crafted wines, including the cheery, citrus-toned Plantation White; the soft Plantation Red; and the inky, smoky Plantation Port. There's even a honey-sweetened Mulsum prepared according to an ancient Roman recipe that Ulf and Inga-Lill found while leafing through their cookbook collection.
The Westbloms' wine heritage doesn't go back to the days of the Roman Empire, but winemaking runs deep in Ulf's family: His mother made fruit wines, and his grandfather made barley wine. On the tasting room wall is a line of bottles that begins with Ulf's first foray into the craft, a Krökarvin he made as a college student in his native Sweden in 1974.
The Start of a Dream
After graduation, Ulf became a physician, and the couple moved to the United States, settling in Missouri. The winemaking dream remained; perhaps, they thought, they could find a way to afford a small vineyard in California. A vacation in Texas in 1993 spun their compass.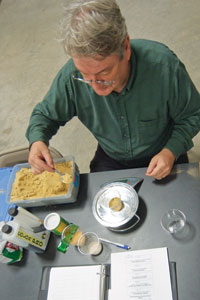 "We stayed at the Messina Hof winery," Ulf says. "About 9:00 in the evening it became very quiet, and we realized they had closed the winery and gone home. So we sat on the balcony and looked at the vineyards and pretended they were ours. That's when we said, 'Forget about California. Let's go to Texas!'"
Ulf took a job at the Veterans Administration Hospital in Temple, Texas, and found a mentor in Paul Bonarrigo, owner of Messina Hof and a pillar of the Texas winemaking community. The Westbloms bought 220 acres of grass, oak and mesquite southeast of Waco in 1996, financed by Texas Land Bank.
"This used to be a cotton plantation in the 1800s," says Ulf. "It made a lot of sense to turn to an agricultural bank to finance it."
Determination to Succeed
The purchase was a bold venture for both the Westbloms and Texas Land Bank, recalls Steve Ostrom, executive vice president of the bank's Waco office.
"This was our first venture in financing a vineyard in our territory," says Ostrom, who notes that the winery is a popular place for the bank staff to visit. "It's rewarding to see something like that, that's not typical for our central Texas area. It gives people a sense of pride to be part of the first project of its kind in our area."
Ostrom adds that the Westbloms made a big impression on the Land Bank team. "We were pleased to be able to work with somebody so dedicated to their cause," he says. "They talked about building a house on the property, and they actually came back and scrapped it. They put their resources into their operation instead of living in a big house on the hill."
In fact, they set up both home and business in the single-wide manufactured house that still serves as the winery's tasting room.
Ulf points across the tasting room bar. "That's where we kept the fermentation tanks until Inga-Lill got tired of having a winery in her living room," he says. When it came time to finance a new winery building and equipment to expand, the Westbloms returned to Ostrom.
Complementary Skills
As it turns out, Westblom's medical skills have come in handy in his new career. He diagnoses challenges in the two-acre vineyard with a clinician's eye. At crush, he measures his yeast and enzymes with operating room precision. And his background as a bacteriologist landed him a seat on the National Academy of Sciences' Task Force on Pierce's disease, a devastating malady of grapes that is endemic to much of Texas and is spreading rapidly to high-dollar vineyards in California.
Westblom recounts with equal measures of humility and amusement his visit with the task force to a historic Napa Valley winery. The vineyard manager had planted Blanc du Bois — a familiar variety in Texas because of its natural resistance to Pierce's disease — and wondered aloud how he was supposed to manage it. Fortunately, Westblom was on hand to tutor the renowned grower on the ins and outs of one of Texas' favorite grapes.
Back at the Westbloms' winery, the magic is still happening for Ulf and Inga-Lill. While she tends to customers in the tasting room, Ulf stirs yeast into the crushed grapes the volunteers picked. He pauses, closes his eyes, and draws a deep breath with a faraway smile.
"I just love that smell," he says, before returning to reality. And lucky for Ulf and Inga-Lill, reality is living their dream.
– Steve Werblow
For more information, visit www.wacowinery.com.
---