Farm Credit lenders increased their support for young, beginning and small (YBS) farmers and ranchers across the country in 2020, according to a Farm Credit Administration (FCA) report delivered in August.
The dollar volume of loans made by the Farm Credit System overall increased by 32% in 2020. In that year alone, the dollar volume of new Farm Credit loans to young farmers increased by 37%, to beginning farmers by 57% and to small farmers by 63%, compared with the previous year.
"In the midst of a pandemic, Farm Credit leaned into its mission and strengthened its support for young, beginning and small farmers and ranchers. The commitment Farm Credit lenders make to YBS farmers and ranchers does not waver, in good years or bad. It's a critical part of our mission, and we're dedicated to fulfilling it regardless of a pandemic, low commodity prices, challenging trade environments or anything else," said Farm Credit Council President and Chief Executive Officer Todd Van Hoose.
Under the YBS definition set by the Farm Credit Administration (FCA):
A young farmer is age 35 or younger.
A beginning farmer has 10 years or less farming experience.
A small farmer has gross annual farm sales of less than $250,000.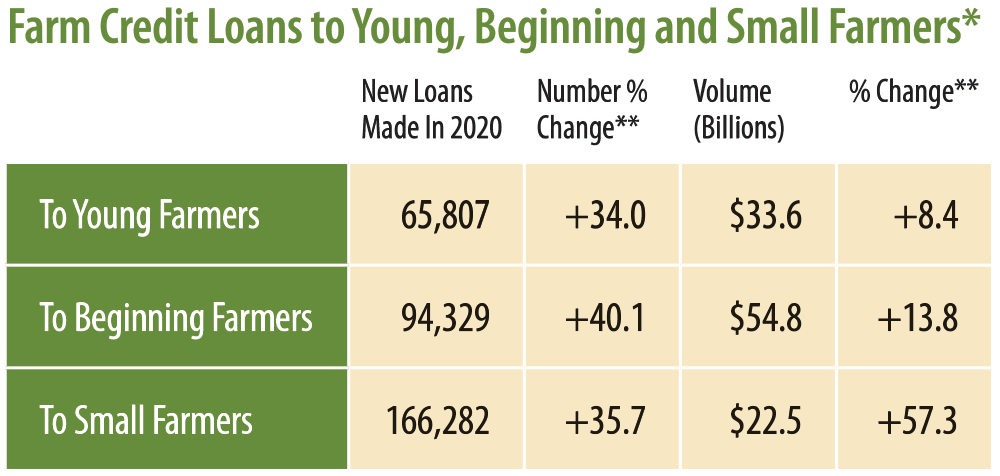 *YBS numbers cannot be combined. FCA counts a single loan to a 25-year-old rancher in her third year of ranching with annual sales of $100,000 in the young, beginning and small categories. Farm Credit institutions report this way for two reasons: FCA requires it, and it provides the most accurate portrayal of who Farm Credit serves.
**Year over year
---