As golfers around the world watched 25-year-old PGA Tour rookie Keegan Bradley win the 2011 PGA Championship at the Atlanta Athletic Club last August, they likely weren't thinking about the origin of the course greens. It was Bradley's three-hole playoff finish that was memorable.
Helping Golf Change Course
But for golf course superintendents, industry insiders and the Brown family of Bay City, Texas, who founded Champion Turf Farms more than 45 years ago, the tournament was memorable for another reason. Just two years earlier, Mike Brown and his dad, Morris, saw the no-till renovation of the Atlanta course from bentgrass to their own Champion Bermudagrass. The 2011 tournament marked the first major championship played on Bermudagrass greens, rather than bentgrass, in decades.
The makeover created a buzz in the industry trade press, with many pundits correctly predicting that other warm-region courses would soon follow suit. As Golf Digest's Ron Whitten wrote in its August 2011 issue, "This was the event and the course that disproved the conventional wisdom that major-championship golf in the Deep South is risky."
Why? Whitten explains, "Once construction crews ripped apart and reassembled each hole on the Highlands, Ken Mangum, director of golf course and grounds, planted his choice of warm-weather grasses with the intention of having the course play as firm and fast as possible. Gone are the Highlands' bentgrass greens that required huge electric fans to keep them alive in the heat of an Atlanta summer. In their place is Champion Ultradwarf Bermuda (the first ultradwarf ever developed), which thrives in summer without a life-support system and putts like the finest-groomed bentgrass."
According to americanlawns.com, bentgrass is adapted to cool, humid environments.
It is naturally adapted to northern climates and must be intensively managed and kept cool during hot weather, not a favorable combination for the South's hot summers and extended drought years of late.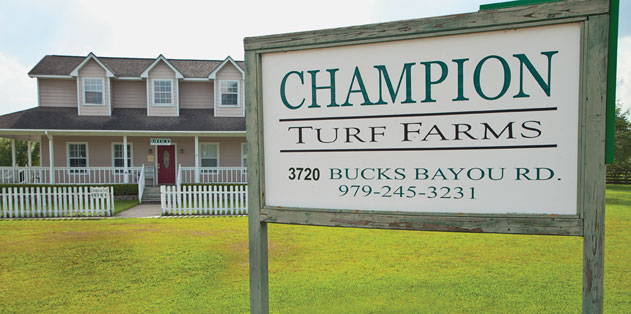 ---
Making the Leader Board
When it comes to golf course turf development, installation and management, there's arguably no team more experienced than the Browns, according to Capital Farm Credit's Bill Baker, credit office president. "These are atypical turf farmers," says Baker, whose co-op has provided their financing since the 1980s. "This is a volatile business, but Mike keeps track of what's happening in the industry and has an incredible pulse on trends and the state of the business. He's a guy who is in the trenches and working on the courses, and is very knowledgeable."
The company's origins trace back to 1966, when Morris Brown founded the firm as Coastal Turf Nurseries. In the mid-1980s, he developed Champion Dwarf Bermudagrass, which has been planted on more than 500 courses during the past decade. Mike and his brother, Scott, grew up working on the farm and on golf courses.
"With the economy doing poorly, it forces golf courses to do what makes them more efficient, and that has helped our business." – Mike Brown
"My brother's strength and interest is in IT systems and computers, so he runs our systems and office management," Mike says. He and his dad oversee the growing and installation projects, traveling from course to course to work side-by-side with course superintendents. His mother, Carol, manages administration of the golf course contracts. Farm manager Joe Johnson has kept the farm running smoothly for many years, and Grace Mariner has handled orders since the early 1990s.
Rolling With the Markets
Originally, the Browns' focus was on planting new golf courses. "We were planting so many new golf courses in Texas in the late 1990s," says Mike. "It was that boom that led us to go back to Capital Farm Credit to expand by purchasing a 2,250-acre ranch tract contiguous to our property." In addition to providing more cultivation acreage, the ranch has multiple houses, ponds and creeks that have become an ideal venue for hosting popular hog hunts for customers.
In recent years, however, U.S. golf course development has almost halted. In 2010, only 18 new courses opened, and fewer than a dozen more last year, according to Golf Digest. With many existing courses facing persistent drought and high irrigation costs, however, the Browns saw a new opportunity and have built a niche for their unique approach to renovating greens.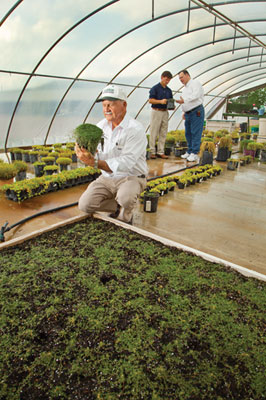 "Right now, our golf course replacement business is very busy. A lot of course superintendents want to change out their greens because bentgrass doesn't handle the heat well and has been very difficult to live with in recent years."
The Browns approach green renovation as a turnkey endeavor, in which they take an active, personal role in everything from growing the sprigs to installation and monitoring maintenance.
"When we go out to a golf course, we have a trail of accountability. It's so much more than a sale; it's what we live and breathe," says Mike. "We spend all of our time out on golf courses in the southeastern U.S. going from job to job. No one alive has my dad's level of experience. He's probably done 1,000-plus courses, and I've done in the hundreds."
In the tight economy, he says, many veteran golf superintendents are being squeezed out of high-paying jobs, leaving the course with young, less experienced personnel.
"Planting the green is a short process, but the rest is checking on it. No one is paying us to do that, but we can come in with this expertise that is invaluable." says Mike. "We bring the sprigs, the crews, and we do everything we can to help the superintendent succeed."
Like their clients, Champion Turf Farms has to keep a close eye on the cost of operations. "With the economy doing poorly, it forces golf courses to do what makes them more efficient, and that has helped our business," he says. At the same time, the Browns sought ways to be more efficient themselves. "That's why we wanted one big farm and pursued the additional acreage," he says. "We can consolidate the work, rather than be on separate farms, and be as efficient as possible. When we found the ranchland, Capital Farm Credit made that possible."
– Sue Durio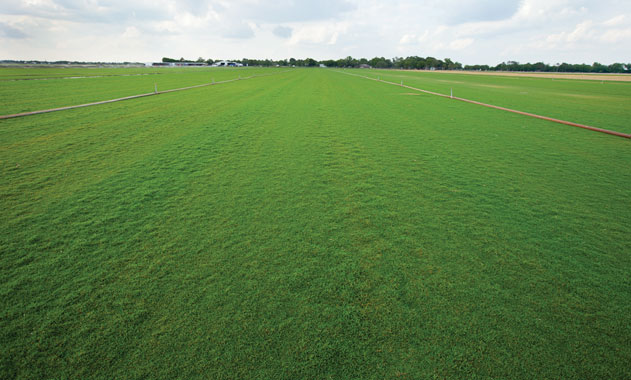 ---
"When we go out to a golf course, we have a trail of accountability. It's so much more than a sale; it's what we live and breathe." - Morris Brown
Tune in when the PGA Tour takes the course for its final regular season event of 2012, the Wyndham Championship starting the week of Aug. 13 at Greensboro, N.C.'s Sedgefield Country Club. You will be able to see the Browns' handiwork — they began replanting the greens there on May 14.
The renovation already is generating local media attention. Rocky Brooks, the course's head pro, told the Winston-Salem Journal that "several PGA Tour pros had wondered when the course would switch to Bermuda greens."
Course architect Kris Spence told the newspaper in its April 21 story that "changing to Bermuda greens is a trend that has caught on. Bermuda greens are the wave of the future in North Carolina. Champion Bermuda, one of two types of Bermuda, has become very popular and was used in the recent resurfacing at Starmount Country Club. Bermuda Run Country Club converted its East Course to Champion Bermuda three years ago."
In the article, golfer Webb Simpson says, "With Bermuda greens, Sedgefield becomes one of the great golf courses on the PGA Tour. Even in the heat of August, the greens will be hard and fast, and that means the course will play much tougher."
---