ne pleasant May morning last spring, two young men dove into Lake Kemp near Wichita Falls, Texas, and swam a quarter mile to a good-sized island. The day's itinerary called for a few hours of relaxation at the isolated getaway, followed by a leisurely swim back to their car.
But they didn't anticipate an afternoon storm with gusty winds.
"They couldn't swim back," recalls Josh McCrary, a Texas game warden in Baylor County who picked them up the next morning. Lesson learned: "Always check the weather before you head out," McCrary says.
Not everyone, as many game wardens will confirm, uses good common sense when outdoors. "If they did, I'd be without a job, and I wouldn't mind that at all!" muses Will Allison, a game warden in Sonora, Texas, and a customer with Capital Farm Credit. He still shakes his head with disbelief when he tells about the reckless angler who — as a fierce storm rolled over a reservoir in Concho County, and lightning flashed — stood in his boat, casting a graphite pole with a wet line.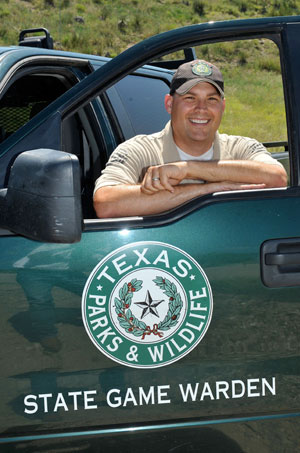 Education and Regulations
Amazingly, the man escaped electrocution. Others aren't so fortunate. As part of their job, game wardens search for missing swimmers, investigate accidents involving all-terrain vehicles and rescue motorists trapped in high water. Foremost, though, these law enforcement officers strive to protect and conserve native wildlife, natural resources and the environment. They're responsible for enforcing wildlife codes, penal codes and environmental regulations.
They also have a duty and a mission to educate people about the outdoors.
"Just because a game warden may stop and check you doesn't mean you're doing anything wrong," says McCrary, whose father-in-law, Stephen Donnell, serves as vice president at Panhandle-Plains Land Bank. "It's just part of my job to make sure that you're being safe and hunting or fishing in a way that conserves wildlife for future generations.
"And if I do give out a citation, I always explain why," he adds. "Some species of fish, for example, must be a certain size before they can breed and reproduce in a lake."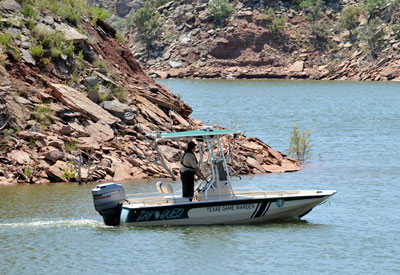 Respect Landowners and Mother Nature
Part of a game warden's job is watching out for people's safety on public waters.
In his nearly eight years on the job, game warden James Cummings, who works in the Texas Panhandle and is a Capital Farm Credit customer, handles a lot of trespassing complaints made by landowners.
"People need to make sure they've got permission from the landowner, before they hunt or go onto a property," he says. "Trespassers either think the landowner won't mind, or they just don't care if they trespass. On my own home place, I caught several teenagers hunting prairie dogs. So I went up to the high school and had them read the law book. I also informed their parents."
Likewise, Allison — who has worked as a game warden for 14 years — believes landowners aren't given enough respect. Neither is Mother Nature.
"Whether they're fishing, hunting, hiking or whatever they're doing outdoors, they often underestimate the forces of nature, like the sun's heat or water going across a street or road," he observes. "I handled an incident where an 18-wheeler loaded with sand got swept off the highway, because the driver assumed he had enough weight to make it. And he didn't."
Carry a Cell Phone
Veteran game warden Scott Jurk, a former customer with Capital Farm Credit in La Grange, Texas, advocates the importance of carrying a cell phone when hunting or fishing.
"It could save your life if you need help," he says. "And don't ever be afraid of calling your local game warden. Find out who that person is and keep his number handy. Also, always call your game warden if you're unsure of regulations. It's better to call first than to find out the hard way with a citation."
Safety First
The bottom line: Game wardens just want everyone to return home in one piece.
"I hate it when we have to drag a body of water for someone or work a hunting accident," Allison says somberly. "When that happens, a little piece of yourself dies, too.
It's hard to explain, but you feel like you should have done more.
"You just should have done more."
Top Safety Tips From Game Wardens 
Boating and fishing
• Carry a hand-held spotlight for after-dark cruising.
• If you're unfamiliar with a lake, get a map and refer to it frequently.
• Ask local residents where underwater obstructions exist. Or call the local game warden with questions.
• When you're in a boat and bad weather approaches or the wind picks up, put on your life jackets. Most drownings could be prevented if people wore life jackets. 
• Be wary of fast-moving water in rivers and streams. In a flash, the current can flip your boat or canoe, dump you in the water and turn you into a drowning statistic.
• Let someone know where you're going and when you're expected back.
Hunting
• If hunting on an unfamiliar ranch, carry a map.
• Know the location of other hunters, so you can avoid shooting accidents.
• Before crawling through a barbed wire fence, lay down your gun first.
• Always respect the land and landowner.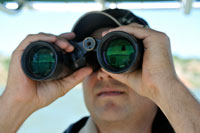 Don't Break The Law 
To stay safe, state game wardens say it's important that people review their state's basic laws before heading outdoors to have fun. Here are a few rules to keep in mind:
Boating
• Never mix drinking with boating.
• Make sure a life jacket is readily available for every person on the boat. Children under 13 years of age must wear a properly sized life jacket.
• Stow a charged fire extinguisher in case of fire.
TIP: Take a boater education course and reduce your chances of having an accident. Plus, you might be eligible to receive boat insurance discounts.
Fishing
• Don't trespass onto private property.
• Get a fishing license if you're fishing on public waters.
• Do not fish using illegal means, such as by hand or with a spear gun. 
• Know the legal size and limit of the fish you are catching.
Hunting
• Do not mix firearms and alcohol.
• Know what's in season to hunt. Properly tag all game right away.
• Never hunt from a road.
TIP: Take a hunter education course."You're never too old," McCrary advises.
---