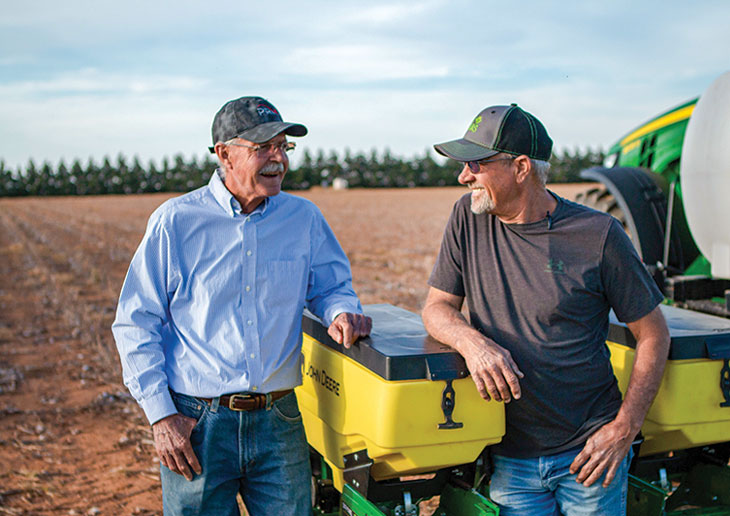 ---
When Len Stanley started farming 40 years ago, he never imagined how much farming practices would change during his career.
Today, he and his cousin Sam Stanley together and separately grow about 7,300 acres of no-till cotton around Levelland, Texas. Managing a farming operation that size would be impossible, they say, without today's technology.
The two farm with only six employees between them — and the support of their lender, AgTexas Farm Credit. They also achieve cotton yields of 1,600 to 1,800 pounds per acre — triple their yields four decades ago.
"We are now able to do more through technology than through the backbreaking labor it used to take," says Len.
Data Drives Decisions
Technology and data guide every aspect of their cotton operation. As soon as the crop is harvested, their crop consultant pulls soil samples and makes fertility recommendations for the next year.
"We do a lot of seed variety testing, look at micronutrients and biologicals that are up and coming, and evaluate things like timing of growth regulators," says Sam.
He tests yields on treated and untreated areas before choosing what to plant. With GPS mapping, he overlays harvest maps with variable seeding maps to determine optimum seed placement and planting dates.
"Sam and Len are well-respected as some of the best operators in the county. They embrace technology and take care of business," says Douglas Hoelscher, AgTexas vice president and Levelland branch manager.
The cousins use soil moisture probes to take real-time moisture readings at different soil depths and employ variable-rate planters that adjust for soils with higher holding capacity.
"You have to see how a new technology fits your operation — does it gain you net dollars, will it give you knowledge to make better management decisions?"
– Sam Stanley
Drip Proves Most Efficient
The Stanleys' research showed a mix of drip irrigation and pivot sprinklers to be most cost-effective.
In 2003, Sam installed his first drip irrigation system. After it paid for itself in five years with higher yields, he installed more drip tapes, a practice he continues.
For even more efficient water use, he converted his drip-irrigated fields to a 30/50 row spacing pattern years ago. It was a revolutionary concept then, compared with conventional 40-inch spacing. Now, Len notes, others are applying what Sam innovated.
With satellite imagery, the cousins can determine specific growth applicator rates for different areas of each field. They also rely on satellite imagery to spot areas needing herbicides or insecticides.
"We get weekly images during growing season," says Sam. "Our ag chemical dealer can turn that image into a prescription and send that prescription wirelessly to our sprayer, to apply it to the precise area on the farm using GPS technology."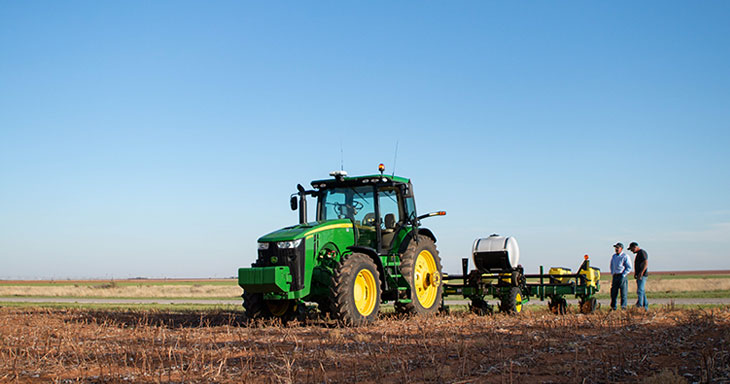 ---
GPS Used on "Everything"
The Stanleys employ GPS systems on everything from sprayers to harvesters.
"Nowadays, GPS is old-school technology, but everything we do is dependent on it," says Len. "When we first bought GPS guidance for the tractors, we thought we couldn't afford it. But like all technology, you realize you can't afford not to have it."
Evaluating new innovations is perhaps their biggest challenge.
"You have to see how a new technology fits your operation — does it gain you net dollars; will it give you knowledge to make better management decisions?" Sam asks. "You have to be cautious because there are so many things out there trying to gain your attention."
Len agrees.
"AgTexas knows that if we are going to make a decision, we are not going to make it on a whim," Len says. "In the end, a business decision is a business decision."
– Sue Durio
---