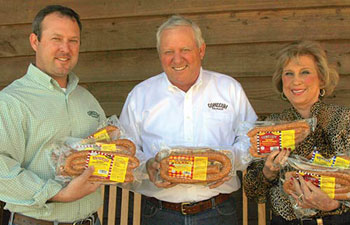 ---
When Henry Sessions opened a locker plant in Evergreen, Ala., in 1947, little did he know that his company, Conecuh Quick Freeze Inc., would one day become a large regional sausage maker. At the time, his focus was renting lockers to local farmers who needed cold storage for their produce.
But three years later, Henry began processing bologna and packing hamburger patties and other meat products, taking advantage of the local livestock industry. Before long, he added more lines — ham and sausage — and started selling the hickory-smoked products throughout a 100-mile radius of Evergreen, located midway between Montgomery and Mobile.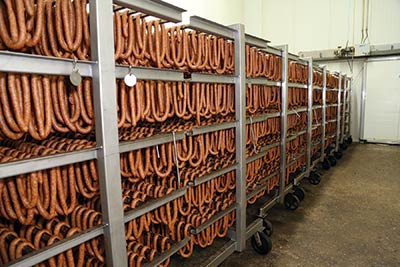 A Household Name
Now, 60 years later, Conecuh Sausage, as it is known today, has about 100 employees. Under the leadership of Henry's son, John Crum Sessions, and his family, Conecuh Sausage produces, packs and ships top-quality sausage and other smoked meats to supermarkets in 17 states — and their market is continuing to expand.
Locally, Conecuh Sausage is a household brand name, and the company's meat products are served in four-star hotels and restaurants. Even FoodNetwork.com offers a recipe that calls for Conecuh Sausage by name.
"We're the third-largest sausage maker in the Southeast, and we'll continue to grow," says John. "You can't sit still. You either go backward or forward, and we prefer to go forward."
Completed in 2013, an equipment upgrade and major addition to the manufacturing plant is allowing the company to expand even further.
One of their goals is to gain market share in sausage-hungry Texas. Conecuh Sausage is already sold at Fiesta Marts in Houston, a city that sells more dinner sausage than all but four other U.S. cities, according to the American Meat Institute. The sausage products are also available in a few other Texas cities, including Beaumont and Tyler.
Family's the Key
John and his wife, Sheilah, and their sons, John Henry and Justin, will tell you that family means everything to the company's success.
"I've been involved with the company my whole life," says John, the company president, who began raising hogs for high school FFA projects in the early '70s. "We finished out hogs, and then we would process them at the plant."
Sheilah is the secretary and handles accounting. Justin is operations manager, and John Henry works in sales. Both sons are involved in hiring staff, and sometimes their dad sits in with them when they do so. John Henry's wife, Jamie, works in the bookkeeping end of the business.
"But we all do what's needed," Sheilah says. "This is a family affair."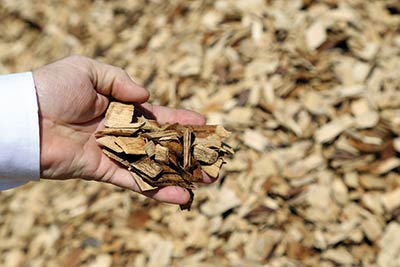 Fresh Pork and Hickory Smoke
With the growth of their business and consolidation of the U.S. hog industry, the source of their product has changed over the years. Now their pork is shipped in from Iowa.
"Fresh pork comes in on a truck," John says. "It goes to the sausage kitchen where it's ground and stuffed, then to the smoke oven to be smoked, then around to the packing room where it's packed and boxed, and then onto the truck."
Real hickory smoke and the finest ingredients are at the core of Conecuh's six tasty blends. The company's biggest seller is its Conecuh Hickory Smoked Sausage, which is stuffed into ultra-palatable sheep casing. Also popular are their Conecuh Original Sausage and their Conecuh Cajun Sausage, both stuffed in hog casing.
The Sessions family is involved in the production side of agriculture, as well as the food processing side. Over the decades, they have accumulated timber and farmland, raising cattle and growing corn.
Farming and Hunting Up North
Six years ago, the family even acquired a 250-acre farm in southern Illinois, when a hunting trip opened their eyes to the quality of the land around them. There, they plant and harvest corn and soybeans with equipment they keep on the premises.
"We went up there to deer hunt," John says laughing. "We made some plantings for the deer and noticed how easy it was to make a crop. Now it's our recreation to go there and work."
But even though they hunt and farm in the north and have set their sausage marketing sights beyond the land of Dixie, one thing won't change. After five generations in Alabama, the Sessions family plans to remain firmly rooted in the South.
— Karl Wolfshohl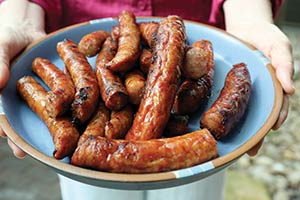 Down-Home Recipes
Conecuh Sausage is delicious in gumbo, served by itself from the grill, stuffed into barbecued dove or served any other way you would use traditional dinner sausage.
Visit www.conecuhsausage.com for recipes, or start with this one:
Sausage Jambalaya
1 - large green onion, chopped
1 - large green bell pepper, diced
1 - pound Conecuh Sausage, cut into ¼-inch slices
1 - tablespoon olive oil
4 - cups chopped, cooked chicken
3 - cups uncooked long-grain rice
2 - 10½-ounce cans French onion soup, undiluted
1 - 14½-ounce can chicken broth
1 - 14½-ounce can beef broth
2/3 - teaspoon Creole seasoning
2/3 - teaspoon hot sauce
Sauté first three ingredients in the olive oil in Dutch oven for 4-5 minutes or until sausage is browned. Stir in chicken and next 6 ingredients. Bake, covered, at 350 degrees for 40 minutes. Stir after 30 minutes.
A Can-Do Attitude
The Sessions family finds the good in storm's aftermath.
Thursday, Sept. 16, 2004, was a day of devastation for the people of southern Alabama.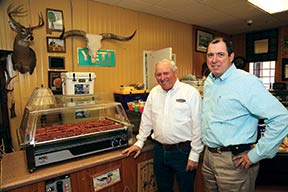 In the predawn hours, after carving a catastrophic path through the Caribbean and then weakening slightly in the Gulf of Mexico, Hurricane Ivan barreled down on Gulf Shores. There it landed as a strong Category 3 storm, then swept inland, causing havoc, pounding and drowning the pretty pine, oak and sweetgum forests of the region and generally making a mess. Tornadoes spun off from the main storm and caused their own destruction.
Some of that devastated timberland belonged to the Sessions family, owners of Concecuh Sausage. The storm knifed inland to Evergreen and pummeled their home farm.
"The wind started blowing about nine that night, and it blew until 12 the next day," John Sessions recalls. "The next morning we looked out the window, and tin was blowing off the barns. It was unreal."
"This family can do anything. Whether it's growing a small sausage operation into a booming regional company, or turning a casual hunting trip into a full-fledged farming operation...they won't quit." -Glenn Mast
Making the Best of a Bad Situation
After the storm passed, it took two hours of bulldozer and backhoe work by John and his sons, John Henry and Justin, to clear enough trees off the roads so they could drive to their Conecuh Sausage plant.
The men hustled to find logging equipment, and by the following Monday morning they were harvesting downed timber for sale. Prices held up for about two weeks as building supply firms worried that their stocks would be cut off, then tanked when downed trees began to glut the market. Since then, John Henry has taken charge of timber clearing and management for the family.
The Sessions family's response to the Ivan disaster boosted the already-strong admiration that their lender, Ed Boyd, had for them.
"Ivan did significant damage," says Boyd, regional president of Alabama Ag Credit, which has been financing timberland purchases for the Sessions family since 2004. "Loggers were hard to find, so Mr. Sessions and his sons got out there and cleaned it up themselves. It's a beautiful place today."
Hard Work and Resilience
This can-do attitude can be seen in all aspects of the Sessions family activities.
"This family can do anything," Boyd says. "Whether it's growing a small sausage operation into a booming regional company, or turning a casual hunting trip into a full-fledged farming operation, or even finding the good from a disastrous hurricane, they won't quit. And I believe that's why they are enjoying the success they've found. They work for it."
The lender's respect for the Sessions family is mutual.
"Alabama Ag Credit is so much easier to work with than a bank," John says. "You can get long term-loans there if you need them, whereas a bank wants you to renew regularly. They also pay a dividend back to you, which is very helpful. You figure your interest rate, but then you get that dividend check and it drops your [real] rate down. And you can't find a nicer guy than Ed Boyd."
---