If you want to know how much electricity costs, just ask a farmer.
Because agriculture uses electricity on an industrial scale, AgTexas Farm Credit Services and Farm Credit Leasing recently teamed up to help ag-related businesses in one of the world's sunniest regions harness solar energy.
AgTexas also leased its own 100-kilowatt solar array at its new branch office in Amarillo — shading 36 parking spaces and generating energy worth over $37,000 in the first eight months.
"Leasing solar has been big for agriculture out in California, and we wanted to start offering that in the Texas Panhandle," said Eddie York, senior vice president of lending at the association's Amarillo branch. "We also wanted to do something at the new building that would have a green effect. Covered parking is a good side benefit, and honestly, the solar panels have a very aesthetic appeal. They're a conversation-starter with prospective customers."
Financing through Farm Credit Leasing is a win for the association and for ag operations, says Brad Thacker, vice president for lending at the branch. For example, some businesses don't pay enough in taxes to take advantage of the full 30 percent federal tax credit on a large system, but can still share the benefits if they lease.
"Farm Credit Leasing uses the income from the tax credit and depreciation to offset the taxes it is required to pay, and in turn offers the customer a negative interest rate," Thacker says.
Financing Options for Photovoltaic Systems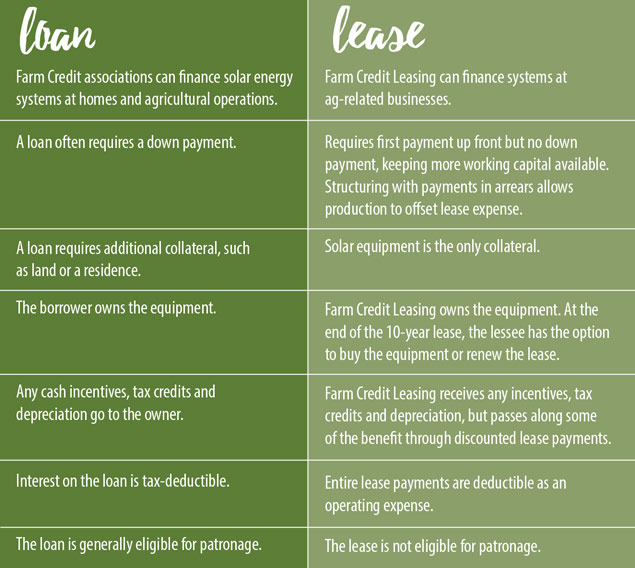 ---
As a result, a $1 million system would cost less than $868,000 — monthly lease payments of about $5,600 for 10 years, plus a 20 percent residual payment to buy the system at the end of the term. Customers also have the option to renew the lease rather than buy.
Farm Credit Leasing has financed commercial- and utility-scale solar energy systems since 2007, such as at dairies that need year-round power and cotton gins that have a strong seasonal demand, says Joe Kendrick, a Farm Credit Leasing relationship manager in Lubbock. Customers choose their own contractor, then size the system with the help of consultant Jordan Thomas Inc.
Leasing opens the door to solar for a low initial investment and no down payment, and businesses can write off 100 percent of the expense.
"You preserve your working capital, yet have a tax-advantaged way to lock in that lower energy cost long-term," Kendrick says. "The useful life of a solar energy system is rated at about 40 years. It will generate less power over time, but the degradation is minimal."
While repairs and damage are uncommon, maintenance and insurance are the lessee's responsibility.
"Solar panels are extremely durable," York says. "Once you have made your last lease payment and you own the system, you're putting money in your pocket."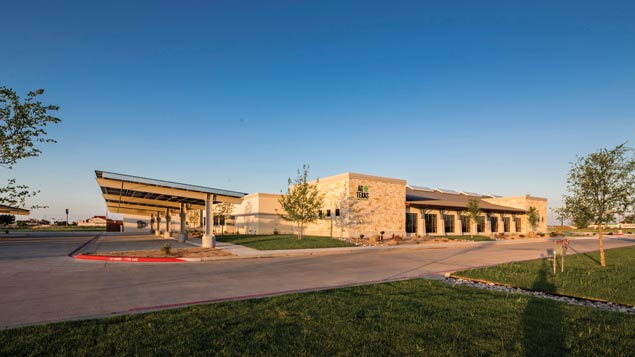 ---
---