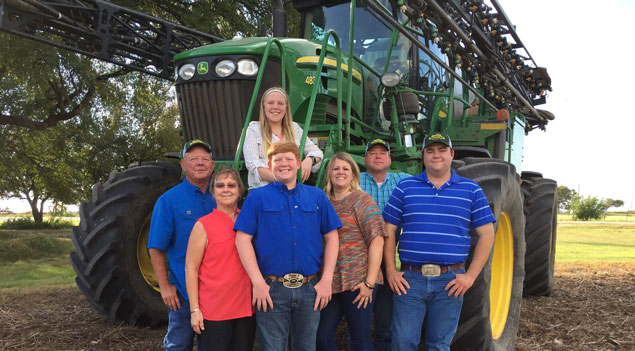 ---
In 2011, Mother Nature dealt a severe drought to Texas. Dryland crops withered under extreme heat, feed prices shot sky-high, and ranchers drastically reduced the size of their cattle herds. Texas A&M AgriLife Extension Service economists estimated the state's agricultural losses for the year at $7.2 billion.
For many producers, it took extra resourcefulness and ingenuity to keep their operations thriving. One Central Texas farm family not only survived the drought, however, but developed a successful new enterprise in their effort to generate income from a stunted corn crop.
"We had a lot of corn that we needed to do something with, so we chopped it for silage and started selling it to dairies," says Gary Gohlke, who farms and ranches with his family near Crawford, Texas — a 90-minute drive from a major dairy region southwest of Fort Worth.
The Gohlkes' creative marketing strategy earned them ongoing contracts with dairies and other livestock operations, and today, silage sales are a significant source of income for Gohlke Family Farms. In 2015 alone, the family handled 25,000 tons of corn silage harvested from their own farm and other local farms, and this year they expect to handle as much or even more silage.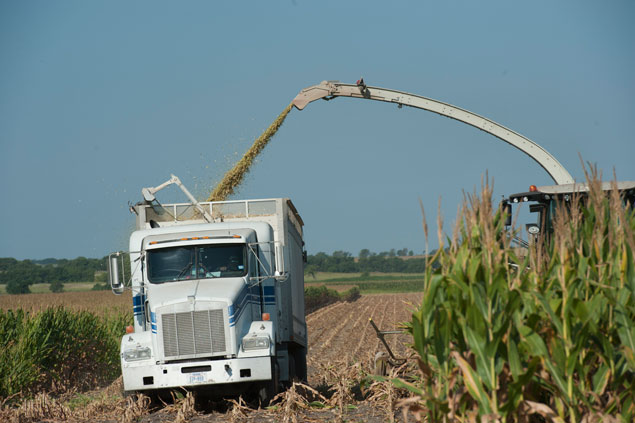 "It's all about freight," says son Burt, who manages the farm's trucking operations. "Our area and Hill County (north of Waco) are the closest corn-growing areas to the dairies."
Silage was not the family's first value-added venture, and it probably won't be their last, according to their loan officer.
"The Gohlkes are successful in their farming operation because they are willing to do whatever they need to do in order to be profitable and expand their reach," says Adam Goldenberg, vice president of Lone Star Ag Credit in Waco.
For example, while other cattle producers were selling animals in 2011, the Gohlkes took a different approach.
"During the drought, we bought cattle because we had silage scrap to use up," Gary says. Their herd currently includes about 300 commercial cows.
Generating Extra Income
The family's diversification efforts began in the 1990s, when Gary started selling fertilizer on the side to generate extra income without investing in more farmland. A few years later, he and his son Burt purchased a Big A spray rig and launched an applicator business. Since then, they have added other business activities, as well. They store grain for neighboring farmers in years when they have excess storage capacity. For the past two years, they have sold feed and corn seed, and some years they also sell hay. That's in addition to farming oats, wheat and corn and raising cattle.
All of these enterprises complement one another and help keep the Gohlkes' five silage trucks and three drivers fully employed, explains Gary's wife, Patricia.
"Burt's office is in a truck or a spray rig," Gary quips.
In addition to the father-and-son team, Gohlke Family Farms employs a farmhand, a part-time bookkeeper and Burt's son Colby, 20. Burt's wife, Ginny, serves as the central communications point for the farm and family. And while it is too soon for the couple's younger children, Cooper, 14, and Taylor, 12, to choose careers, the young FFA members raise and show prize-winning pigs.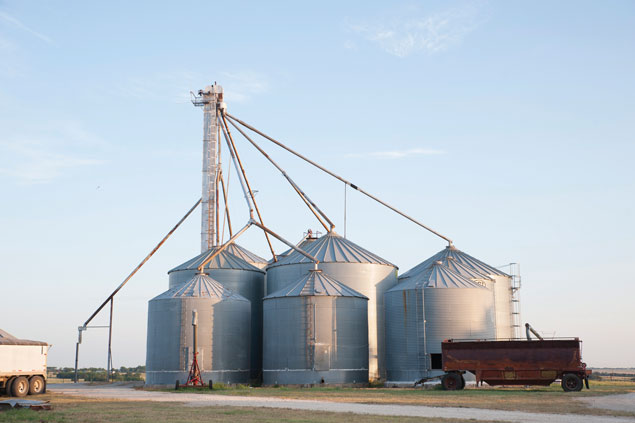 "When something has to be done, whoever is available just gets in and does it," says Burt.
$125 an Acre in 1941
The family's love for agriculture and affiliation with Farm Credit began with Gary's great-grandfather, who paid $125 an acre in 1941 for the property on which Gary and Patricia live. In 1976, Gary began farming with his grandfather and his father, Ira, who at age 92 continues to raise cattle. Burt launched his farming career in 1993, and Colby began farming full time this year, after studying diesel mechanics. With each generation, the family's land holdings have expanded, and they now farm owned and leased land, most of it contiguous, in McLennan and Coryell counties.
"The Gohlkes are about family, faith and farming," says Goldenberg.
Today, all four of Gary and Patricia's children — Burt, Vance, Kelly and Cody — have real estate loans with Lone Star Ag Credit, and this fall Colby became the sixth generation to do business with Farm Credit when he signed a home loan.
"Lone Star Ag Credit has helped my family finance our piece of Texas," says Gary. And he hopes that land will remain in the family for generations.
"My plans are to have three or four more good years farming and then turn things over to two really good guys I have working here with me," he says, nodding to Burt and Colby.
"Our future goal is to always try to leave the family something they can be proud of," Gary says, "and for us that's this land."
– Staff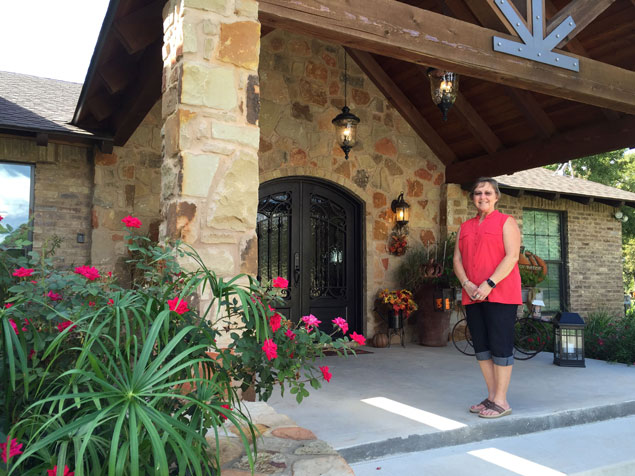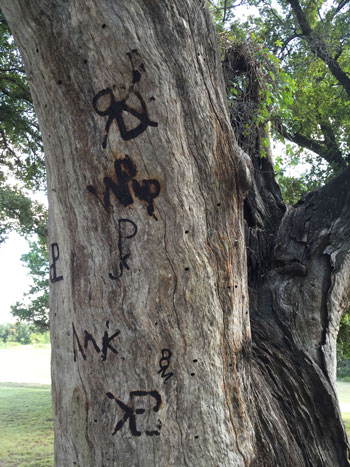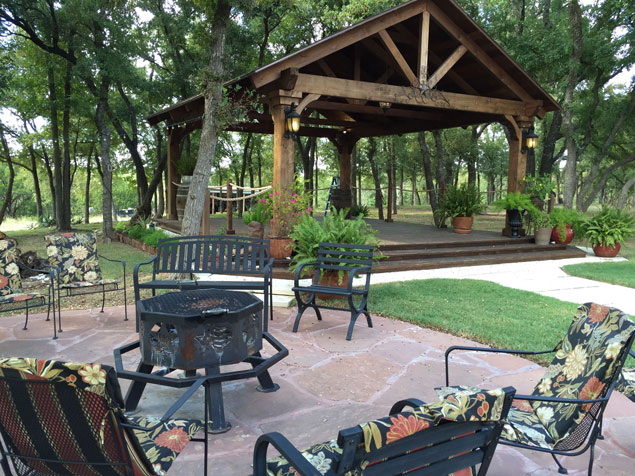 A Country Retreat
The peace and privacy of the Gohlkes' rural rental property make it a popular spot for weddings and weekend escapes.
With farmland spread over two counties, several agribusiness operations to run, and grandkids involved in sports and FFA, Gary and Patricia Gohlke always have had plenty to keep them busy.
But when the couple had the opportunity to purchase a different type of property two years ago — a property that would be perfect for country vacation rentals — they didn't hesitate.
This time the place was Patricia's parents' home, located just outside of Crawford, Texas. After her father passed on, she and her siblings inherited the house and about 80 acres, which she and Gary continued to maintain.
"One day we were over here cutting the grass, and Gary said, 'Why don't we buy the place?'" Patricia recalls.
The Gohlkes purchased her siblings' share in the property in August 2014 and immediately set about remodeling the four-bedroom home, which had not been updated since it was built in 1973.
"We weren't sure what we were going to do with the house, but we decided we'd at least fix it up," says Patricia.
Remodeling and Updating
Gary immediately decided they needed to vault the ceiling and knock out some walls to create a spacious entry and living area. Patricia envisioned a large open kitchen where several people could cook.
"We both had the same ideas, it just took some arguing to get there," Gary says, chuckling.
Outside, the Gohlkes built a patio area that could accommodate huge dinner parties and a gazebo large enough to serve as a dance floor. For furnishings, Patricia scoured antique markets throughout Central Texas.
Named The Bosque, after the river that runs through the property, providing a natural swimming hole, the rolling property is also home to a small herd of Longhorn cattle.
By November 2014, the house was ready for visitors. Initially, Patricia — who works as a property manager in addition to helping on the family farm — advertised the place as a bed-and-breakfast. It soon became apparent that there was more demand for rural wedding sites and country vacation rentals.
Booked Most Weekends
Now, just two years after opening, The Bosque is booked almost every weekend, typically for weddings, family reunions, retreats or football gatherings.
"We have guests who drive in from all over the state for Baylor games (in nearby Waco), and if they have a student at the university, they'll all come out and spend the weekend here together," Patricia says.
If guests need tables, chairs and dishes for large parties, the Gohlkes can provide those amenities. They even design a unique brand for each couple married at The Bosque.
Financed by Lone Star Ag Credit, the property provides more than an extra income stream for the Gohlkes. It's also a meeting place for their own family and friends.
On certain holidays and long weekends, such as the opening of dove season, it is reserved for the Gohlkes themselves. That's when Gary and Patricia's son, Vance, and his wife drive in from San Angelo and daughter Kelly Patterson and her husband, Kyle, come from Midland with their families. Another son, Cody, who manages a farm machinery dealership in Temple, is a partner in the venture, but every member of the family feels some connection and ownership.
This past summer, nearly 100 of the Gohlkes' closest friends and relatives helped celebrate the 4th of July at The Bosque.
"We have a lot of good family time here," Patricia says.
But the family also takes pleasure in renting the property to guests, knowing they are sharing the peace and privacy of rural Texas with others.
– Staff
For more information, visit thebosque185.com.
---