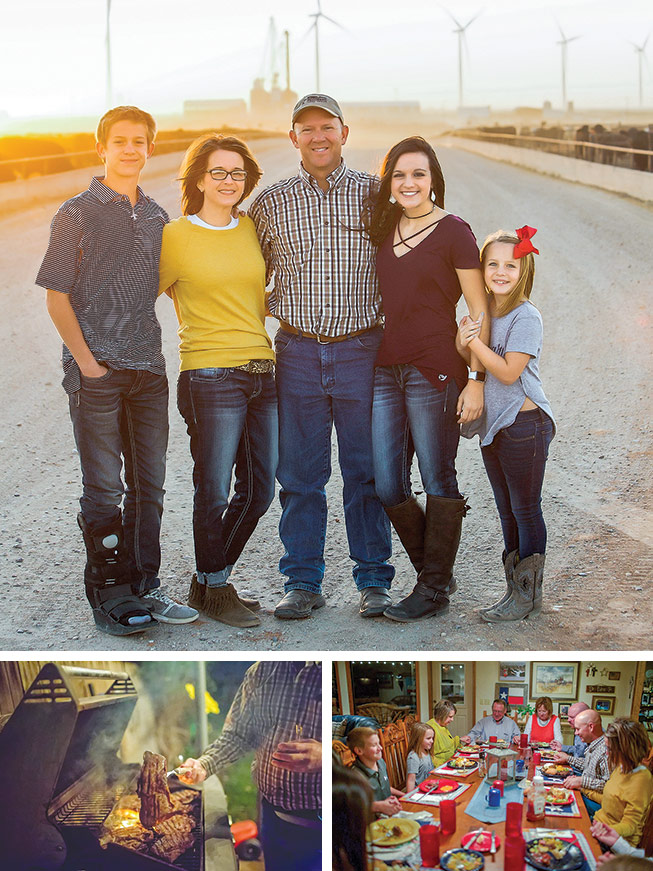 ---
Amy Kirkland crouches down on the gravel road between rows of cattle pens, her petite frame still dressed for her day job as a school librarian, her hair blowing wildly in the Texas Panhandle wind. She aims her cellphone at a group of sunbathing steers. The shutter clicks.
Soon, the scene will be transmitted to friends and consumers all over the world to help educate them about the beef they eat.
Sharing stories from Kirkland Feedyard Inc. — customers of AgTexas Farm Credit and Plains Land Bank — comes naturally to Amy and her husband, Robby, whose family has worked the same land for more than 60 years — first as farmers, then as cattle feeders. They do it so well through their Facebook, Twitter and Instagram accounts that it's easy to forget they started their journey as "agvocates" just over a year ago.
Sharing Stories Starts at Home
The couple had attended the 4C Summit, an agvocacy-focused conference facilitated by Micro Technologies and Elanco, for several years. However, it was only in 2016, when they recalled a resonating recommendation from a summit, that they decided to get serious — and strategic — about advocating for the beef industry.
"One day, we started talking about something that had been said at one of the 4C Summits," Amy says. "They said, 'Ask your kids what you do at work.' I thought that was interesting, and it got me wondering if our kids really knew what Robby did."
Sure, they knew he got up early and worked late, feeding and caring for the 20,000 head of cattle in the family's Vega, Texas, feedyard. But did they really get it? When their oldest child, Calleigh, goes off to college next year and tells someone her daddy runs a feedyard, will she know how to explain why they do what they do, and why beef can be a safe and nutritious option?
"They didn't know the details or the why," Robby says. "And it really began to sink in for me. I was keeping my work life over here. When I go home, I don't vent to them when things are bad, and I don't brag to them when things are good."
While he'll always do that to some extent, to have work-life balance and focus on his family when he's at home, he knew he had to make a change.
"I believe if you're going to affect people and have influence on people, you've got to start at the very core," Robby says. "You have to have influence on your family before you can have influence on your community, your state, your country or your world. You have to at least have your kids buy in to what you're doing before you can go further."
Amy agrees.
"We're definitely a small fish in a big pond, but we just want to start small and maybe make an impact on somebody," she says. "It's kind of like teaching: I may not change the whole world for all kids in my class, but if I can make a difference in one student, I've made a start."
---
A Family Enterprise
Sharing the feedyard's story online not only gives the couple a chance to reach out to consumers and clear up misconceptions about beef, it also gives Amy a bigger role in the family business, something she cherishes.
"Robby's family is just a super-neat family," she says. "I love how his mom has always helped his dad out, even when she had a job elsewhere. As an outsider looking in, I saw the pride they had in what they did, a pride that Robby has, too.
"Cattle feeding is not always gumdrops and lollipops. But even when times got tough, instead of going and doing something else, they kept doing it because of the pride they had in produc-ing beef."
With her expertise in technology and strong organizational skills, Amy is a master at planning and scheduling content. But she often relies on Robby to help gather it, especially during school hours.
She'll send him a text with some direction — photograph employees enjoying a hamburger lunch or pen riders checking cattle. Or snap a photo that demonstrates the role technology plays in a modern feedyard.
The couple has been documenting their cattle-feeding activities so regularly, though, that it's become second nature. Now he often shoots photos on his own.
"If you go through my phone, there are pictures after pictures from around the feedyard," Robby says, as he scrolls through the camera roll. "I'm always taking pictures. It probably wigged my guys out a little at first, because they'd be sorting a pen and I'd be over there taking their picture. But they're used to it now."
Not only are they accustomed to it, they're joining in on the fun. More and more, Robby reports, his feedyard employees are watching for photo ops and sending him their own snapshots.
"We've tried to let everyone be a part of this who wants to, and it's really been cool to see them take ownership in it," he says.
Committed to the Cause
Constantly coming up with content can be daunting, but Amy contends that it's worth the effort if their message can help consumers feel confident in choosing beef.
"I'm doing this because I really want them to know beef is a good, healthy choice for their family," she says. "I want them to know it can fit in your budget, too — it's not all steaks. And I want them to know the care we put into raising it."
Robby is quick to credit Amy for their success online, and admires her willingness to spend time doing work for the feedyard.
"She's been the mastermind behind being diligent about doing it," he says. "If it was up to me, this week might have five posts and the next week might have none. But she makes sure we're consistent. This sort of thing takes time and takes effort. It's not easy, but it's not hard, either, if you can just keep yourself in a routine."
– Katrina Huffstutler
Follow Kirkland Feedyard on social media for a day-to-day look at their role in helping to feed the world.
Facebook: @vegatexasfeedyard
Twitter: @kirklandbeef
Instagram: @kirklandbeef
---