In McCulloch County, Texas, full-time farmers and ranchers are a rarity. Here, on the western fringe of the Texas Hill Country, where rugged rock- and cedar-covered hills drop off into rolling pasture and stretches of wheat, land once owned for agricultural use is now sought for hunting and recreation. It's tough for anyone to remain in agriculture, and even tougher for young people to get started in the business.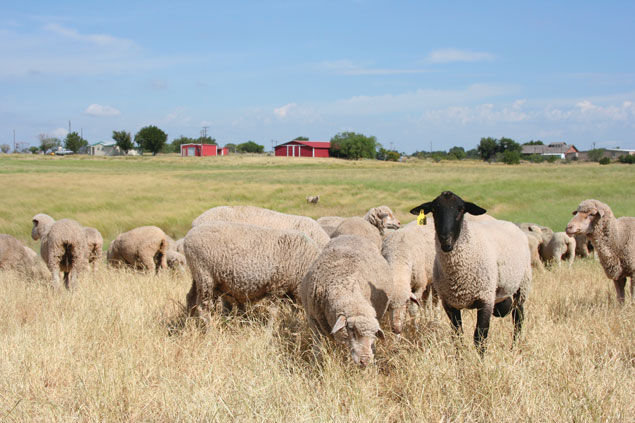 ---
"The number of farmers locally is dwindling every year," says Ceth Holubec of Melvin, Texas. "When somebody quits, no one takes over — someone else just absorbs it."
Moreover, he points out, "there are not many young producers in this area, and those who do farm often have jobs in town."
But Ceth and his older brother, Cole — both in their early 30s — have bucked the trend by leasing land, often from absentee landlords, and keeping it in agricultural production.
Farming in 10 Locations
It's a strategy that has enabled the pair to establish full-time farming and ranching careers and build a sizable agricultural operation centered on wheat, corn, hay and sheep. Working separately and together with their parents, David and Mary Holubec, they collectively farm 60 fields in 10 different locations, spread over 35 miles.
"We're efficient," says Cole. "We cover a lot of ground with big equipment and little labor."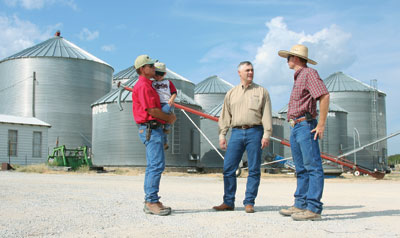 Both brothers attended college for one year, before returning home — Cole in 1995 and Ceth in 1998 — to join the family business full time. In 2001, they leased their first place together, and in 2005, with financing from Central Texas Farm Credit, they each bought their own land in the Melvin community, 15 miles west of Brady.
Expanding the Business
Gradually over the years, Cole and Ceth have leased additional farms together, partnering on equipment and sharing the workload, each with his own operating line of credit from Central Texas Farm Credit. In addition, they have partnered with David and Mary on one flock of sheep. They also have continued to work on salary for their parents, shouldering much of the field work and managing their parents' large sheep flocks.
The Holubecs' primary field crop is wheat, but through a collaboration of labor and talent, the family has diversified into corn and certified wheat seed and expanded the scale of their operations.
Growing Corn
Three years ago, for the first time, they planted corn, which is not a traditional crop in this west-central Texas area. "We were told we couldn't grow it, so we kept trying until we did," Ceth says, a grin breaking his stoic expression.
"We were told we couldn't grow it, so we kept trying until we did." - Ceth Holubec (referring to their corn crop)
The first corn crop froze when a spring snowstorm struck the Hill Country. The second year, the crop was hailed out. This year, their efforts paid off, with corn yields ranging from 40 up to 75 bushels, although their annual rainfall fell short of the normal 22 inches.
"The last two years, we didn't have any winter rain," Ceth says. "With corn we have gone to low-till and even no-till to conserve moisture, and we can see the benefit. We don't want to jeopardize production, but we want to cut input costs."
During this past year, they worked with three different corn seed companies, each one anxious to see how their varieties would perform under the Holubecs' field conditions. The family kept nearly 8,000 bushels of the crop for their own livestock feed.
Certified Wheat Seed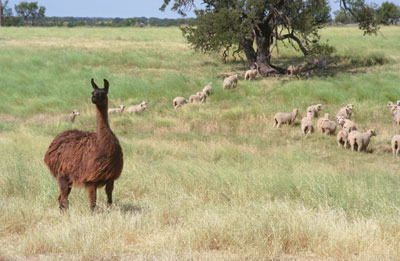 Thanks to Cole and Ceth's involvement in the day-to-day farming operations, David and Mary have been able to focus on their certified wheat seed business, which is a part of their Holubec Fertilizer firm. "Our goal is to offer quality certified seed to the public," says David.
According to Jimmy Chambers, chief credit officer for Central Texas Farm Credit, the family is recognized throughout their local area for their farming skills. "When you drive through the area during wheat season, you can tell which land the Holubecs are farming," he says. "Their crops are always a notch above."
Sheep Prove Reliable
Meanwhile, the entire family is involved in the business of raising sheep. The area stretching from the Hill Country west to San Angelo, Texas, has long been known as sheep and goat country, and the Holubecs have raised both.
"Through the years, the sheep have been more reliable," Mary comments.
David admits that the relative ease of handling sheep was one reason he preferred them over cattle when Cole and Ceth were young. Another reason was the lack of good cattle fences and working pens on the places they were renting.
The family has raised sheep continuously since the late 1980s, when they bought a flock during a drought, while sheep prices were depressed. Today, wool prices remain weak — "you don't make much more than you pay your shearers," notes David — but the lamb meat market is strong, because sheep numbers are down.
Ceth attributes the decline in Texas sheep numbers to labor shortages, predators, low wool prices and the fact that some West Texas ranchers now have alternative income from hunting and wind energy.
Waiting for the Right Price
The Holubecs breed Rambouillet ewes to Suffolk and Rambouillet rams, and usually aim to sell their October-born lambs at 80 pounds on the Easter market, when prices are typically best. While some of their lambs are sold at weekly sheep auctions in San Angelo, the majority of lambs sell by private treaty, often to buyers as far away as New York.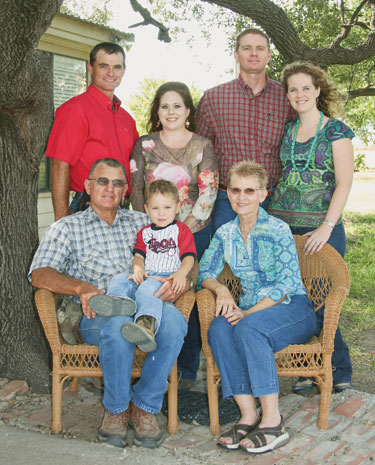 Still, the Holubecs never hesitate to market their lambs earlier if the price is right. Similarly, with a capacity to store 126,000 bushels of wheat and corn on the farm, they can market their crops when conditions are optimum, explains Ceth.
Same Values and Goals
Marketing, pricing and working with the varietal test plots are a few of Ceth's primary responsibilities. Cole takes more of the responsibility for equipment maintenance. "They each have their specialties," says Mary, explaining why her sons' partnership is successful. "Basically, they have the same values and same goals."
The brothers also share a deep commitment to their rural community. Ceth is the mayor of Melvin, and Cole is a church deacon, and they both serve on the local fire department board.
From the time they were young, Mary says she knew her sons would become farmers. Both boys loved to play with farm toys. "They wore out every little piece of equipment they had," she says.
Ceth even preferred miniature farm equipment over other popular toys of the day. "I was five or six, and I told Santa Claus I wanted a four-wheel-drive tractor and a fold-up plow," Ceth recalls. "I got a bicycle instead, and I was mad. I was 30 before I finally got my four-wheel-drive tractor and fold-up plow," he adds.
Today, as Cole's four-year-old son hauls little wagonloads of corn cobs across their lawn, his grandparents chuckle and wonder aloud if he will become the next generation to farm full time.
– Staff
Tips for Cooking Lamb
The key to enjoying lamb is to choose meat that's the right age and cut, and then cook it correctly:
Choose lamb that comes from an animal under one year old. Mutton, which is meat from older sheep, has a stronger and often less desirable flavor.
Young lamb meat (2 – 3 months old) should be pink and feel firm to the touch.
Older lamb cuts should be lean and light red in color.
Lamb is best cooked at low temperatures, approximately 325° F, and not overcooked.
Before cooking a leg of lamb, trim off excess fat.
Leg, loin, ribs, shoulder and shank are best cooked by dry heat, usually roasted. Chops from these cuts are best broiled. Shoulder chops also can be braised.
Breast, shank and neck cuts are best cooked by moist heat methods, such as simmering or braising.
---