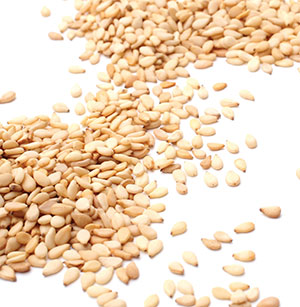 What's old is often new again. Such is the case with sesame, which is finding favor with farmers across the Southwest.
One of the oldest oilseed crops known to man, sesame dates back to before the time of Moses, when Egyptians ground it into flour. Long prized in such places as Africa, India and China for its high oil content and medicinal qualities, sesame is believed to have entered colonial America from Africa in the 1770s.
Interestingly, President Thomas Jefferson was so enamored with sesame after he received a sample of its oil that he planted sesame on his farm and wrote about it in letters to friends, even tucking seeds into the envelopes, along with planting instructions.
Seeds of Change
Sesame in the United States did not take root as a viable crop for another 160 years, however, because of high labor costs associated with production, complicated by the tendency for the seed pod to naturally shatter and disperse its seeds. It was not until 1987 that seed cultivation became commercially feasible in this country — first in Texas and then later in Oklahoma and Kansas — when new shatter-resistant varieties were developed that made combine harvesting practical.
Today, sesame cultivation is thriving in the Southwest, most notably because it is a low-input, well-priced alternative to such crops as cotton, corn and peanuts, which are subject to volatile market conditions.
Largely drought-resistant, the resilient sesame has shown high tolerance to disease and insects, suppresses nematodes and grows well in soils affected by cotton root rot. Its deep tap root allows it to draw up moisture and nutrients from below the root reach of other crops.
Sesame on the High Plains
West Texas cotton farmer Jeremy Brown added sesame to his crop rotation in 2012. Currently he grows it on 120 acres, yielding 1,000 pounds per acre.
"My main concern is with water efficiency, and I believe in improving the health of soils by rotating crops," says Brown, an AgTexas Farm Credit customer. "Sesame is a good choice because it is drought-tolerant and has a strong and stable market. Cotton is currently about 60 cents per pound, but the present 45-cent contract price for sesame is good, considering its low input costs."
Brown contracts his sesame with Sesaco Corporation, the largest sesame-handling outfit in the nation.
"As the economy has improved in Eastern countries such as Japan, so has demand for sesame increased," says Zack Coker, Sesaco crop coordinator. "In fact, the Japanese trading firm Mitsubishi took over majority ownership of Sesaco in 2011 because they saw it as a good investment in a reliable sesame source."
A Few Fun Facts
During its long history, sesame became a part of many cultures' cooking and folklore. For instance:
• Babylonians used sesame to make wine, baked goods, and soaps and perfumes.
• In the folk tale "Ali Baba and the Forty Thieves," the password "open sesame" was a likely reference to the popping sound made as ripe sesame seeds burst from their pods.
• Africans called the seed "benne" and considered it good luck.
Healthy and Nutritious
Coker reports that demand for sesame is also up from health-conscious Americans looking to improve their diets, and for good reason — despite its diminutive size, the seed is chock full of nutrients, including antioxidants, healthy fats and protein.
Sesame contains significant amounts of vitamin E, calcium, phosphorus and potassium. For a complete list of nutrients, visit the USDA National Nutrient Database at ndb.nal.usda.gov. – Staff
A word of caution: Some people are allergic to sesame.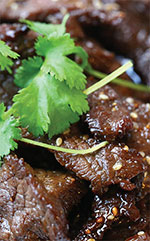 Sesame Beef
This dish is delicious and easy to prepare. Serve with rice.
• 1 pound round steak, cut into strips
• 4 Tbsp. soy sauce
• 4 Tbsp. sugar
• 4 Tbsp. vegetable oil
• 2 cloves garlic, minced
• 2 green onions, chopped
• 2 Tbsp. sesame seeds
In a large bowl, mix soy sauce, sugar, oil, garlic and onions and add the steak strips. Cover and refrigerate overnight, or at least 30 minutes. Stir fry until meat is brown, about five minutes. Add sesame seeds and cook for an additional two minutes.
---