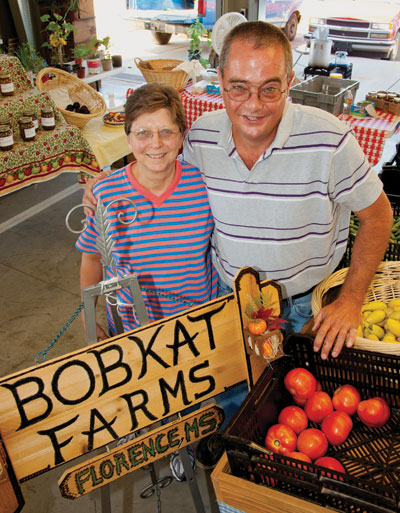 It's an early fall Saturday morning, and business is brisk in the Bobkat Farms booth at the Mississippi Central Market on Jackson's state fairgrounds. Husband and wife entrepreneurs Bob and Kathy Stoltzfus make an efficient team, one answering a customer's question and loading produce into bags, the other ringing up the sale and making change.
They've already put in several hours' work, loading produce into their pickup and driving to the market in downtown Jackson, to display their bountiful harvest on multi-tiered tables, decorated with colorful tablecloths. Their baskets of purple hull and crowder peas, okra, yellow squash, sweet potatoes and tomatoes offset the neatly displayed jars of pickled green beans, red onion and jalapeno pickles and salsa. A refrigerator in the rear holds dozens of farm-fresh free-range eggs, and a gas boiler is cooking up a seemingly endless supply of peanuts for sale by the pound.
It is a much different life than the eight-to-five corporate world, from which both Stoltzfuses came — and they wouldn't have it any other way.
Easing Into Farming
Bob built a successful career as a traveling lighting salesman, and Kathy worked as a shipping supervisor for a local manufacturer, before craving a change a few years ago. Kathy had grown up on a farm in the Mississippi Delta, and felt the call to get closer to the land. Pragmatic, the couple eased into their new vocation gradually — first finding a tract of suitable land, then a suitable financial partner, and then each transitioning from full-time salaried jobs supplemented by part-time farming to, today, full-time farming.
"We moved onto the place in 2004; Kathy quit her job in 2009; and I went into this full time two years ago," says Bob. "I never dreamed I would be a farmer, but when we thought about what we wanted to do, this seemed natural. Farming is in Kathy's background, and I like to eat!"
The "place" is a 32.4-acre tract, of which just over an acre is planted in vegetables. They also planted fruit trees, berries, muscadine vines and herbs on the property, and have had as many as 55 free-range chickens.

The transition was not without challenges. "The first year the deer got us. The second year Hurricane Katrina got us. The third year, we got produce," he says.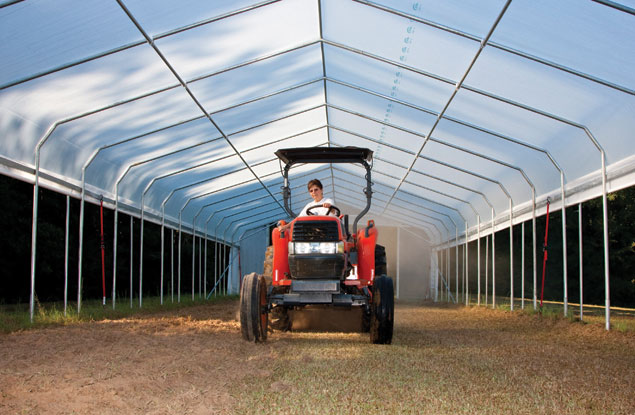 ---
The Stoltzfuses' years in corporate America helped them develop business savvy. They knew that having a network of agricultural resources would be critical to building a successful operation. "To finance the land, we first went to a traditional bank, but realized that was not going to work," recalls Bob. "We did our homework and found Farm Credit."
Ben Elliott, chief operations officer for Southern AgCredit in Ridgeland, was impressed. "I knew Bob and Kathy had a vision when we made them a loan to help purchase the 32 acres in 2004," he says. "They have really done their research and found programs with the U.S. Department of Agriculture and the Farm Service Agency to access other creative funding sources, to help them realize their dream."
Finding Federal Funding
The couple learned about USDA grants that would help fund the cost of installing high-tunnel greenhouses, which are ideal for growing vegetables, small fruits, cut flowers and more. Growing in a high tunnel enables the farmer to have greater control over the growing environment, extend the growing season, save water, increase crop yield and quality, reduce crop diseases and improve profitability by as much as 50 percent.
A seasonal high tunnel is a polyethylene-covered structure, with no electrical, mechanical ventilation or heating system, which modifies the climate to create favorable conditions for vegetable and other specialty crops grown in the natural soil within the covered space. The sides of the tunnel can be raised or lowered as weather conditions change.
"We installed our first high tunnel three years ago as protection from the weather," says Bob. Their first tunnel was 14 feet by 34 feet in size. "We had our first tomatoes in the ground the second week of March, so when we had cold snaps, we just dropped the sides."
The Stotzfuses constructed the first tunnel at their own expense, with the help of a small grant. "But we heard about a USDA program that provides partial funding up to a limit for installing high tunnels and game fencing," says Bob. Earlier this year, the couple took advantage of that program to offset their costs to install a larger, 22-foot-by-96-foot tunnel. To qualify, they had to attend a high-tunnel workshop, develop and obtain approval for an operations and maintenance plan for each component of the practice, follow Natural Resources Conservation Service (NRCS) guidelines for installation, and commit to transition the farm to an organic operation. The process to become a certified organic farm will take three years.
Next up, as part of the NRCS grant program, the couple is working to install eight-foot game fencing to protect their chickens from predators and keep deer out. "We've lost some of our chickens to predators so we don't free-range as much as we'd like, unless we are there to keep an eye on them," Bob says. "The game fence has smaller gauge at the bottom, which will keep foxes and coyotes out and allow us to free-range more."
Marketing Direct to Consumers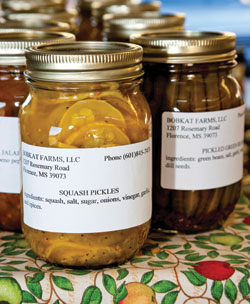 Early on, they decided that the farmers market was the best marketing approach for their business. "Even though right now we can't use the term 'organic,' we don't use any chemicals, we grow everything naturally, and we found that people will pay a premium for that," says Bob. "Once we saw what we could make here at the farmers market selling retail, it didn't make sense to do it any other way."
While the market consumes their Thursdays and Saturdays virtually year-round, the couple clearly thrives on interacting directly with people consuming the vegetables and fruits of their labor.
"When you're dealing with the public, there's a lot of misinformation and lack of education. It takes education and patience, but that's the fun of the market," says Bob, who's been known to bring in a gas grill for cooking demonstrations. "There's also great camaraderie among the farmers at the market. We're competitors, but it is a friendly competition. We really enjoy the atmosphere."
– Sue Durio
---