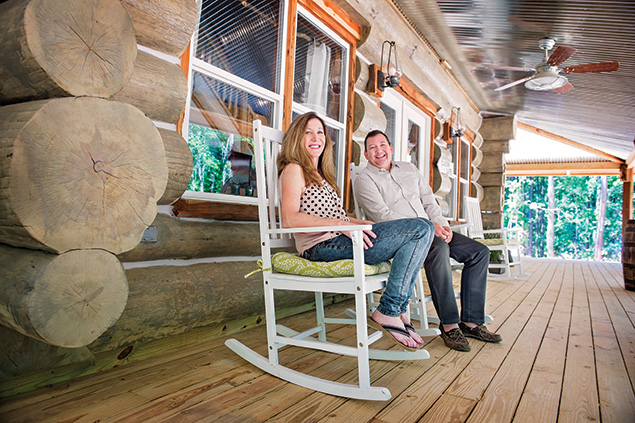 ---
Susan and Chris Strohm live and work near Nashville, Tenn., but their hearts are where their roots can be found — in Attala County, Miss., on a timber tract outside Koskiusko.
The property has been in Susan's family since 1890. Her dad and his 12 siblings grew up on the 160 acres, next to the family home and her aunt and uncle's country store.
"We naively thought a commercial bank loan would be no big deal. But we talked to three banks, and none would touch it with a 10-foot pole. There were no comps, and it was too unconventional."
- Chris Strohm
"As kids, we would hang out at the store after school and in the summers," she recalls. "I have a lot of memories of that place."
Susan, Chris and their three daughters stayed nearby for college, all attending Mississippi State University in Starkville, adding to their North Mississippi ties — and deepening their desire to stay connected to the area.
Thus, when the Strohms inher-ited some of the family land 12 years ago, the idea of building a family getaway on the property soon followed.
"We had always thought about building a cabin there where we could create memories with our girls," says Chris. "We got pricing on a traditional stick-built house, and over time consulted with log-home kit builders, but we kept vacillating on what we wanted."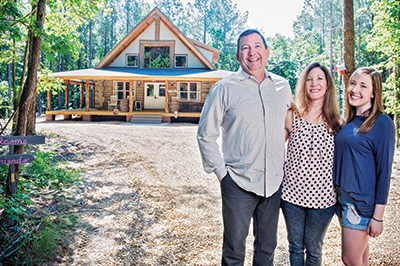 Television Calls
That was until last summer, when the two happened upon an advertisement in The Tennessean, Nashville's daily newspaper. The ad, placed by producers of National Geographic Channel's "Cabin Fever" program, was seeking applicants interested in building a log home in the South that would be featured on a segment of the show.
"I jokingly told Susan, let's check it out," says Chris, "Little did I know, she had already filled out the form, and by the next day, representatives from Stiletto Television called us."
"We had always thought about building a cabin there where we could create memories with our girls."
- Chris Strohm
Those initial steps started a four-month dialogue, working out blueprints, pricing and other details. In October 2014, the Strohms sealed the deal for a log home to be constructed by Nate Heim and his crew from Heim Log Homes, a Minnesota-based company that travels across the U.S. building log homes for clients — and documenting the process on the new television series.
In the initial conversations, it quickly became apparent that the building costs for their dream log home were beyond their desired budget. At an average construction price of $200 per square foot, the Strohms' 1,600-square-foot hand-scribed log home would cost close to $320,000, "well above our budget," says Chris. Heim suggested using a local contractor, which would cut travel expenses. After talking with four contractors, however, it was clear that local builders didn't have experience building in this type of construction and were hesitant to take on the project.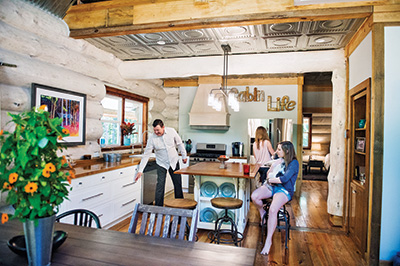 Eventually, Heim turned to Chris Strohm himself, asking him to act as general contractor with the support of an on-site construction crew.
"This is our seventh home, but they were all traditional stick-built design," says Chris, recalling all the houses that he and Susan had built together. "I had to learn a lot about log construction."
Heim's cabins, for instance, are constructed with 150-year-old red pine logs from northern Minnesota, a denser and heavier wood than the yellow pine common in the South.
"Our logs were harvested in June, and as green logs, they will shrink or drop over the first few years," Chris says, a factor not present in stick construction.
Every aspect of traditional construction must be adjusted to accommodate the outer shell, which is 12 to 24 inches thick, 9 feet tall and connected to a center ridge pole.
"You drill holes in the outer walls to run electrical, and water comes up through the foundation," he notes.
Setting windows in a log shell requires putting a cavity above the window, filling it with insulation, chain-sawing a channel in the log to fit a two-by-four, and nailing the window to the two-by-four. The crew brought in 16 chain saws to complete the on-site work.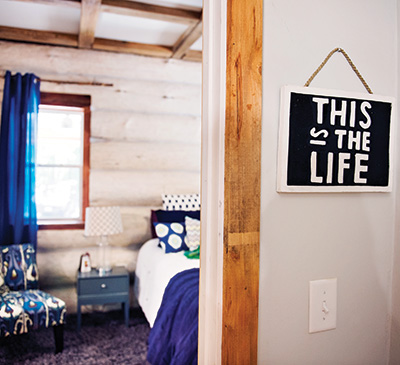 Financing the Home
The Strohms also had to learn about log cabin financing.
"We naively thought a commercial bank loan would be no big deal," says Chris.
"But we talked to three banks, and none would touch it with a 10-foot pole. There were no comps, and it was too unconventional."
An Internet search took them to the Mississippi Land Bank website.
"In the fall, while we were in Starkville for a football weekend, we went early to talk with the Land Bank and met Bill Cook, the branch manager there," says Chris. "We connected immediately, and we were comfortable with everything he described."
An "Excel freak," according to wife Susan, Chris came to the meeting well prepared. "Through the process of talking with four different builders, we had kept up with all of their cost estimates, and we had everything in a spreadsheet," Chris says.
That detail impressed his future lender.
"Not only did they both have good steady jobs and good credit, as well as 80 acres of timberland to put up as collateral, but they also came in with a detailed spreadsheet as long as your arm, with every aspect detailed, from costs to timeframes," says Cook.
Within two weeks, the Strohms' loan was approved and closed, and construction was under way.
While Heim's crew prepared the logs in Minnesota to eventually deliver and erect on-site, Chris and Susan coordinated excavation, slab, selections and material orders — looking for cost savings where possible. Instead of paying $2,400 to install a water line, the two laid 900 feet of line themselves with a rented trencher for $900. Through a friend, they acquired 1¾-inch tongue-and-groove pine flooring, beautifully stained and clear-coated. Some vendors offered discounted materials in exchange for promotion on the show.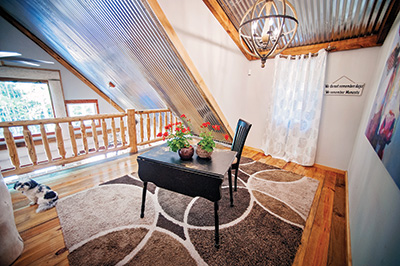 Design Help from Mississippi State
Interior design assistance came from the interior design program at Mississippi State University, where daughter Anna studies.
"Our department head came up with a design competition for us to design the ceiling," says Anna. "Three groups of students each submitted three designs in a blind competition."
One of Anna's team's designs, which used wood and corrugated metal, was selected. The students also helped the show's designer stage the house before the reveal.
"It was fun to get to learn more about residential design, especially because this is such a unique home," she says.
Among its many unique features are two hand-built sliding barn doors. A 400-square-foot loft with 14-foot ceilings adjoins two upstairs bedrooms and baths. Downstairs, the master shower features a solid pine cascading water wall and oak slab countertop. The trim is rough-hewn cypress. Surrounding all sides are 1,700 square feet of deep, covered porches.
Filming of the project was completed this past winter, and the Strohms' episode, titled "Cabin in the Woods," aired on the National Geographic Channel in late March. Now, they look forward to enjoying the fruit of their labor on their own land.
"You just don't realize the massiveness of the logs, and the warmth and soundproofing — the sanctuary it creates in your home," says Susan. "It will be a very special place that we will get to enjoy for many years." – Sue Durio
Financing Your Dream Cabin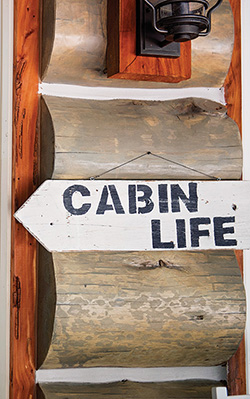 Dreaming of your own log cabin in the woods?
"Don't let local builders scare you away," Chris Strohm says. "Find an expert in this type of construction and this type of financing."
Apply these tips to streamline the loan approval process:
Have solid collateral.

 

That helps keep the loan-to-value lower, and the loan more attractive to your lender, since there may be no comparable sales available.
Choose an appropriate setting.

 

Because lenders follow "normal standards of a community" when evaluating properties, a log home on a lot in the middle of a city will face much tighter scrutiny than one on a tract of rural land.
Show solid credit and income.

 

In an unconventional loan, the character of the applicant plays a significant role. Be able to show steady income sources and a good credit rating.
Do your homework.

 

Like the Strohms, come prepared with plans, specifications, financial statements and cost details.
How It's Done: A Primer on Hand-Scribed Log Construction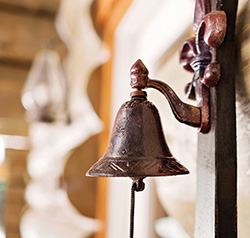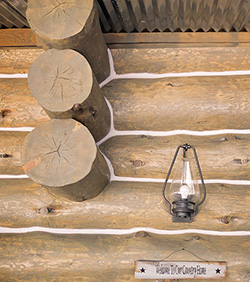 A hand-scribed log home is more artistic and more involved than conventional stick building, according to Chris Strohm. Following are some of the basics of this type of construction.
Logs are hand-peeled, fungicide-treated and stored on skids for spring building. They are chinkless, scarf- or round-notched, with double-scribed lateral grooves.
When the walls are complete, the logs are systematically numbered and dismantled, before being loaded on semi-trucks and delivered to the site.
Reassembly of the walls takes one to five days, depending on the complexity of the house and layout of the site. During reassembly, electri-cal raceways and boxes are cut in, allowing ample space above each opening for settling.
When the log shell is completely assembled, all top plate wall logs are flattened to the pitch of the roof, making the roof ready for tongue-and-groove roof decking.
Source: Heim Log Homes
---