While fierce spring storms rumbled across the South, from Texas to Alabama and beyond this past April, Texas Land Bank customers Garry and Charlene Lightfoot of Bruceville, Texas, spent the evening safely tucked inside their prefabricated concrete storm shelter. About an hour's drive north in Hillsboro, Texas Land Bank Director John Sawyer and his family rode out the storms, knowing their home's first-floor safe room was readily available as shelter, if needed.
---
And, as the storm system tracked eastward, triggering some 104 tornadoes in Alabama and Mississippi in a single day, Mississippi Land Bank customer and employee W. Brett Marlar and his family moved into their six-person prefabricated fiberglass storm shelter for the third night that week.
For these families, like many who live in storm-prone regions, a storm shelter no longer is a luxury. Storm shelters are becoming must-have features that buyers say are well worth the investment.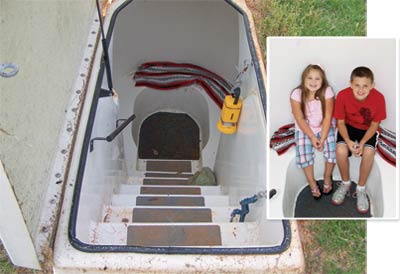 "Storm shelters have been around for 100 years in northeast Mississippi. You can still find the old cinder-block shelters built on the sides of hills," says Brett, who lives in Corinth. "In the early 1950s, we had some very severe weather in this region, and a lot of shelters were built then. Since Hurricane Katrina, we have seen another surge in storm shelter construction."
Today, cinder-block structures have given way to well-tested construction technologies and techniques, including the three most common types: safe rooms built into the house itself, prefabricated concrete in-ground shelters and prefabricated fiberglass in-ground units.
Safe Rooms
"The peace of mind of having a shelter is absolutely worth the investment. I would encourage anyone to look into adding a shelter."
– Brett Marlar
Safe rooms provide the most convenient, quickest access to safety. They can be built in a home's basement or as an interior room on the home's first floor. If your house does not have a basement, an in-ground safe room can be
installed beneath the concrete slab or concrete garage floor. Keep in mind, however, that in areas that are prone to flooding during a hurricane, you will want to ensure that your safe room is in a location unlikely to flood.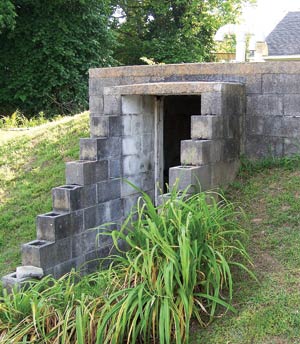 According to the Federal Emergency Management Association (FEMA) guidebook, Taking Shelter From the Storm, "Having a safe room built for your home or small business can help provide 'near-absolute' protection for you and your family or employees from injury or death caused by the dangerous forces of extreme winds."
Quick access to "near-absolute" protection is what attracted John and Natasha Sawyer to include a safe room in blueprints for the new home they built in 2007, a few miles north of Hillsboro, Texas.
"We had some strong storms with a lot of straight-line winds in 2000. We were living in town at the time, and it was a scary wake-up call for us," Natasha says.
"We knew that when we built our new home, we wanted a shelter, and we wanted it in the house," she says. "The water table is pretty high out here, so we knew a basement wouldn't work."
Their builder had never crafted a shelter as extensive as what the Sawyers envisioned, so the couple turned to FEMA and the Texas Tech University Tornado Research Center for specifications and blueprints for their builder. As recommended in the experts' guidelines, their 10-foot by 12-foot concrete cinder-block safe room is an interior room on the first floor of their home, with a single, easily accessible heavy metal door and no windows.
They covered the cinder block with sheetrock, so that it looks like any other interior room. The steel door is built to FEMA code, with multiple locks and hinges and at least three deadbolts, and is covered in hickory to match the home's other interior doors. Inside, the room features cabinets and a desktop; a water heater; a fan; a vent to the exterior; and supplies such as bottled water, blankets, a radio and batteries.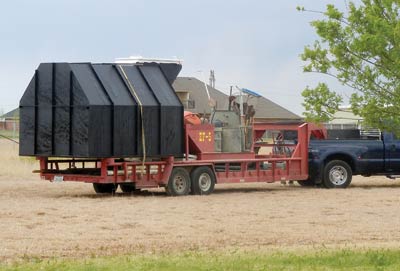 According to FEMA, the amount of space needed in a safe room depends in part on the type of storm most likely to hit your area. Tornadoes tend to hit quickly and move through the area, so you don't need to stay in the safe room as long as you might with a hurricane. "As a result, comfort is not of great concern, and a safe room that provides at least 5 square feet of floor area per person will be big enough," says FEMA. For protection from hurricanes, which can last 24 hours and longer, comfort is a higher priority, and FEMA recommends 7 to 20 square feet of floor space per occupant.
"I can name several friends and family — including my parents — who have storm shelters now," says Natasha. "They are becoming more popular as we seem to be having more destructive storms. It is just a self-reliance thing."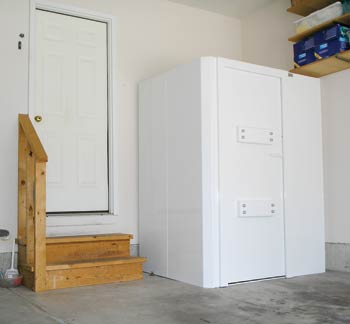 Prefabricated Concrete In-Ground Rooms
When Garry and Charlene Lightfoot were building their new home four years ago, they considered several shelter designs and sizes before opting for a prefabricated in-ground room. "When we built our house, we decided to go with the cement underground type, because it appeared to be sturdier and has lots of room inside," says Charlene. Wanting a safe place close to the house that they could access in a hurry, the couple located their shelter just steps from their back porch.
About the size of a bathroom, the room is constructed in two sections. A local septic contractor did the work, digging the hole and positioning the bottom half into it. "We have black dirt here, and no rock, which made excavation easy," says Charlene, who is vice president of administration for Texas Land Bank in Waco.
The top half of the structure and the steel door came next, along with a wind turbine to circulate air internally. A tar-like sealant was applied to the seam to protect against leaks. Stairs lead down to the room, where there are two cots, lanterns, a weather radio, a fan, bottled water and towels.
"Some people don't feel like it is a necessity to spend the money, but the other night we spent 11⁄2 hours in there, and I was very glad we had it."
– Charlene Lightfoot
"We looked at smaller units, but if you are claustrophobic, you would feel cramped in the smaller ones," she says. "I'm glad we went with the larger one." Total cost for their installed shelter, which comfortably fits two people but could accommodate six to eight if needed, was $3,000, and it was financed as part of the home through the Land Bank.
"Some people don't feel like it is a necessity to spend the money, but the other night we spent 11⁄2 hours in there, and I was very glad we had it," says Charlene.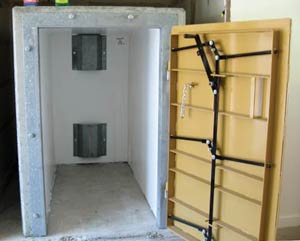 Prefabricated In-Ground Fiberglass Shelters
Brett Marlar and his wife, Amy, who live in the northeastern corner of Mississippi, installed their shelter in 2009 using a FEMA cost-share program that since has been shifted to funding community shelters. At the time, FEMA paid 75 percent and the homeowner picked up 25 percent of a home shelter construction, making the Marlars' out-of-pocket costs only $1,000.
They chose a fiberglass one-piece unit. "We chose this type because the contractor is a Land Bank customer, and I wanted to support his business," says Brett. "However, we knew that we wanted it as close to the house as we could get."
Located just outside their back door, the six-person water-tight unit features horseshoe-shaped seating, blankets, bottled water, flashlights and other supplies. "They tend to sweat in the winter, so I added some drain pipe as well," Brett explains. An added benefit of using the FEMA cost-share program is that the GPS coordinates of all the units are logged into the emergency management system. "If an emergency happens, the emergency management teams know where all these shelters are and know to check them," he says.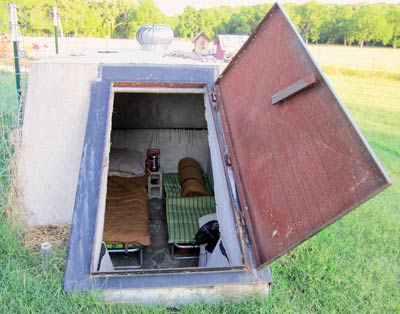 Brett's Mississippi Land Bank office in Corinth, like others across the region, has financed numerous shelters of all types. "If a customer wants to do something that adds security to their property, of course we want to support that as a lender," he says, noting that financing can be incorporated into new home construction or funded as a capital improvement.
"The peace of mind of having a shelter is absolutely worth the investment. I would encourage anyone to look into adding a shelter," Brett says.
– Sue Durio
How to Build a Storm Shelter
Resources for Homeowners
If you are interested in building a storm shelter, you can find a number of helpful resources online. Following are three websites that offer detailed information for homeowners.
---