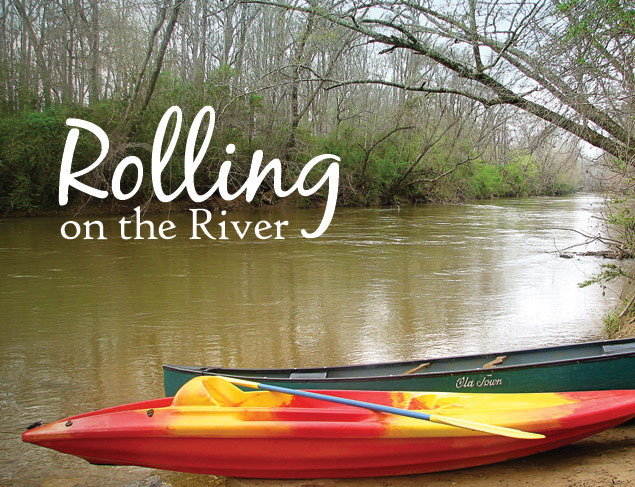 ---
Alabama's Tallapoosa River has played a big part in Greg Young's life for as long as he can remember.
"I've always lived on the river, and played in it all my life," says the full-time cattle and poultry farmer.
Today, Young and his family share their love of the river with canoe and kayak enthusiasts through their business, Southern Canoe Outfitters, located near Heflin, Ala. They offer kayaking, canoeing and primitive camping on the Tallapoosa River.
From a Pastime to a Profession
For Young and his wife, Carol, the idea of Southern Canoe Outfitters began with the couple showing large doses of genuine Southern hospitality. With two kids in their teens, the Youngs were constantly asked to chaperone students, church groups and other local groups for day-trips — and would agree most of the time.
"They just wanted to float, float, float," he says with a laugh. "They'd go any weekend we'd take them.
"We'd pack two 48-quart coolers with cookies and snacks, and two coolers with drinks. They'd float on down the river and leave us behind, but when they got hungry or thirsty, they'd hunt us down," he says.
With the canoe trail being in close proximity to Birmingham and Atlanta, as well as several tourist attractions like Cheaha State Park and Talladega National Forest, Young knew that more than just the locals would benefit from a business like Southern Canoe Outfitters, and formed the company four years ago.
44 Miles of the Cleanest River in the Eastern United States
Every year from March 1 through the end of October, the Youngs host groups of up to 35 who want to enjoy the Loyd Owens Canoe Trail. The trail is 44 miles long and follows the Tallapoosa River as it winds through Cleburne County, in north-central Alabama.
Designated "the cleanest river in the Eastern United States" by the U.S. Department of the Interior, this part of the Tallapoosa not only attracts vacationers, but it is also a big draw for fishermen. The river is full of numerous species of fish, such as catfish, bream and several types of bass, including trophy red-eye bass.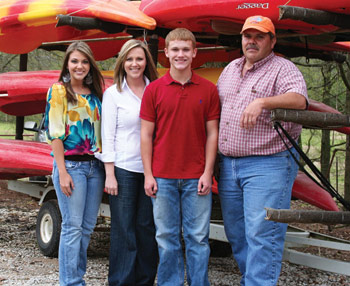 For the daily rental rates of $20 per kayak and $40 per canoe, Southern Canoe Outfitters will provide customers with a boat, paddles and life jackets. The company also provides a shuttle service to one of two drop-off points nearby and has a private pick-up point located near their primitive campgrounds.
One of the drop-off points is approximately 7 miles from the campground, a distance that takes customers an average of three hours to paddle. For those wanting a longer trip, Young will take them 13 miles up-river from the pick-up point. This trip averages seven hours, according to Young.
However, Young is quick to point out that those travel times are approximate, as many people take breaks for snacking, fishing or just enjoying the scenery along the way.
"I tell people, 'as long you're back by dark,'" he says. "I just need to know they're back."
A Scenic Tour of Wildlife, Native Flora and Agriculture
In addition to the fish, plenty of wildlife can be seen from the Tallapoosa River, including beavers, otters, wild turkeys and deer. Beautiful mountain laurels and native azaleas grow along the trail.
Kayakers and canoeists can also see an abundance of the region's agriculture while on a trip down the river. Located not far from the river are Young's 12 poultry houses. Young, a stockholder of the FLBA of North Alabama, has been a poultry farmer for 20 years, and today raises seven to eight flocks a year for Cagle's, a poultry company headquartered in the southeastern United States. He says that his occupation does pique the curiosity of some of the tourists.
"It's amazing to some people that farming is going on," says Young.
But sometimes, the customers aren't the only ones that are curious. "In our primitive campgrounds, the cattle will come right up to a campsite," he adds.
As a farmer, Young works hard to be a good steward of the land and the Tallapoosa River. The poultry operation adheres to a well-planned waste management system. "We take care of the river," he says.
Jim Tollison Jr., vice president and branch manager of the FLBA of North Alabama's Talladega branch office, and Young's loan officer, says that the Youngs exemplify a farm family's love and respect for the land they work.
"Greg has found a great way to combine his poultry and cattle operations and his love for the river," Tollison continues. "It's a unique way to get a natural resource already flowing through his property to provide a secondary source of income."
Young also takes great pride in sharing with others a piece of what he's had all his life.
"Living out here, I take this for granted, but I enjoy being able to share the river with people who don't have this in their backyard."
– Staff
For more information about Southern Canoe Outfitters, visit their Web site, www.southerncanoeoutfitters.com.
---