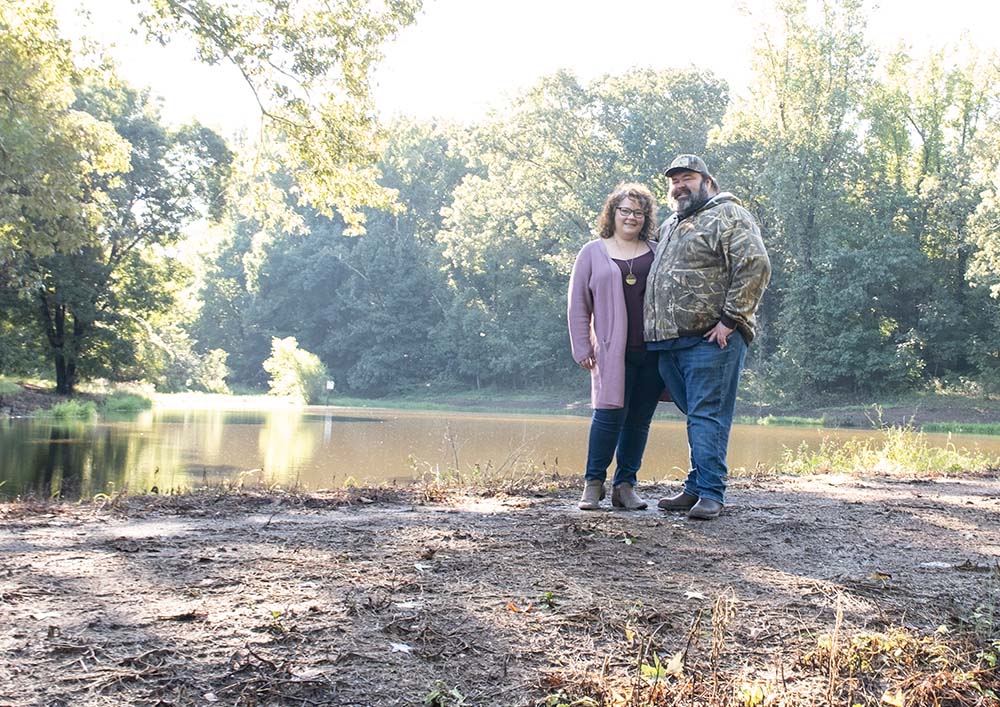 ---
If you've ever searched for a barbecue recipe, chances are you've stumbled across Malcom Reed and his brand, How to BBQ Right. From YouTube and Facebook to TikTok and Instagram, Malcom and his wife, Rachelle, have established a worldwide social media enterprise.
Their secret ingredient? Just good old-fashioned Southern hospitality. In fact, if you get the chance to meet the Reeds, you'll think you've reconnected with family.
Nowadays, these Mississippi Land Bank customers are growing their well-seasoned business in ways they never dreamed possible, while caring for a piece of rural land they never imagined they could own.
Cooking with family and friends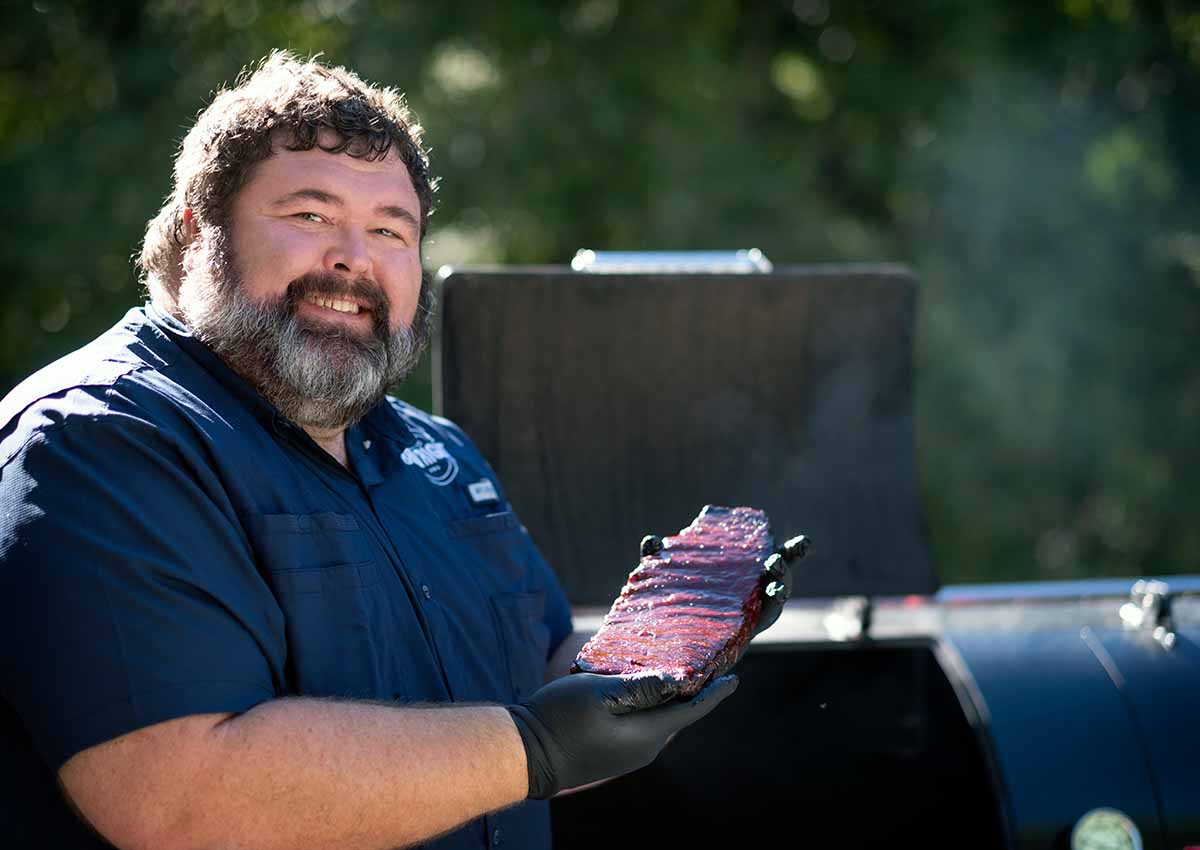 Malcom didn't set out to create a barbecue empire. His initial life plans were much simpler. Go to college. Get a job with an established company. Then on weekends, hang out with friends and cook something.
"Growing up in the South, our gatherings revolved around barbecue," says Malcom. "I was just drawn to it."
As college students, Malcom, his brother and some buddies formed a competition cooking team, the Killer Hogs. Cook-off teams usually have a few objectives — eat well, have fun, and hear your name called during the award presentation.
"We got a call one day for our red beans and rice," says Malcom. "It had nothing to do with barbecue, but you would have thought we'd won the whole thing!"
More awards followed. The team members got more serious and honed their recipes. Their sights were set on the amateur division of the prestigious Memphis in May World Championship Barbecue Cooking Contest.
Competing with the pros
In their first year at Memphis in May, the Killer Hogs won the amateur Patio Porkers division. It was a great honor, but it meant they had to turn pro.
"We could no longer cook in any amateur contests," says Malcom. "So, we bought a better smoker with the prize money."
With their new smoker in tow, the team traveled all over the South to professional cook-offs.
"We got really competitive," says Malcom. "We won a lot of trophies and made some money. I guess that was the start of my barbecue addiction."
Reaching a career crossroad
During this time, Malcom transitioned from college student to young professional, working at a commercial architecture firm and cooking on weekends.
Then the 2009 recession hit, and work slowed down. As the new guy, he was laid off not once but twice.
"By this time, I was married with a child on the way, and I didn't have a job. I told Rachelle I wanted to try and make it in the barbecue world."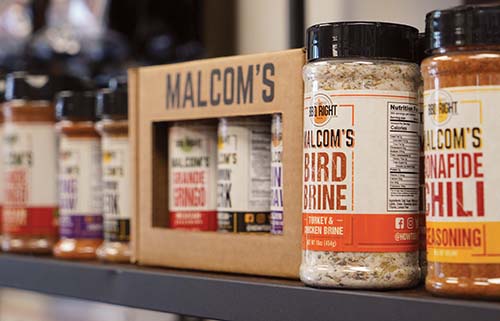 As the Killer Hogs were making a name for themselves on the competitive cooking circuit, Malcom's custom barbecue rubs were getting noticed.
"People often asked me to make them some rub seasoning," says Malcom. "I'd mix up three pounds, keep one pound to cook with and sell the other two."
The rubs kept selling. So, Malcom and Rachelle partnered with a co-packer to mass-produce the unique seasonings. Today he offers five different rubs, and they're all popular items in his online store.
Keeping content fresh
The How to BBQ Right brand is all about simplicity. Recipes are easy to follow. Many of the ingredients are already in the kitchen. And there aren't any secrets.
"Barbecue used to be really proprietary. No one wanted to give out their rub or sauce recipes," says Malcom. "I decided to pull back the curtain. I wanted to create a community of people who could all share barbecue knowledge and tips."
Together, the Reeds make it happen. Rachelle is the behind-the-scenes commander. She manages the website, records and edits videos and oversees the staff.
Malcom does what he calls "the fun stuff" — talking barbecue and telling people how to cook.
Mixing BBQ and land management, with a lender's help

---
But barbecue isn't the Reeds' only passion. Malcom always dreamed of owning some land where he and his family could gather, hunt and cook. It seemed unlikely, though.
"I never thought I would have the means to own my own hunting property," says Malcom. "But with Mississippi Land Bank's help, we made it happen. They've been so good to work with and we have a great relationship."
Now that they own land and a country home in North Mississippi, the Reeds are ready for the next challenge.
"We want to take care of the land we have and help our wildlife," says Malcom. "We're planting summer and fall crops for our game and trying to improve the overall habitat. I'm hoping to learn from those who have done it before, and then share what I learn."
And just like the community they created for barbecue fans, they're now looking to establish a community of followers focused on land stewardship.
"In everything we do, we want to make information accessible and easy to follow," Malcom says. "I hope we can teach kids about hunting, fishing and preserving our natural resources.
"Then, maybe we can help them cook up some good barbecue, too."
— Staff
Visit howtobbqright.com to sign up for Malcom Reed's newsletter and find his recipes, videos and podcast.
Malcom Reed's BBQ Tips
Here are a few of Malcom Reed's tips for backyard pit masters:
Not sure how to get started? YouTube offers videos about everything from lighting a fire to cooking the perfect brisket.
Always cook by temperature, not time. Each meat cooks differently. You'll know it's done when it reaches the right temperature. And invest in a good instant-read thermometer.
Cooking "low and slow" is best for large cuts of meat, like pork butt and brisket. Steaks and chicken can be cooked over higher heat.
Let meat rest before serving. Brisket and pork butt should be held in a dry cooler for two hours before serving. Steak needs to rest for a few minutes before slicing.
When cooking a large cut, wrap it in butcher paper for a crunchier bark. Use aluminum foil to retain more moisture.
Occasionally spritzing meat helps retain moisture. Water works well. Or use apple juice to add flavor and sweetness. But be careful — juices contain sugar, and sugar will burn.
Injecting marinades into meat is fine for competition cooking, where you want each bite to be flavorful, but injections may make the meat too rich for home consumption.
Sear steaks that are 1¼ inches thick or smaller. Reverse-sear steaks that are over 1¼ inches thick.
Malcom's favorite wood types for smoking meat are hickory, pecan and cherry. Try blending them for a rich, smoky flavor.
When lighting your fire, avoid chemical fluids. Try fire-starter products made from wax and natural wood. A good chimney starter is a must for charcoal cooking.
---