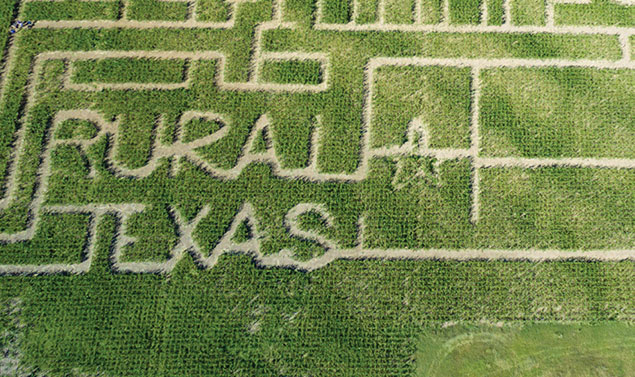 ---
Black-and-white spotted Holsteins were once a common sight in the gently rolling countryside of Lavaca County, Texas. That was nearly four decades ago, when 20 or so dairies operated in this area of south-central Texas. Now, the only herd of dairy cattle in the county is the herd of sweet-faced, big-eyed Jerseys that graze the pastures at Four E Dairy near Moulton.
Surviving in the volatile dairy industry hasn't been easy for the Chaloupka family, who owns the dairy. Drought years and turbulent markets knocked out other dairies. Instead of giving up, the Chaloupkas switched from Holsteins to Jerseys, literally put the cattle out to pasture, tapped into the raw milk market, and created a corn maze business that draws thousands of visitors every fall.
"That's the only way for someone like us to make it. We've had to diversify," says Elyse Chaloupka, who runs the dairy and farming operation with her husband, Eugene, sons Chad and Scott, and Eugene's brother Erwin.
In addition to their dairy, the Chaloupkas lease and own 2,100 acres on which they graze their 450 milking cows and 325 replacement heifers. They also grow their own corn, silage and hay.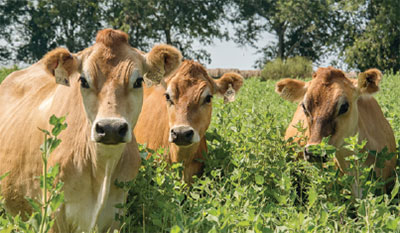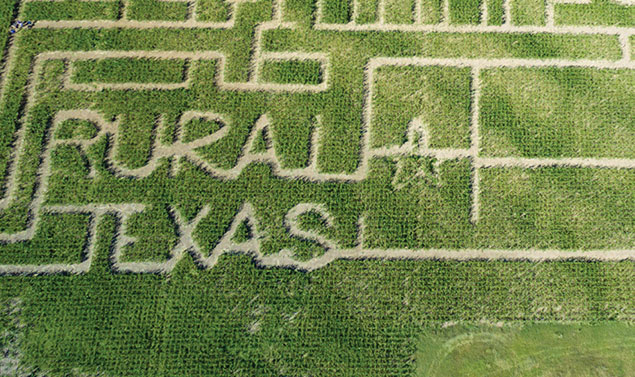 Changing Breeds
Four E Dairy dates back to the early 1960s, when Eugene and Erwin's father, the late Ernest Chaloupka Sr., partnered with them and their brother, Ernest Jr., to expand his existing Holstein operation on land settled by his great-grandfather in 1868. Ernest Jr. later started a paint contracting business, leaving Eugene, Elyse and Erwin to take over the farm. In 1999, Eugene and Elyse's son Chad joined the operation full time, followed by their younger son Scott this past year.
Volatile milk prices made the 1990s rough years, but the dairy remained afloat. In 2000, when dairy economists were predicting the demise of small dairies, the family bought more Holsteins. But their goal of increasing to 500 cows just created more headaches.
"If Chad hadn't come back to the farm, we would have been forced to sell," Eugene says. "Then in 2005, he talked us into going back into Jerseys because they tolerate the heat much better. They don't produce as much milk as Holsteins, but their butterfat and protein are higher."
The family purchased 100 head of Jerseys, following in the footsteps of Ernest Sr., who milked Jerseys when he first entered the dairy business in 1947. They also started breeding out the Holstein genetics of their herd by crossing Jersey bulls with Holstein cows.
Chad, who earned a dairy science degree from Texas A&M University, says he always knew he'd return to the family farm. He and his wife, Niki, have one son, Landon, who they want to raise on the farm.
"It's a way of life, not a job," Chad says. "Farming is what I always wanted to do. I've worked here since I was little, milking cows before school and raking feed in the summer."
He introduced new technology to the farm, including a computerized monitoring system with pedometers on each animal.
"We knew everything about our cows," he recalls. "When it worked, the system was great. But when it didn't, talk about a headache! We finally got rid of it."
Weathering Tough Times
Then came 2009. Dairy prices nosedived, and drought conditions persisted. Once again, the Chaloupkas feared they might lose their land.
"The price of milk wasn't enough to pay for feed, much less anything else," Elsye recalls. "We kept borrowing while everyone else dipped into their equity. We lost three or four dairies that year in Lavaca County."
To provide extra capital, Scott borrowed from Capital Farm Credit in La Grange and bought 33 acres of the family's land. Additionally, Texas Farm Credit restructured the dairy's financing.
"The Chaloupkas are wonderful people who have farming in their hearts," says John Carpenter, a Texas Farm Credit vice president, who handled the loan. "It's amazing how they've been able to pass the farm from one generation to the next."
Refinancing wasn't enough, though. Inspired by a fellow dairyman, the family built a purebred Jersey herd that they chose to graze on their existing pastures rather than feed in a confined yard. They also applied for a raw milk permit, and they changed their breeding program, switching from artificial insemination to natural service with quality bulls.
"The milk industry might say we're not progressive, but we're progressive in our own way. We've gone back to the old ways, and they're working."
- Chad Chaloupka
"That's when everything began to work," Chad says. "The milk industry might say we're not progressive, but we're progressive in our own way. We've gone back to the old ways, and they're working."
In August 2015, Scott left his position of 10 years as a federal agricultural research technician to join the dairy.
"I came back because I wanted to keep the farm going," Scott says. "I grew up in the country and wanted my boys to have that, too." He and his wife, Kim, have twin sons, Eli and Isaiah, with a third child expected this fall.
The Milking Process
At noon every day, the first batch of 16 Jerseys files into the Four E's herringbonestyle milking parlor. Two farmhands milk up to 65 cows an hour in one six-hour shift. A second shift starts at midnight.
"We have two permits — raw and commercial," Chad explains. "We milk our raw-milk cows first, which is 25 percent of our herd. Then we milk our commercial cows. We can milk our raw cows under our commercial permit, but not vice versa. That saves us time."
From start to finish, strict safety and sanitation practices are followed throughout the milking process. Each cow produces approximately 40 pounds of milk.
The commercial milk is piped into a chilled 5,000-gallon tank, which is emptied every other morning by an 18-wheeler from Lone Star Milk Producers Inc. The cooperative purchases the dairy's milk and sells it to a nationally known processor for pasteurization and bottling.
The raw milk is piped to a chilled 1,000-gallon tank. Three times a week, Elyse and two employees hand-bottle the milk into half-gallon and one-gallon plas-tic jugs. Twice weekly, they also make and bottle 60 quarts of cream, using a cream separator with 32 disks.
"It takes an hour to make cream and two hours to clean up," Elyse says.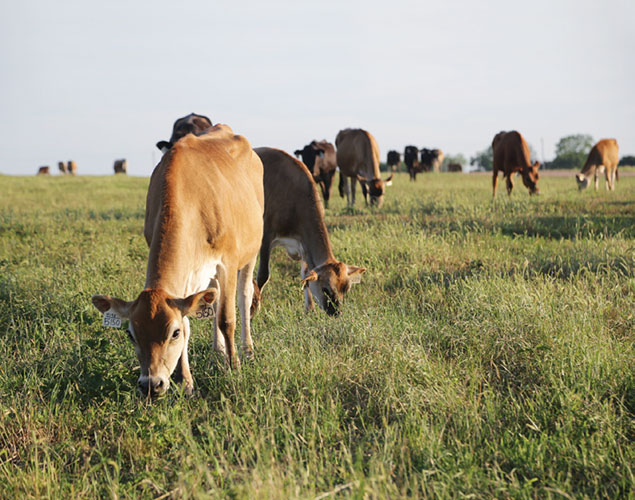 ---
Vertically Integrated
Large-volume customers from Austin, Victoria and other cities come to the farm to purchase the dairy's raw-milk prod-ucts, which are kept in a walk-in cooler. Drive-by customers buy goods from a sliding-door refrigerator housed in a portable building on the farm.
"We are vertically integrated," Chad says. "That means we produce, bottle and sell our raw milk products directly from the farm to consumers so we can set our own prices." A gallon of raw milk sells for $6.50, a pint of light cream, $4.
This fall, the Chaloupkas will add a cheese-making room to accommodate a business owned by Andre and Jillian Cudin, cheesemakers from Victoria. The couple plans to purchase raw milk from the dairy and make artisanal mozzarella and other cheeses.
"The new facility will give us an added use for our milk," Elyse says, "and another way to diversify so we can keep our farm going."
For more information, visit Four E Dairy.
A Cornfield That Amazes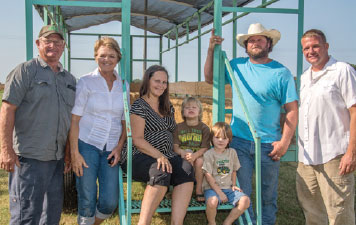 Photo by Sheryl Smith-Rodgers
The prep work takes weeks, but the payoff's big when Rocky Creek Maze opens every fall at the Chaloupka (pronounced "ha-loop-ka") farm near Moulton, Texas. Thousands of visitors, some from as far away as Houston, 115 miles to the east, come for homegrown agritainment at the weekend festival in October and November.
"It's kept the family farm going, and everybody has a good time," says Ernest Chaloupka Jr. He and his wife, Helen, partner with his brother and sister-in-law, Eugene and Elyse, in oversee-ing the annual event. Everyone in the family pitches in to make it happen.

Courtesy of Four E Dairy
What to See and Do
The festival's star attraction is an 8-acre corn maze featuring more than 2.5 miles of walking trails. Even more popular is a half-mile haunted trail that zigzags through 21 acres of towering corn. Hay rides, barrel train rides, slides and other activities add to the fun. Special events include a benefit race, an antique tractor show and dairy demonstrations.
But no matter when they come, visitors always learn about farming.
"We're different from most corn mazes because we have ag demonstrations," Elyse says. "We give farm tours and presenta-tions on the different uses for corn. On Dairy Day, we have milking demonstra-tions and hay rides through our free-stall barn."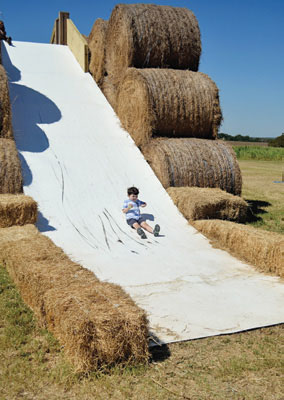 Photo by Sallie Yeager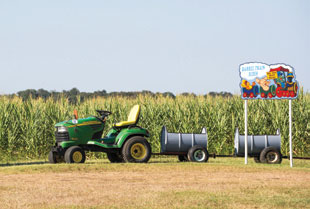 Photo by Kanokwalee Pusitanun
How the Maze Came to Be
Eugene proposed the moneymaking idea to his family in 2002, after reading articles about corn mazes. To learn more, they toured mazes in Hondo, Donna and other Texas towns. In 2007, ready to launch their own maze business, the four attended a conference in Seattle, Wash., hosted by Brett Herbst with The MAiZE, a Utah-based consulting company.
That fall, the Chaloupkas hired Herbst to design a "Farming in Texas" maze. He also came to the farm and cut the cornfield.
Since then, the family has cut its own mazes, but continues to work with Herbst to develop its annual maze designs. Their designs have honored their farm and dairy, veterans, first responders, churches, country music and, most recently, rural Texas.
How to Make a Maze
Using a computer program, Herbst maps out a maze's design, which is separated into sections, plotted on grids, and printed out on separate pages of paper.
In the field, the Chaloupkas plant the corn in 30-inch perpendicular rows. This crisscross pattern prevents maze-goers from seeing through the rows. When the corn is 6 to 12 inches tall, the Chaloupkas spray-paint the design in the field and then go back and cut the path out.
Rocky Creek Maze is open weekends in October and November, and closes the Sunday before Thanksgiving. For more information, go to Rocky Creek Maze.
---