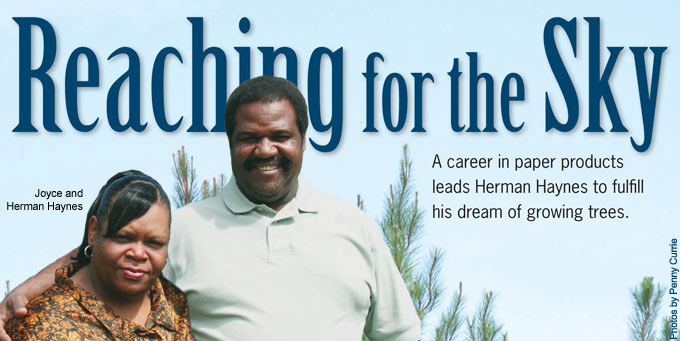 ---
"It's been great working with Louisiana Land Bank, because they understand my business." -Herman Haynes
Herman Haynes stands at the edge of his 180-acre pine plantation, one of two fields he owns in Mansfield, La., and looks up — way up — to see the tops of his trees.
"It's hard to believe they were the size of a pen just five years ago," he says.
From small, six-inch seedlings, the genetically improved loblolly pine trees have grown to almost reach the power lines. In fact, they are nearly as tall as the first trees of the same variety that he planted 10 years ago on a separate 160-acre plantation. The difference is how he prepared the site for planting.
When the first acreage was planted, the site was prepared by applying herbicide and burning. For the second tract, Haynes did mechanical site preparation, disking and then bedding the soil. Preparing the site is particularly important if the land has been grazed, because, over time, cattle compact the soil.
"I'm really amazed at their progress," Haynes says. "Before we planted the second time, we mounded up the dirt in rows, the way you expect a garden to look. It gave the seedlings a great start. And the soil holds water better; it doesn't get packed as much; and you don't get too many trees in one area."
A Dream to Plant Trees
Growing these trees is a dream fulfilled for Haynes, who has worked in paper products since high school. He grew up in Silsbee, Texas, near Beaumont, and started working for the Kirby Lumber Company when he was 15 years old.
That after-school job led to a career in forestry, which took Haynes and his family to Arkansas and later Louisiana, where he has worked for International Paper (IP) for 25 years.
"I've always had a love of the forest, and I had a wild idea that I'd like to plant trees some day," Haynes says. "It's one of the best natural resources we have."
When property near his home went on the market 10 years ago, Haynes decided to take the risk. He bought the land, attended a forestry stewardship program and learned all he could from the Louisiana Forestry
Association. Finally, he was ready to plant, and he obtained seedlings from IP. The trees come in bundles of 1,000, and 700 seedlings are planted per acre.
He also participated in a cost-sharing program offered by the Natural Resources Conservation Service (NRCS). Half of the planting expenses is paid by the landowner, and the other half, up to $10,000, is paid by NRCS.
His efforts have paid off: In 1999, he received the Future Forest Award from the Louisiana Forestry Association for his first plantation. He later bought more land and planted a second plantation in 2001.
Fourteen Years Until First Cutting
In about three years, Haynes expects to thin the first plantation for pulpwood. Then, the remaining trees will be left to grow another 10 years until they reach optimum saw-log maturity. He made that decision after talking with Jon Fielder, his loan officer at Louisiana Land Bank. Haynes has been a member of the Land Bank for seven years, ever since he first learned about the lenders at a forestry association meeting. He liked that they specialize in land and agriculture; for him, that was enough reason to switch from his commercial bank.
"It's been great working with Louisiana Land Bank, because they understand my business," Haynes says. "Jon grows trees himself and is very knowledgeable about the industry. Together, we decided that 14 years was a good target for the first cutting. You lose yield if you think too quick."
At that age, the trees are sold by weight. In his 20-year agreement with the paper company, he allows them to make the first offer. If he doesn't approve, he can put the wood on the open market for six months. If he's offered a higher price, he must provide them with an opportunity to match the price.
Haynes estimates that the genetic improvements to these "super trees" have made them more drought-tolerant and have taken eight to 10 years off saw-log maturity. With the right soil, a 50-foot tree can be grown in about 25 years, with a thinning harvest at about 14 years. Still, a crop that takes 14 years from planting to first harvest might seem like too long to wait for some people, but Haynes looks at it differently.
"It takes patience, but it doesn't take too much time or effort," says Haynes, who in the meantime leases the property for hunting. "Plus, trees don't keep you from traveling, and my wife and I like to travel."
Family Pride Is Evident
These days, Florida is their favorite destination, because two of their three children live there. Their younger son, Damian, recently completed the competitive pharmacy program at the University of Florida and is now a pharmacist with Walgreen's in Tampa. Their older son, Adrian, also lives in Tampa with his wife, Cynthia, and their 9-month-old son, Zechariah. Their daughter Natasha lives in Mansfield.
"Every year I take the month of December off, and we go to Florida," says Haynes, who puts in long hours at the IP paper mill in Mansfield the rest of the year. "We've been doing that for years, so it was already a second home for our kids."
The trip to Florida this year will be even more special. In addition to visiting with their family, Haynes and his wife, Joyce, will celebrate their 30th wedding anniversary in December.
"She grew up in Koontz, which is another little town outside of Beaumont," Haynes says. After high school, she furthered her education in McKinney, Texas, while he attended Lamar University for two semesters. "We started dating, and I guess you could say it moved pretty fast after that."
The couple takes great pride in the family and are proud of what their children have accomplished. For them, family is what makes all the work worthwhile. In fact, he looks forward to one day maybe bringing his sons into the timber business with him.
"I'm looking forward to retirement from International Paper in a few years," Haynes says. "But I expect that I'll grow trees for the rest of my life."
-Staff
---